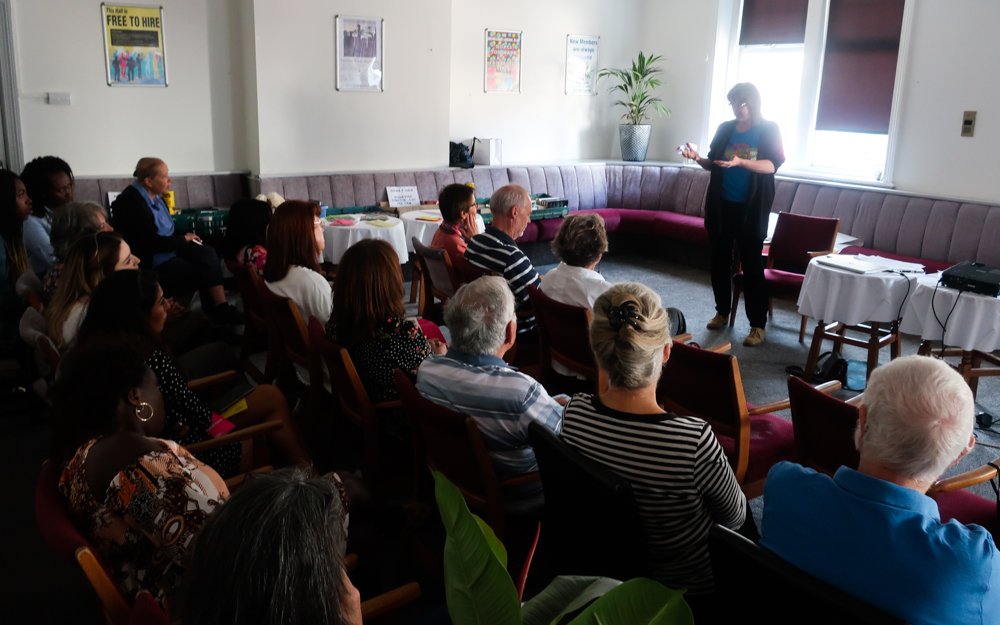 Ulrike Schmidt gave us an excellent talk on human rights infringements in Europe. Ulrike is the Amnesty county coordinator for Bulgaria, Czech Republic, Slovakia, Hungary, Poland and Romania. Ulrike is a teacher and a human rights activist based in London. Originally from Germany, she has worked with Amnesty International for many years on various local and international campaigns.
Ulrike gave us some chilling examples, mainly from Poland, Hungary and Italy, of how things have changed in recent years. She talked about the harassment of Polish judges who are still standing up for human and civil rights, often in defiance of the government. Also the criminalisation of human rights defenders in Hungary and Italy – and the demonisation and persecution of Roma people in several countries, particularly Italy.
Throughout Ulrike illustrated her talk with short videos, some demonstrating the harassment and violence suffered by those peacefully protesting. She also brought along actions we could complete – these were mainly letters but also a photo action she had created .
Ahmed H has been separated from his wife and daughters for almost 4 years.  In September 2015, he was imprisoned in Hungary and convicted for "complicity in an act of terrorism" in a blatant misapplication of Hungary's counter-terrorism laws. Ahmed H. was conditionally released on 19 January 2019 and is being held in immigration detention in Hungary. As he is a Syrian national he is at risk being forcibly returned to Syria, a country that is not safe.  Cyprus must allow his return home to be reunited with his family.  More details and to to take action follow this link:-
https://www.amnesty.org.uk/resources/urgent-action-ahmed-h-must-be-allowed-return-home
Another of the actions she featured was prominent prominent human rights defender Elżbieta Podleśna. Following a raid on her home, the police claimed to have found in her home copies of posters depicting the Virgin Mary with a halo around her head and shoulders in the colours of the LGBTI flag. She has been charged with of"offending religious beliefs", a criminal offence that carries up to two years' imprisonment. Amnesty believes Elżbieta Podleśna is being targeted for her human rights activism and this absurd investigation must be stopped.  More details and to to take action follow this link:-
https://www.amnesty.org.uk/resources/urgent-action-stop-harassment-human-rights-activist
Ulrike says not to worry about the "end by" dates given