Turkey
Support women in Turkey on International Women's Day, 8th of March 2022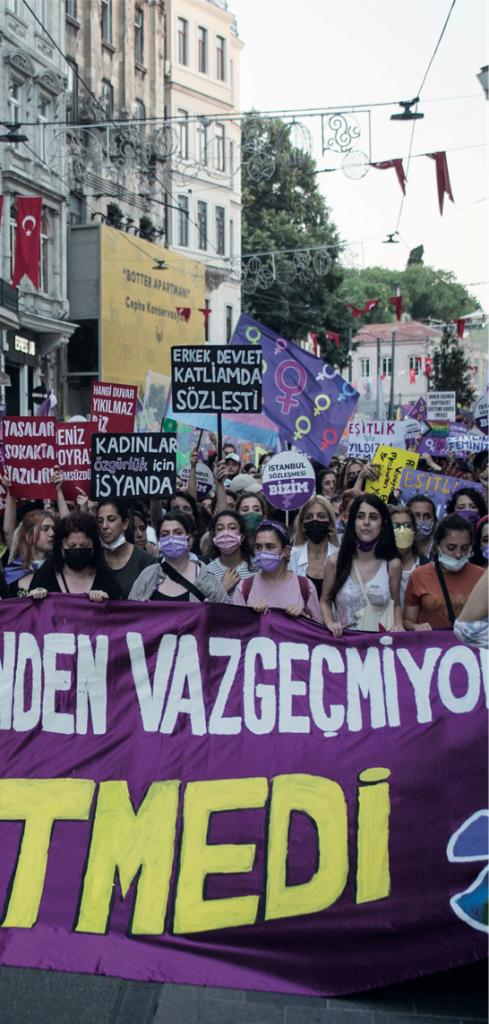 In the January newsletter we reported that Amnesty International had published a new briefing document, Turkey, Turn Words Into Actions setting out the increasingly worrying situation regarding violence against women in Turkey and reminding the government there of its obligations. As we move towards this year's International Women's Day, on 8 March we are working with colleagues in AI Germany to send a common message to the Turkish government focussing particularly on the role of the judicial authorities and police.
Attached with this newsletter are two documents that you could use to join this campaign.
1. A letter to the Minister of Interior, to be copied to the Turkish Ambassador in London. Please print and sign as soon as possible so it will arrive before 8 March (download here).
2. A pdf file that you can use to print campaigning postcards yourselves or arrange to have multiple copies printed at your local printers. This postcard has been worded so that it can be used beyond International Women's Day as we will certainly be campaigning on this issue for some considerable time to come (download here).
Ukraine
We are commending Poland and the Polish people for welcoming refugees from Ukraine and are asking our government to help too!
Dear Amnesty Activists and supporters,
We are all in shock watching the invasion of Ukraine by Putin's army. Bombs raining on blocks of flats, a Kindergarten, over 100000 people trying to flee to neighbouring countries Poland, Slovakia, Hungary, Romania. Poland is preparing reception centres to welcome refugees from Ukraine.
We are commending Poland and the Polish people for welcoming refugees from Ukraine and are asking our government to help too: Many Ukrainians in the UK are desperately worried for friends and family in the Ukraine.
Poland
Refugees still trapped at the border
All those fleeing war and persecution should be given sanctuary and access to fair asylum procedures if they wish to apply.
But at the same time there are still refugees from Iraq, Syria, Afghanistan and other places with horrendous human rights records trapped between the border of Belarus and Poland, without shelter, food, medical assistance except for those brave volunteers from Grupa Granica and women from the neighbouring villages who are dodging border guards to bring food, water and blankets to starving and freezing refugees in the forest. And these brave volunteers are criminalised and harassed by Polish soldiers and border guards.
I would like to quote one of these brave Polish activists who are supporting all refugees, Ewa Wołkanowska-Kołodziej (Support refugees in Poland, Belarus and Lithuania):-
Four refugees from Pakistan and Afghanistan have informed the administration of a closed center in Lithuania that they want to donate blood to Ukrainian soldiers.
A refugee from Iraq asked if it was possible to go to the front and fight for a free Ukraine.
And just now I also received a collective question from several families: "How can you help? What organization to contact?" Because they want to be needed.
Do you know what these people have in common? They know the sounds, smells and emotions of war. They are a bit surprised that Poles and Lithuanians are accepting these new ones into their homes and they are locked in prisons.
Well, I'm also surprised. Not that we accept the Ukrainians, but that we have not accepted the Congolese, Iranians, or Cameroonians in the same way.
We are calling for all Refugees to be welcomed!
On 15th January we organised an international Action: #StoprefugeesFreezing
In Belfast, Glasgow and Edinburgh, Carlisle, Newcastle, Manchester, Brighton, Cornwall, London, Dresden (Germany) Erlangen and Regensburg (Germany), Aalborg in Denmark, Istanbul in Turkey, Amnesty Activists protested outside Polish Embassies and Consulates as well as public spaces.
Please see photos of the actions collated under the hashtag,
Join us Saturday 19th March 11 am!
We are going to organise another vigil outside the Polish Embassy in London 47 Portland Place, London W1B 1JH for Saturday 19th March at 11am to call for the harassment of Human Rights defenders at the border to be stopped and all refugees to be welcomed. All refugees fleeing war and persecution need to be given protection and the right to apply for asylum wherever they come from. Join us on 19th of March 11am outside the Embassy of Poland. We can join the Refugees Welcome bloc at the Stand up to Racism demo from 12 noon.
 Poland: Human rights defenders face threats and intimidation at Belarus border
GENEVA (15 February 2022 – UN Press Release)
Poland must investigate all allegations of harassment of human rights defenders, including media workers and interpreters, at the border with Belarus, and grant access to journalists and humanitarian workers to the border area ensuring that they can work freely and safely, UN human rights experts* said today.
"I am receiving several reports of harassments from human rights defenders who assist migrants and document human rights violations against them at the Polish-Belarusian border, and I am deeply concerned at this practice," said Mary Lawlor, the Special Rapporteur on the situation of human rights defenders.
Jakub Sypiański, a volunteer interpreter assisting migrants and asylum-seekers, was reportedly stopped by armed soldiers when driving home in November 2021. The soldiers, who were in an unmarked vehicle, did not identify themselves nor explain their actions. They forced open the car door, took the keys out of the ignition and tried pulling him out by his legs.
"Most of the migrants at the border do not speak Polish," said Mary Lawlor. "Interpreters play a vital role in ensuring their human rights are protected both at the border and in immigration detention centres."
At around the same time, armed soldiers reportedly harassed journalists covering the arrival of migrants and asylum seekers. Soldiers who did not identify themselves stopped, searched and handcuffed photojournalists Maciej Moskwa and Maciej Nabrdalik outside a military camp. The soldiers searched their equipment, scrutinising their photos, and documented their phone messages and incoming calls.
Journalists Olivia Kortas and Christoph Kürbel, along with two local Polish residents, were allegedly harassed by soldiers while filming a documentary about the human rights situation of migrants at the border.
"Reports that these journalists are being persecuted for documenting such human rights violations are appalling," said Irene Khan, the Special Rapporteur on the right to freedom of opinion and expression. "Their work is crucial for everyone's access to information about the situation unfolding at the border. If they are not allowed to do their job, there are very serious consequences for the human rights of migrants".
"Interpreters and journalists, along with medics, lawyers and others who peacefully work for the protection of human rights or who provide humanitarian aid, are human rights defenders, according to the UN Declaration on Human Rights Defenders. Poland should bear this in mind and ensure that they are able to carry out their legitimate work in a safe and enabling environment and with full access to the border area," said Lawlor.
Italy
Interview with Amnesty Italy's researcher Debora Del Pistoia:-
Together with Amnesty Germany EU Action, we prepared 2 new podcast episodes.
The new episodes are about essential workers in Europe during Covid-19.
In the first episode we talked about the urgent need to address concerns of care and health workers in Italy, and new report by Amnesty Italy about health and care workers during the pandemic.
This report is part of a series of research conducted by Amnesty International in various European countries on the impact of Covid-19 on the rights of essential workers.
The first episode will be available on Wednesday, 2nd of March on: https://open.spotify.com/show/2h3Cq7f8uJNRD2qJd3q5ez?si=EpYQLB7KT_KkmRJHICEE6w
Instagram/Facebook: amnesty_eaac, amnestyukeurope      Podcast: Spotify Human Rights in Europe by Amnesty International EAAC
Health and care workers in Italy who raised concerns about poor and unsafe working conditions in care homes during the Covid-19 pandemic were subjected to unfair disciplinary proceedings and feared retribution from their employers, new research from Amnesty International has found.
Instead of addressing their health and safety concerns over issues such as the use of personal protective equipment and the true number of Covid cases in care homes, employers silenced these workers, often through unfair dismissal, and targeted them with anti-union measures.
One third of the people interviewed by Amnesty International during this research reported a climate of fear and retaliation in the workplace. The lawyers reported over ten cases of disciplinary proceedings and dismissals.
The urgency of an independent investigation
The Italian authorities must ensure that the voices of these workers are heard. Amnesty International therefore calls on the parliament to set up an independent commission of inquiry which focuses in particular on the situation of residential facilities (please sign the petition here).
Austria
Migrant care workers denied rights in Austria
WHY 24-HOUR CARE IN AUSTRIA URGENTLY NEEDS A HUMAN RIGHTS-COMPLIANT LEGAL FRAMEWORK
Report: Migrant care workers denied rights in Austria
In our second podcast episode Jovana Bosnjak CC for Western & Northern Europe and Mira Hartman CC for the EU at Amnesty Germany talked to Teresa Hatzl from Amnesty Austria.
Teresa Hatzl from Amnesty International Austria is the researcher behind this report, human rights activist and advocate.
In this episode we are exploring issues of live-in care workers being misclassified as self-employed in Austria. In Austria, more than 60,000 24-hour care workers work as self-employed. Their work is essential, for the people they serve and for the society as a whole, still the care workers often work under unfair, unsafe and precarious conditions. The COVID-19 pandemic has brought their precarious working conditions into focus.
The second episode will be available in March on: https://open.spotify.com/show/2h3Cq7f8uJNRD2qJd3q5ez?si=EpYQLB7KT_KkmRJHICEE6w
Instagram/Facebook: amnesty eaac, amnestyukeurope    Podcast: Spotify Human Rights in Europe by Amnesty International EAAC
We have had some great feedback from the Austrian government about this report and they seemed keen to negotiate and reform the legal system, so please help us collect more signatures for the Amnesty Austria's petition.
Demand fair working conditions for careers with us now. Sign the petition here.
France
New Law Compels Reform of Football Policy that Discriminates against Muslim Women
Latest attempt to undermine Muslim women in sport, see New Statement
On 24 February France adopted a new law aimed at democratising access to sports. A group of Senateurs ultimately failed in their repeated attempts to introduce a discriminatory amendment intended to prohibit women who choose to wear headscarves from participating in all sporting competitions and events organized by state-regulated sports federations and their associate organizations. However, these lawmakers successfully hijacked the legislative process ensuring that parliamentary sessions were stained with inflammatory rhetoric, offensive stereotyping and debates that stigmatised Muslim women.
French lawmakers must now focus on the stated purpose of the law and act on its modifications to the Code du Sport which commit the French government to promote equal access and end discrimination in sport. In order to guarantee the principle of non-discrimination, France must now prioritise the reform of a long-standing discriminatory policy practiced by the Fédération Française de Football (FFF) that effectively prohibits Muslim women who choose to wear a headscarf from participating in competitive football matches, in violation of their right to religious freedom and freedom of expression.
The French government has no excuse now but to refocus its efforts on respecting the principle of non-discrimination. As well as being protected by numerous treaties to which France is a state party, the prohibition on racial discrimination is a peremptory norm of customary international law which means that it applies to all states independently of their treaty obligations, and gives rise to obligations that are owed to the international community as a whole and from which states cannot derogate.