There never seems an ideal time to do this as things are moving at a huge pace. But we've finally hit the Bournemouth Echo – twice!! – so it must be happening. Thanks to Genevieve Talon for her persistence, as there was a good article on Monday. This followed a short piece the previous week – as in the photo below.
If you are new to the whole concept of an Art Exhibition, firstly check out the Art page. Following our successful music event in 2011 we decided to follow up with something else that would attract the interest and attention of the wider public – not just Amnesty followers. An Art Exhibition appeared an ideal medium, as the theme of human rights would also given opportunity to create discussion and debate around Amnesty Internationals work.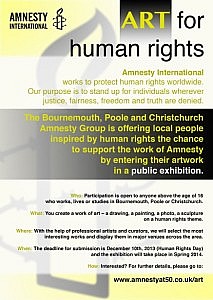 Over the past 8 months a small sub-committee has got the project off the ground. From our initial enquires it became clear that the event couldn't happen in 2013, as most venues were already booked. But we have now lined up venues such as Christchurch Priory, Red House museum, St Peters Church and the Lighthouse in Poole – with negotiations continuing with others. The main exhibition looks set for Spring 2014 (the Lighthouse may well be Autumn – wait for updates!).
Energy has also been spent contacting 6th Form College Art Tutors and  professional and amateur artists and art groups. We have distributed our leaflet far and wide. We have started to get enquiries about how to submit entries. Its happening!
I can hear you shout – "how can I help?" At this stage we still need to publicise the event as much as possible. At the moment there is a post at the top of our Facebook page that you can share, for example. If you know anywhere that could display a poster? Do you know artists who may not have heard of the event? Would you like to enter yourselves?
When we do hold the exhibitions there will be a great deal of support needed to help steward some of the venues. But more on that nearer the time. Please add comments and questions below.