This month we bring you news from Venezuela, Brazil, Colombia, Bolivia, Paraguay and Chile. Amnesty has issued two new Urgent Actions: the director of a Venezuelan NGO remains in detention and we ask for his release, while in Brazil we are asking the Attorney General to investigate the government's mishandling of the pandemic.
Included are in-depth reports on the impact of US sanctions on Venezuelans, human rights abuses under Brazilian President Bolsonaro's government and two reports on Colombia. One focuses on the continued aggression against human rights defenders, while a deposition to the Truth Commission describes in great detail how the lives of women and girls were upended by armed groups during 50 years of civil conflict.
We report on inter-familial sexual violence against women in Bolivia, an important ruling on Paraguay's indigenous community and new evidence that Amnesty has compiled on 2019's social uprising in Chile.
VENEZUELA
On 25 October, the Prosecutor of the International Criminal Court commenced an official visit to Venezuela to investigate crimes against humanity. The visit will last 10 days, and he will also visit Colombia. The ICC Prosecutor's Office conducts independent and impartial preliminary examinations, investigations and prosecutions of the crime of genocide, crimes against humanity, war crimes and the crime of aggression.
Amnesty has issued a new Urgent Action on behalf of Javier Tarazona. He is Director of local NGO FundaREDES and remains detained by the Bolivarian National Intelligence Service (SEBIN). Rafael Tarazona and Omar de Dios García, FundaREDES' activists, were conditionally released on 26 October. Amnesty urge authorities to release Javier Tarazona immediately
Important note: Please take action immediately. Send a letter to the Embassy in London, because the mail in Venezuela does not work properly. President Nicolás Maduro c/o Her Excellency Mrs Rocío Maneiro, Embassy of the Bolivarian Republic of Venezuela 1 Cromwell Road SW7 2HW Fax 020 7589 8887 ambassador@venezlon.co.uk reinounido.embajada.gob.ve Twitter: @NicolasMaduro
UN expert report emphasizes that US sanctions on Venezuela undermine human rights. UN Special Rapporteur Alena Douhan has reiterated her call for sanctions relief. The independent expert reiterated that the wide-reaching sanctions program against Venezuela has had a "devastating" effect on the entire population's living conditions. economic and social crisis was exacerbated by the imposition of "sectoral sanctions on the oil, gold and mining industries" as well as " the economic blockade
BRAZIL
Amnesty International has issued a new Urgent Action calling on the Attorney General to investigate the mishandling of the pandemic, which has resulted in more than 600,000 deaths and countless human rights violations. The Attorney General has until 26 November to decide whether to open an investigation based on the Parliamentary report. Due to the potential human rights impact of the actions and omissions identified by the Commission, we call on the Attorney General to instruct the Public Ministry to investigate these allegations.
Amnesty has published a new report 1,000 days of Bolsonaro and Brazil's grave human rights crisis (English summary; full report in Portuguese). 'Gross mismanagement of the COVID-19 pandemic, the aggravation of a public security crisis, and vast environmental devastation are just three outcomes of a tenure that has been nothing less than disastrous for human rights.' Amnesty highlights 32 government actions that have led to violations of human rights from the President's inauguration to 26 September 2021.
The TUC invites you all to a webinar to launch a new report The Challenge to Democracy in Brazil. It includes case studies on:
The impact of hostile policies aimed at undermining organised labour
The impact of austerity on the welfare and human rights state
The undermining of democratic institutions
Bolsonaro's use of racist, homophobic and misogynistic political narratives
The destruction of the natural environment, and the violence directed against the indigenous.
It begins at 6pm London time on 16 November. You can sign up here.
COLOMBIA
The Colombian NGO Programa Somos Defensores (Programme We are Defenders) has published its report for aggressions against human rights defenders from January to June 2021.(in Spanish)
| | | |
| --- | --- | --- |
| Type of individual aggression | Jan to June 2020 | Jan to June 2021 |
| Threats | 274 | 366 |
| Killings | 95 | 58 |
| Attempted killings | 29 | 46 |
| Arbitrary detentions | 27 | 31 |
| Prosecutions | 24 | 4 |
| Forced disappearances | 13 | 7 |
| Theft of information | 1 | 10 |
| Sexual violence | 0 | 2 |
|          Total aggressions | 463 | 524 |
41% of all aggressions occurred during the National Strike. Of the 58 defenders killed, 24 were community leaders, 16 were indigenous leaders, and 3 were afro-descendant leaders. The remaining 15 were youth leaders, defenders of the environment, LGBTI leaders, union, academic and other defenders of human rights.
34 of the perpetrators were unknown at the time of the report, successor paramilitaries (including criminal gangs) were responsible for 12 killings, FARC (Revolutionary Armed Forces of Colombia) dissidents for 6, State security forces for 4 and ELN (National Liberation Army) guerrillas 2.
Most of the aggressions have taken place in areas of Colombia where armed groups fight for control of illicit resources (coca production, cocaine export routes, illicit gold mining) and where the State has little or no presence.
A group of NGOs have sent a report, Truth Is: Politicizing Women's Pain and Emotions (in Spanish with an abstract in English), to Colombia's Truth Commission, which has been charged under the Peace Accord with the FARC to gather information on violations of human rights during the 50 years of internal conflict up to 2016. Violence against women during the decades-long occupation by armed groups was largely ignored, and this report puts the record straight.
The lives of women were radically changed when FARC, ELN and paramilitary armed groups arrived in their area and for years, some for decades, women lived in fear. They recount the complexity of the relationship with the new 'hero-warriors', and how they adapted to the new reality of occupation: Forced marriages; forced recruitment as 'soldiers', cooks and 'to provide sexual favours', forced labour; new opportunities to work outside the home; guilt for their inability to protect their children; new restrictions on mobility and freedom of expression; resistance and resignation.
In the Cauca region, 96% of women reported that they were forcibly displaced, 35% that at least one member of the family (nearly always a man) was forcibly disappeared and 35% suffered sexual violence. Perpetrators included members of the security forces.
Amnesty International will shortly launch a new report on human rights defenders, Why do they want to kill us? Lack of safe space to defend human rights in Colombia.
BOLIVIA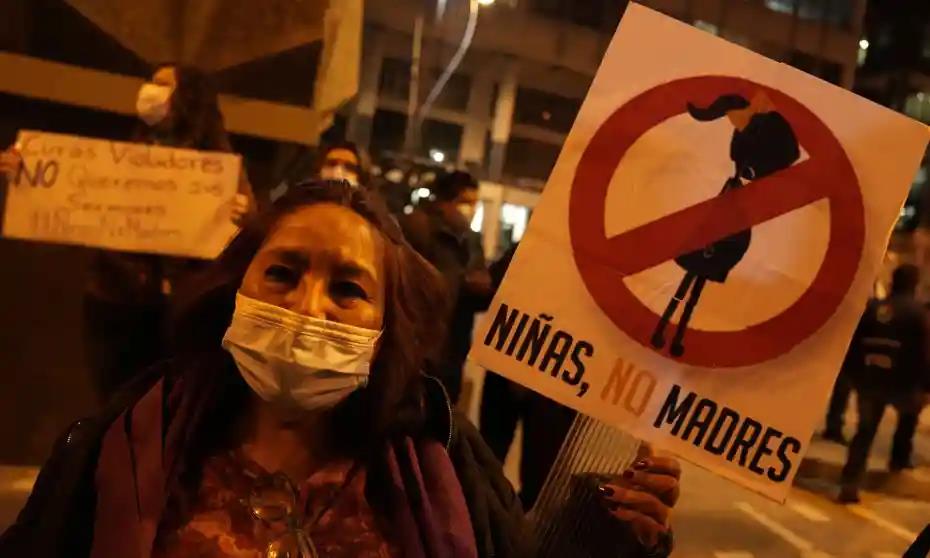 The fate of an 11-year-old girl who became pregnant after being raped by a family member has unleashed a fierce debate between human rights activists and the Catholic church in Bolivia.The girl was impregnated after being repeatedly raped and suffering other sexual abuse by the father of her stepfather. The girl was living with her sisters and 61-year-old step-grandfather, who is now in jail for the crime, because her parents were working elsewhere. The case has thrown into sharp relief the gaping holes in the state's protection for women and girls in Bolivia, which has one of the highest levels of inter-familiar sexual violence and abuse in Latin America. The intervention of the Catholic church is also being severely questioned, after religious groups contacted the mother of the victim and persuaded her to oppose the termination of the pregnancy, a move which has prompted legal action by the Bolivian human rights ombudsman's office. Amnesty has released a video of the Social Uprising two years ago in Chile,
PARAGUAY
The UN Human Rights Committee has ruled that Paraguay's failure to prevent the toxic contamination by pesticides of indigenous people's traditional lands by commercial farming violates their rights and their sense of "home". This landmark ruling is the first time the Committee has affirmed that, for indigenous people, "home" should be understood in the context of their special relationship with their territories, including their livestock, crops and way of life.  The decision stems from a complaint filed more than a decade ago on behalf of some 201 Ava Guarani people of the Campo Agua'e indigenous community, located in Curuguaty district in eastern Paraguay.  The Committee has called on the government to remedy the damage within 180 days.
CHILE
Amnesty International Chile launched a new campaign to mark the second anniversary of the Estallido Social (Social Uprising). This campaign is particularly striking: via Google Maps Street View and other platforms, it will show victims, activists and staff standing at the sites where human rights violations were committed holding up signs demanding justice, so anyone and everyone who navigates the streets of Chile online will learn about these historic and tragic events. Find out more visiting this website.
43-year-old Denisse Cortes, a law student, was killed while she attended a march to defend the rights of indigenous people in Chile on the 10th of October. The victim's family questioned the police version stating that Denisse's death was a consequence of a group of protesters wearing hoodies that attacked police with fireworks, and one of the crackers hit Denisse. You can read more about it here.
The AIUK South America team is launching a blog to raise awareness of the case of Gustavo Gatica. We are calling on members and activists to write a creative piece on the right to protest (other ideas welcome as well!) If you are interested, get in touch with Carla Torres: Carla.torres@amnesty.org.uk
All the best,
South America Team – Richard Crosfield (Colombia and Brazil), Carla Torres (Chile and Argentina), Javier Martinez (Venezuela) and Graham Minter (rest of South America).