We are pleased to welcome Carla Torres to our team as Country Coordinator for Argentina and Chile.
This month, we update you on developments in Colombia, Chile, Bolivia, Paraguay, Venezuela, Peru, Ecuador, Brazil and Argentina. We have new Amnesty reports on human rights defenders in Colombia and police violence in Chile, an update on illegal cattle farming in Brazil and alert you to a new Amnesty campaign to legalise abortion in Argentina. There are petitions and Urgent Actions for Colombia (2), Bolivia and Paraguay. We report on the pressures on indigenous communities in Colombia, Peru, Paraguay, Ecuador, Brazil and Argentina threatened by mining companies, paramilitaries, farmers, loggers, security forces and drug traffickers. Covid-19 infection rates surge to new highs across the region and Amnesty has written to the OAS asking member states to prioritise human rights, particularly in El Salvador, Paraguay and Venezuela where lockdown measures are extreme.
REGIONAL
In an open letter to heads of state attending the General Assembly of the Organization of American States (OAS), Amnesty called on OAS Member States in the Americas to prioritise a human rights-based approach to combating the COVID-19 pandemic, which it said had exposed widespread inequality and discrimination in the region. It noted that in countries such as El Salvador, Paraguay and Venezuela, the strict measures taken to combat COVID-19 have included confining tens of thousands of people in state-run quarantine facilities under police or military control.
COLOMBIA
Amnesty International has published a new report, Why do they want to kill me? on the plight of human and environmental rights defenders in Colombia. The signing of the Peace Agreement between the Colombian government and the FARC (Revolutionary Armed Forces of Colombia) guerrilla group on 24 November 2016 has not had the hoped-for impact on human rights because of the failure of the Colombian state to fulfil the terms of the Agreement. The flaws in the implementation of the Agreement are endangering the lives of human rights defenders, particularly those defending territories in the country that are richest in natural resources. The sharp increase in the number of human rights defenders killed since 2017 is evidence of this.
As part of this campaign, Amnesty is calling on the Colombian Congress to guarantee the safety of Human Rights Defenders. Please sign Amnesty's petition to the Colombian Congress to set up a Commission for the Verification of Guarantees to monitor and fulfil its responsibilities to protect defenders, including those who protect the environment and our natural resources.
One of Amnesty International's Write for Rights human rights defenders, Jani Silva, tells her story. It begins, My name is Jani Silva and I'm a campesina, or small-scale farmer, from Colombia. I'm 57 years old and I work in the Perla Amazónica Farming Reserve Area in the southern region of Putumayo. Ever since I was little, I've always followed my convictions and always defended what I believe in. This is why I'm fighting to preserve the Amazon and its biodiversity… Please sign the letter to President Duque, asking him to ensure that Jani Silva and the colleagues she works with have access to a collective protection plan.
The UN Special Rapporteur on human rights and the environment has called on 'Colombia to implement the directives of its own Constitutional Court and to do more to protect the very vulnerable Wayúu community on the Provincial indigenous reserve against pollution from the huge El Cerrejón mine and from COVID-19.' The dispute over the mine's colossal damage to the environment and to the livelihood, health and way of life of the indigenous Wayúu community has been ongoing for 20 years. The mine is owned one-third each by BHP, Glencore and Anglo-American PLCs. All three are listed on the London Stock Exchange.
The UN's High Commission to Colombia condemned the attempted killing of the indigenous senator Feliciano Valencia. The senator was on his way to commemorate the anniversary of the killing of five indigenous people in the Cauca, a social leader and human rights defender and four indigenous guardians, 29 October 2019.
The New York Times reports on the march of 10,000 indigenous people to Bogotá to negotiate with President Duque the surrender of indigenous lands, the implementation of a 2016 peace deal and respect for democracy. The President refused to meet them.
Colombia Peace summarises the testimony of LGBT+ victims of the civil war to the Special Jurisdiction of Peace (JEP). 'The testimonies in this latest report are unique because they provide evidence on how state forces and paramilitary groups targeted the leaders of locally based LGBT+ groups, who promote fundamental rights, democratic ideals, and peace, to permanently exterminate their presence in civil society. Therefore, this is the first report submitted to the JEP that reveals how LGBT+ groups, not only LGBT+ individuals, were subject to conflict-related violence.'
CHILE 
In a new report All Eyes on Chile: Police violence and command responsibility during the social protests, Amnesty has called on the National Public Prosecutor's Office to ensure that individuals in command of Chile's National Police, as well as some operational officers, are investigated for their possible responsibility for human rights violations during last year's demonstrations.  Amnesty has concluded that serious and widespread human rights violations were committed because those in strategic command did not take all the necessary measures to prevent them.
Chileans have voted overwhelmingly in favour of establishing a new constitution. After one year of almost continuous protests, the country responded with jubilant parties and street celebrations.  The current constitution, introduced during the regime of President Pinochet, has been a constraint on the country's democratisation process and the reform of tainted institutions.
BOLIVIA
Following the clear victory of the Movimiento al Socialismo in Bolivia's elections last month, the outgoing parliament approved a motion recommending that ex-interim president Jeanine Anez and her ministers face justice for responsibility over last year's unrest which left around 30 people dead.
Human rights defenders Waldo and Franco Albarracin have reported that since the elections they have received several death threats from unidentified persons through their mobile phones and social media.  Amnesty callc on the Minister of Government to provide immediate, comprehensive and sustainable protection measures to Waldo and Franco Albarracin and their family, in consultation with them. AIUK has an email action here.
PARAGUAY
On 27 October, Qom indigenous leader Bernarda Pesoa was physically assaulted on her community lands by a group of about nine women and men after she opposed works for a eucalyptus plantation in the community´s territory.  The communities have not been properly consulted by the project developers to ensure their free, prior and informed consent.  Amnesty asks State authorities to investigate urgently the attack against Bernarda and provide her with protection. AIUK has an email action here.
VENEZUELA
The United Nations Human Rights Council has extended by two years the mandate of its Fact-Finding Mission. The mission has documented executions, disappearances and torture that they say may amount to crimes against humanity. It condemned "widespread targeted repression and persecution" by security forces and called on the government of Nicolas Maduro to cooperate with a preliminary examination opened by the International Criminal Court (ICC).
PERU
This article describes the struggle of an indigenous village in the Peruvian Amazon that has been under threat from drug traffickers, loggers and farmers for years – and whose survival is now threatened by the pandemic.
ECUADOR
Ecuador's Indigenous movement declared October "Rebel October" to commemorate the violent 11-day anti-austerity protests last year that saw 11 people killed, 63 severely injured, and more than 1,300 protesters arrested.  Indigenous communities say they have been forgotten by the state during the pandemic and intend to show the government that they will continue to fight for their rights.
BRAZIL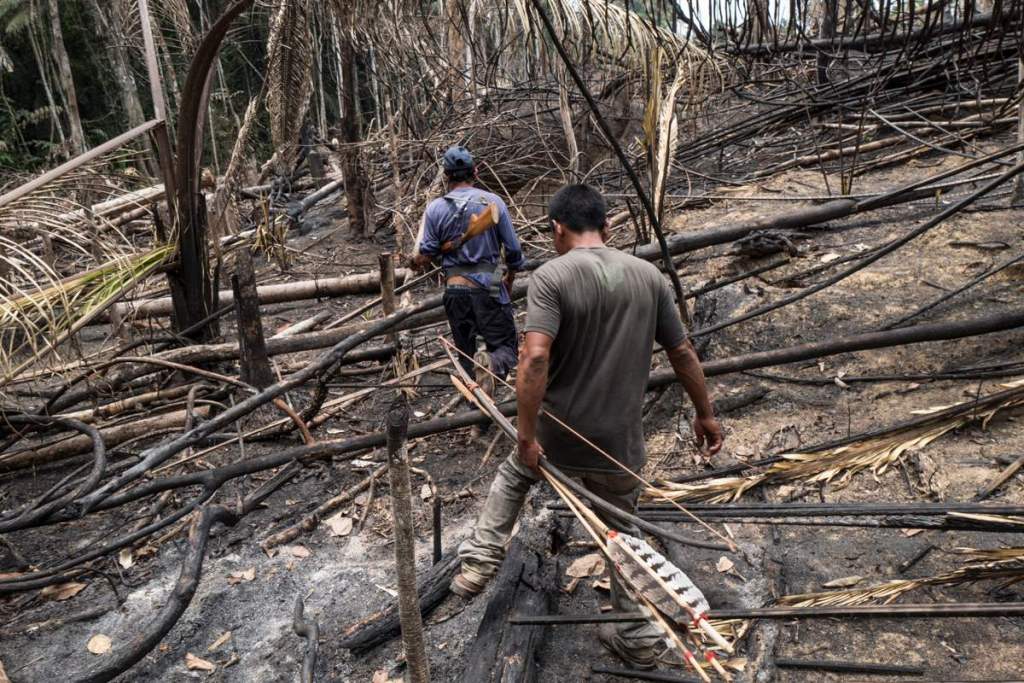 Amnesty has updated its report on illegal cattle farming in Brazil's Amazon that threatens the territory of indigenous communities. 'On 23 September, JBS announced it would introduce a new system to monitor its cattle suppliers, including its indirect suppliers, by 2025. Amnesty International considers this timeline too far removed. JBS has been aware of the risks that cattle illegally grazed in protected areas may enter its supply chain since at least 2009, and previously pledged to monitor its indirect suppliers by 2011. In light of the company's longstanding awareness of these issues, Amnesty International believes that JBS should implement due diligence and preventive measures by the end of 2020.'
Amnesty International demands an investigation into the shooting by police of Maiara da Silva, who is five months pregnant, in the Maré favela of Rio de Janeiro. Maiara is in hospital and her condition is grave. Police operations in Rio's favelas, which have caused many deaths, were officially suspended by the Federal Supreme Court in June.
ARGENTINA
Amnesty International will shortly resume its campaign to legalise abortion in Argentina. President Alberto Fernandez has said he favours legalisation, but the bill must get through the chamber of deputies and the senate, where it was defeated in 2018. Amnesty has collected 220,000 signatures for a petition to legalise abortion. Currently, abortion is only permitted when there is danger to the life or health of the girl or woman or in case of rape. In practice there is a lack of essential medicines, equipment, and instruments needed to ensure access to safe abortion.
Amnesty is closely following the judicial investigation into the security forces of Chaco Province for the violence wreaked on members of the Qom indigenous community 31 May when they were detaining four members of that community. They were taken into police custody where they were threatened, suffered ill-treatment and torture and one of the girls accuses them of sexual abuse.  New videos have been found that provides more evidence of their claims as well as identifying the police involved.
We are always looking to improve our newsletters, so all comments are most welcome!   All the best,
South America Team – Richard Crosfield (Colombia, Brazil) Carla Torres (Argentina, Chile) and Graham Minter (rest of South America).