This month we bring you updates on human rights issues in Colombia, Venezuela, Argentina, Chile, Brazil and Ecuador.  A request to sign Amnesty International's petition on Colombia, asking the Attorney General to investigate the murder of Kevin Agudelo and other violations committed during the national strike. And Amnesty's new Urgent Action to protect human rights defenders in the Magdalena Medio region of southeastern Colombia.
Also Amnesty International's new report on human rights violations in Venezuela.  The letter that Amnesty International sent to President Fernandez about the fires in the province of Corrientes in Argentina. The situation of the former Carabinero, Claudio Crespo, who was accused by the Chilean National Prosecutor's Office of shooting Gustavo Gatica. The murders that occurred in Rio de Janeiro by the police in Brazil, and violence against the LGBT+ community in the country. The decision of the Constitutional Court of Ecuador on mining in the territory of the Aí Cofán indigenous people.
COLOMBIA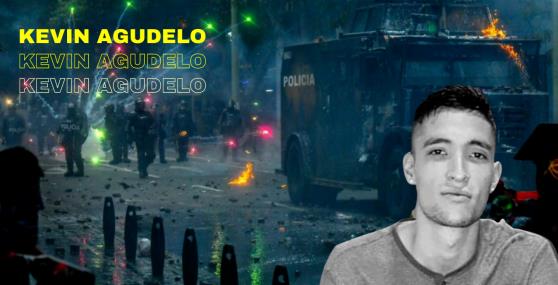 Kevin Agudo, allegedly killed by police, Cali 3 May 2021
On 3 May 2021 a joint raid by National Police officers, members of the Mobile Anti-Riot Squad (ESMAD) and the Special Operations Group of the Colombian National Police (GOES) used lethal weapons and tear gas against people who were holding a memorial service for the killing of a young man near the roundabout in Siloé district the previous day.  Three people lost their lives the night of 3 May, among them Kevin Agudelo, a young football player. Please sign Amnesty International's petition (UK is Reino Unido) asking the Attorney General to investigate this murder and other human rights violations during the National Strike.
Amnesty International has issued a new report, Repression in the Spotlight, with a video showing the police using lethal weapons, such as Tavor 5.56 mm rifles, against peaceful protestors in Siloé district, Cali. The reconstruction uses more than 200 audiovisual assets analysed by Amnesty International's Crisis Evidence Lab and SITU Research, as well as witness testimony to verify and illustrate the details of the incursion and the events leading to Kevin's death.
Amnesty International has issued a new Urgent Action to protect human rights defenders in the Magdalena Medio region in southeast Colombia who have been subject to multiple threats in recent weeks. On 9 February unknown men broke into the house of the environmental defender Yuvelis Morales. She had received a death threat the day before and was forced to leave Colombia. On 7 February several human rights defenders of the region were also targeted in a ordering them to leave the area or face the consequences. We urge the authorities ensure the safety of all human rights defenders in the region. Columbia – Environmental Defenders at Risk
Good news! Amnesty International welcomes the decision by Colombia's Constitutional Court to decriminalise abortion. Abortion during the first 24 weeks of pregnancy is decriminalised. After 24 weeks, legal abortion will continue to be permitted only in cases of a risk to the life or health of the pregnant person; the existence of life-threatening foetal malformations; or when the pregnancy is the result of rape, incest or non-consensual artificial insemination.
In a press release on the killing of human rights defenders and journalists in the Americas, Amnesty International notes that 13 Colombian human rights defenders were killed in January this year. 'The protection of Indigenous, campesino and Afro-descendant communities in Colombia is ineffective because it does not address the structural causes of violence and often occurs without the proper participation of those at risk. Defenders of communities at risk are constantly unprotected, and threats, attacks and killings are constant in the country considered the most dangerous in the world for defending human rights.'
VENEZUELA
New Amnesty International report on Venezuela:- Calculated Repression: Correlation between stigmatization and arbitrary detentions in Venezuela.
Amnesty International considers that the dependent relationship between the discriminatory narratives (stigmatization) and the human rights violations (arbitrary detentions and criminalization) could indicate the existence of the crime against humanity of persecution, for which the Venezuelan authorities, including those at the highest level, should be investigated to determine their criminal responsibility for these acts.
 ARGENTINA
Amnesty International Argentina sent a letter to President Alberto Fernandez to express its concern regarding the wildfires taking place in the province of Corrientes. According to the National Institute of Agricultural Technology, 800.000 hectares of land had been burned. This represents 9% of the province. The letter also calls to consider approving the "Wetland law" to protect wild flora and fauna from extinction. More information can be found here.
CHILE
Chile's constituent assembly has formally began debating motions for a new Constitution to replaces their current one, dating back to the dictatorship of General Augusto Pinochet. New Constitution includes plans of nationalizing mining, creating a one-chamber Congress, water rights and protection for indigenous territories by providing indigenous communities a veto power. Read more about it here.
Former Carabinero Claudio Crespo Guzmán, charged by the General Attorney of shooting student activist Gustavo Gatica, has been set free after 12 months of preventive prison. Guzman has started his own cleaning company("Fullclean Security) and his activity on social media has been linked to far-right wing groups. More information in Spanish can be found here.
BRAZIL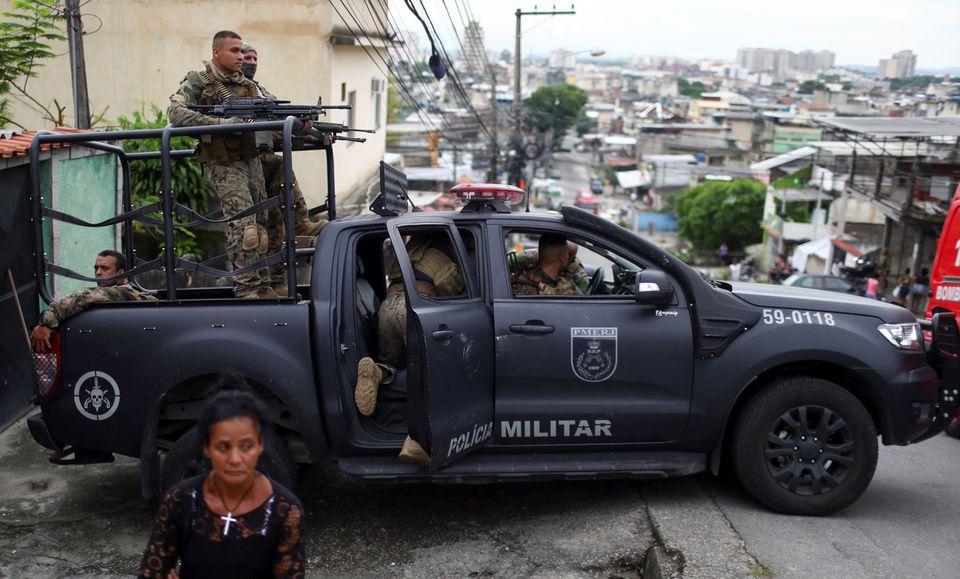 Police in the Penha district of Rio 11.2.2022According to Reuters, at least eight people were killed by police in the Penha district of Rio de Janeiro 11 February. Police claim that they were taking on a major drug trafficking gang in the district. The operation comes a week after Brazil's Supreme Court ruled that Rio de Janeiro's state government must come up with a plan in no more than 90 days to reduce the death toll related to police raids in the state, especially in poor areas. Police killed 1,250 people in 2020 in the State of Rio.
The Wilson Centre of Washington DC carries an article assessing the high level of gender violence and violence against LGBT+ people in Brazil. In 2016, estimates indicate that over 12 women were killed per day in Brazil – an average female homicide rate of 4.43, which ranked 13th among global rates for the year. According to global data collected between October 2019 and September 2020, Brazil witnessed the highest number of murders of trans and gender diverse people of any country, having reported 43 percent of the global total.
Survival International reports on the predicament of a previously unknown and uncontacted Amazon tribe in Brazil. The National Indian Foundation's (FUNAI) protection team sent a report to their headquarters in Brasilia requesting urgent action to protect the tribe. FUNAI's head office did not respond to their request, and has ignored two subsequent urgent demands for protection measures to be enacted. 'Brazil's recent history shows that unless the authorities act now, an entire uncontacted people will be condemned to death, and another vital part of human diversity will be gone forever.'
ECUADOR
Amnesty has welcomed the recent decision of the Constitutional Court, Ecuador's highest court, that mining concessions affecting the ancestral territory of the A'i Cofán Indigenous people of the Sinangoe community violated their "rights to prior consultation, to nature, water, a healthy environment, culture and territory" and that "comprehensive reparation measures" should be taken.
The Ecuadorian National Assembly has approved regulations to allow women and girls access to abortions in cases of rape, following a Constitutional Court ruling that decriminalised such abortions.  Previously, Ecuador allowed abortions only when a woman's life was endangered by pregnancy.  The new measure allows abortions up to 12 weeks of pregnancy for adult women in urban areas and up to 16 weeks for minors and adults in rural areas.  The regulations could still be blocked by President Lasso, who has said that he personally does not support abortion but will allow lawmakers to regulate the procedure as long as they do not exceed the ruling of the Constitutional Court.
All the best,
South America Team – Richard Crosfield (Colombia and Brazil), Carla Torres (Chile and Argentina), Javier Martinez (Venezuela) and Graham Minter (rest of South America). And please don't forget that you can follow us on our Facebook page and Twitter.