This month we bring you news from Venezuela, Colombia, Ecuador, Brazil and Peru.  Amnesty has two Urgent Actions on individuals in Venezuela and opposes a proposal that could force the closure of NGOs in that country. We report on the plight of indigenous Amazonian communities in Brazil and Ecuador and the continued spate of police killings in Brazil. There's been a new prison massacre in Ecuador. A new report on aggressions against Colombian human rights defenders and community leaders takes the government to task. The first round of the Colombian presidential election resulted in a surprise.
REGIONAL 
In a Newsweek article highlighting Amnesty's report "Unequal and Lethal", Agnes Callamard, Amnesty's Secretary General, and Erika Guevara-Rosas, Americas Director, have called for a post-Covid economic recovery that is rights based, inclusive and fair, and addresses the region's structural inequality.
VENEZUELA 
Amnesty has issued two new Urgent Actions.
Carlos Debiais, a photographer, was filming in Falcón state when he was questioned by security personnel of the state-owned oil company and detained on 12 November last year by military counterintelligence officers.  After his detention, his fate and whereabouts were unknown on several occasions.   A release warrant was issued in his name on 12 April, but prison authorities are refusing to release him.  You can take action here.
On 16 May, human rights defenders Marino Alvarado and Alfredo Infante received notification of a defamation lawsuit filed against them by the governor of Carabobo state. The lawsuit comes as a response to a report published in March by the NGOs Provea and Centro Gumilla, which exposes possible extrajudicial executions in Carabobo state and the governor's failure to enforce accountability.  Amnesty is calling for the lawsuit to be dropped and, more widely, for a safe working environment for human rights defenders.  You can take action here.
500 civil society organizations, including Amnesty, and 250 activists have signed a public statement rejecting a proposed International Cooperation Law, currently under debate in the National Assembly, which could criminalize NGOs, or at least seriously hinder the work of human rights organisations in the country.  If passed, the bill could be used to justify the control, persecution or suspension of these organizations and leave them without access to external financing.
COLOMBIA
The Colombian NGO Programa Somos Defensores (We are defenders programme PSD) has published its annual report on aggressions against human rights defenders (HRDs) and social leaders in Colombia in 2021, including the killings of 139. While the perpetrators of 82 killings are unknown, of the remainder perpetrators of 21 killings were identified as ex-paramilitaries, 18 as FARC (Revolutionary Armed Forces of Colombia) dissidents, 9 as the ELN (National Liberation Army), 5 as state security forces and 4 as others. The two groups who suffered most losses were communal/community leaders and indigenous leaders.
Although killings of HRDs and social leaders are down on the record year of 2020, overall aggressions against these groups have increased. Death threats have been on a rising trend since the NGO PSD began recording them in 2010. Meanwhile, communities which have been forcibly confined or displaced have increased in the year. Indigenous Colombians (78%) and Afro-descendant Colombians (18%) were most targeted.
State protection is failing. The NGO PSD notes that between 2018 and 2021 the Early Warning system identified 196 people at threat of whom in 130 cases one or more people were subsequently killed. This system of alerts is the responsibility of the Interior Ministry.
Although the government has put in place plans to reduce the violence against HRDs and community leaders, they have not been effective. According to PSD major factors dependant on government action are a) the failure to investigate and bring to trial the perpetrators, b) the failure to tackle the leaders of organised crime, c) the continued reliance on alliances with illegal armed groups and d) the failure to return to the negotiating table with the FLN (National Liberation Army).
The first round of the Presidential election produced a surprise. While Gustavo Petro (left wing) won the most votes (40%) as expected, the anti-establishment 77-year-old Rodolfo Hernández (right wing) came second with 28%, leaving the establishment's candidate with just 23% of the popular vote. Both winning Vice Presidential candidates are Black women. The second round of voting between Petro and Hernández will take place on 19 June.
BRAZIL
Amnesty International demands answers from the Ministry of Justice and Public Security about the circumstances surrounding the death of Genivaldo de Jesus Santos in Umbaúba, Sergipe state on 25 May. Genivaldo died of asphyxiation after being trapped in the boot of a police car. According to reports from family members, the victim was immobilized by the police with excessive use of force, even after he had cooperated with the police. Images and videos circulating on social media show that Genivaldo was immobilized and locked inside the vehicle, and that smoke was coming from inside the car.
26 people were killed in an operation by Federal and Military Police who entered the Vila Cruzeiro favela of Rio de Janeiro to detain leaders of a drug trafficking organization. Among the dead was a woman caught in the crossfire. Rio state public prosecutors said in a statement they had opened a criminal investigation. They gave the military police 10 days to provide details about the operation, indicating which officials were responsible for each death and the justification for use of lethal force, the statement said.
Amazon Watch reports that the Yanomami's Hutukara Association has declared a humanitarian crisis in the wake of the reported rape and killing of a 12-year-old Yanomami girl by miners, the disappearance of a 3-year-old child, and attacks on the Yanomami's Aracaçá village that have placed the Amazonian community "on the verge of disappearance" because of violence caused by miners. 'The latest, horrific attacks on the Yanomami people demonstrate the illegal gold-miners' mounting brutality and cruelty, which is matched only by the indifference of the federal government as these crimes increase on Indigenous lands. '
ECUADOR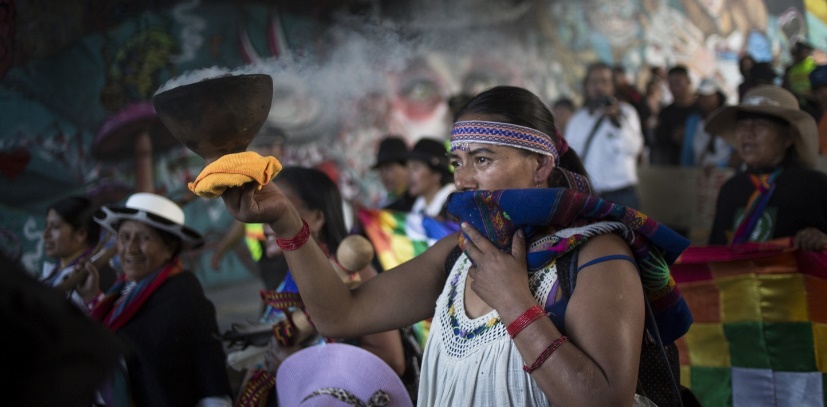 In a submission to the UN Human Rights Council, Amnesty has called on Ecuador to guarantee the consent of Indigenous Peoples to legislation, policies and projects that may put their existence at risk.  It noted that authorities and companies in Ecuador were threatening the Amazon through legislation, policies and extractive projects (mainly oil and mining) that have not obtained the free, prior and informed consent of Indigenous Peoples or that have affected their territories, environment, health, water or food.
 At least 44 prisoners were killed and 10 others injured in a massacre at the Santo Domingo de los Tsáchilas prison on 9 May.  At least 390 people have been killed in Ecuador's prisons since December 2020.  Amnesty have called on the authorities to address the structural causes of these outbreaks of violence, such as overcrowding, corruption and impunity, through a comprehensive prison policy focused on human rights.
PERU 
The UN Human Rights Committee has found that Peru failed to protect the rights to life and peaceful assembly of two fleeing demonstrators who were shot dead when police opened fire on a non-violent march in 2008; and that Peru also failed to investigate and prosecute those responsible.    It called on Peru to conduct a thorough and effective investigation into the events leading to the deaths, impose criminal and administrative penalties on all officers responsible and provide adequate compensation for the harm suffered by the families.
All the best,
South America Team – Richard Crosfield (Colombia and Brazil), Carla Torres (Chile and Argentina), and Graham Minter (rest of South America). And please don't forget that you can follow us on our Facebook page and Twitter.