This month, we inform you of two new regional campaigns aimed at addressing the impact of COVID-19 on human rights in the Americas. We also report specific COVID-19-related developments and concerns in individual countries.  In Colombia, there are reports of further forcible displacements and the targeting of Human Rights Defenders by the security forces.  In Brazil, we report on police killings and their encouragement by government figures, including President Bolsonaro. An International Donors Conference has pledged financial support for Venezuelan refugees and migrants.  In Venezuela itself, 46 prisoners were killed in an outbreak of violence in a prison. On World Environment Day (5 June), watch out for a new series of stories and videos about Women Human Rights Defenders in Peru battling against toxic contamination. There is concern about the serious situation faced by communities in the Ecuadorian Amazon whose food and water sources have been affected by a recent oil spill. There are Urgent Actions on Colombia, Venezuela and Peru. We say a sad farewell to our Brazil Coordinator, David Palmer.
REGIONAL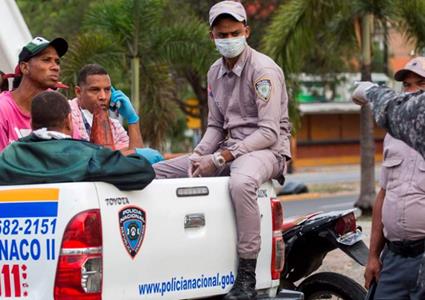 Amnesty has launched a new campaign aimed at persuading authorities across the Americas to avoid resorting to repressive and overreaching measures that unduly restrict human rights in the name of "protecting" people from COVID-19. Amnesty's Crisis Evidence Lab and regional experts have verified almost 60 incidents in the region that point to governments using arbitrary, punitive and repressive tactics. We have written to the Foreign and Commonwealth Office, urging them (a) to use their influence to persuade these countries to stop the repression and (b) to support them so that they can ensure that the most vulnerable populations have access to basic services.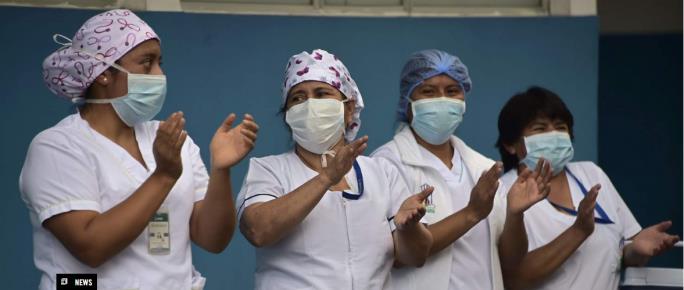 Amnesty has also released a report on the dire state of the rights of health workers in the Americas. The report urges countries in the region to prioritise and protect health workers' rights during and beyond the pandemic.
COLOMBIA
Amnesty International has issued a new Urgent Action on behalf of the indigenous community ASEINPOME in central Colombia. They occupy an area which is under exploration for oil and have seen armed men lurking on their land. The community has received intimidating and extortion calls and has faced racist accusations. These situations were reported to the National Police, but to date no investigation has been started and the security forces have not been present in the locality. The Office of the Prosecutor has been informed of the complaints, however since July 2019 the community has not received any further information from the Prosecutor and their requests have not been answered.
Several organisations have written to the US State Department about the revelations that Colombian Army intelligence units compiled detailed dossiers on the personal lives and activities of at least 130 reporters, human rights defenders, politicians, judges, union leaders, and possible military whistle-blowers. In the recent past, the surveillance is far worse than a massive invasion of privacy.  The targeting of political opposition, judicial personnel, human rights defenders, and journalists leads to threats, attacks, and killings. The organisations ask for an independent international enquiry, protection by the Colombian authorities for those under surveillance, purging of the relevant files and that the Colombian government reveal publicly the full extent of illegal intelligence operations.
The Internal Displacement Monitoring Centre reports that 382 people in three different locations were forcibly displaced in the last 2 weeks of April, as violence in rural areas continues through the national quarantine for Covid-19.
Colombia reports 25,366 cases and 822 deaths from Covid-19. Although this is a small proportion for its population of 46 million, the number of cases is growing exponentially and has not been contained by the early establishment of quarantine measures. 5.4 million people became unemployed in April as a result  of the lockdown, which has been relaxed, except for the elderly who must remain in quarantine until at least 30 August.
1,534 indigenous Colombians, believed to be at maximum risk, have been infected with Covid-19 in Amazonas department. The Organisation of Indigenous Peoples of the Colombian Amazon has asked the government to adopt a plan that includes more testing, including the opening of new testing centres, and the provision of personal protection equipment.
BRAZIL
Last year police in Rio de Janeiro killed 1,814 people, a new record. The New York Times found that  an analysis of four dozen police killings in the violent Rio district of Chapadão shows that officers routinely gun down people without restraint, protected by their bosses and the knowledge that even if they are investigated for illegal killings, it will not keep them from going back out onto the beat. A prosecutor who specializes in police violence, said the rise in killings by officers in the 41st Battalion is alarming, and he noted that no officers were killed or wounded in the confrontations analysed by The NY Times. Overall homicides across Brazil have declined from over 62,000 a year in 2017 to over 41,000 in 2019.
Human Rights Watch reports President Bolsonaro has encouraged police to kill suspects. Criminals should 'die like cockroaches,' he said last August. In Rio de Janeiro, the governor has encouraged police to kill armed suspects and in September, he changed a bonus scheme that had been credited with helping reduce police violence. Under the new rules, officers will no longer be rewarded when police killings drop.
Brazil reports 439,000 cases and 26,764 deaths from Covid-19, by far the highest number for any country in Latin America, and the number of cases is growing exponentially. Given the low level of testing and unreliable reporting the actual infection and death rate is believed to be much higher.
Amnesty International has asked the Federal, state and municipal authorities to take concrete and urgent steps to minimise the grave impacts of COVID-19 on people living in favelas, Indigenous peoples, those deprived of their liberty, members of Afro-descendant communities, health professionals, workers in the informal sector, women and older people living in institutions such as care homes.
The Financial Times examines crisis of Covid-19 in the Amazon, where indigenous communities are particularly at risk. A scientist in Manaus told the FT that 'the number of deaths is many more times the official rate. The health system is collapsing.' Remote indigenous communities have reported cases of Covid-19 and experts fear for a 'genocide'.
VENEZUELA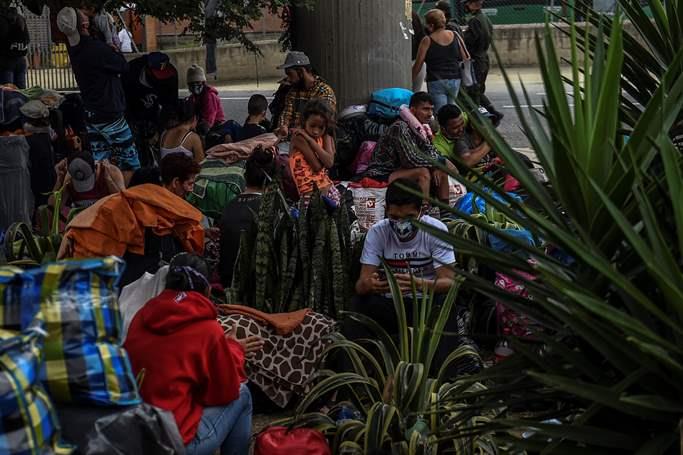 On 26 May, the European Union and the Spanish Government convened an International Donors' Conference in solidarity with Venezuelan refugees and migrants and countries in the region. International donors pledged $2.79 billion (of which $653 million are in grants). Prior to the conference, Amnesty called on the international community not to miss "this opportunity to show solidarity and provide Latin American states with the necessary financial resources to guarantee the safety of those forced to leave Venezuela".     The Venezuelan Government branded the conference a "fraudulent spectacle" and "ideological event" that "purports to deceive the international community".
As of 31 May, Venezuela had reported only 1,510 Covid-19 1,510 cases, fewer than every country in South America except Paraguay, Uruguay, Guyana and Suriname, and only 14 deaths.  However, Human  Rights Watch have claimed that the figures are "nonsensical and likely dramatically underestimate the severity of the situation there".
Last month, we reported the conditional release of Darvinson Rojas, journalist and prisoner of conscience, following his arbitrary detention for reporting on COVID-19. The politically motivated charges against him have not been dropped and there has been no news of a court case against him. As soon as there are changes in the case, Amnesty will renew campaigning actions on his behalf.  No further action is requested at this stage. Many thanks to all those who have taken action.
Last month, we also reported the detention of Maury Carrero. She has had almost no contact with her attorneys and family and has been held incommunicado since 1 May. Maury Carrero is at risk of torture and forced disappearance, which are common in Venezuela. In an Urgent Action, Amnesty is demanding Maury's release while her judicial case is processed, with all due process guarantees, protection for her integrity and immediate access to her family and lawyers.
At least 46 prisoners have been killed and more than 70 injured in a violent incident inside the Los Llanos Penitentiary Centre. Reports indicate that an officer of the Bolivarian National Guard and the director of the penitentiary are among the injured. The authorities under the command of Nicolás Maduro have sought to justify the use of violence against the prisoners, saying that they had attempted to escape the facility. However, according to the Venezuelan Prison Observatory, the prison protest began in response to restrictions on relatives bringing food for inmates due to the COVID-19 pandemic.
PERU
On 22 May 2020, Peruvian President Martín Vizcarra extended strict measures to tackle COVID-19, including lockdowns and curfews until 30 June. Impacted by these measures, many vulnerable people, such as Venezuelan refugees, were left unprotected, are not able to pay their rent and are being evicted from their homes. A lack of protection of people's right to housing in the government's COVID-19 response puts Peruvians and Venezuelans at heightened risk of violations of their rights to housing and health.  In an Urgent Action, Amnesty has called for an end to evictions and urgent protection measures for refugees and people living in poverty.
For World Environment Day (June 05) this year, Amnesty is publishing a series of stories and videos on Women Human Rights Defenders in Peru battling against toxic contamination. The series tells the story of the formation of the National Platform of People Affected by Toxic Metals in Peru, which Amnesty helped to establish and has supported since launching its Toxic State report and campaign in 2017. The Platform brings together communities from across Peru to pressure the government to address the toxic environmental contamination affecting their communities' rights to health and to a healthy environment.
ARGENTINA
Argentina reports 15,419 cases and 520 deaths from Covid-19, a proportionally small number of its 44 million people, with by far the highest number reported in Buenos Aires. The government has extended the lockdown until at least 7 June and is introducing an app where people record their temperatures and where a colour code tells them the conditions of their quarantine.
Amnesty International verified a video in which the police beat a homeless person supposedly for being in the street during the lockdown. In the context of COVID-19, governments must provide facilities for people who are homeless to self-isolate if needed and ensure that no one is left vulnerable to catching the disease.
ECUADOR
Amnesty has expressed its concern about the vulnerability faced by people and communities whose food and water sources have been affected by the oil spill that occurred on 7 April in the Ecuadorian Amazon. This situation has worsened with COVID-19.
Police in Guayaquil are reported to have used excessive force to break up a peaceful protest held on May 14 by civil society groups, beating and injuring demonstrators. The 40 protesters were expressing concern at what they see as the government's lack of guidance for handling the bodies of people suspected of dying from Covid-19, insufficient funds used to address the pandemic and a budget cut to education.
OUR TEAM
Finally, we say a sad farewell to David Palmer, who is unable to continue in his role as Brazil Coordinator for personal family reasons.  Richard has assumed responsibility for Brazil until further notice. David will remain actively involved as a member of his local group.
All the best,
South America Team – Richard Crosfield (Colombia, Argentina, Brazil) and Graham Minter (rest of South America).