This month we ask you to sign and publicise a petition, asking the Brazilian authorities to safeguard rights and life ahead of the Rio Olympics, as well as Urgent Actions on behalf of Belén, the Argentine imprisoned after suffering a miscarriage in hospital, and on behalf of Venezuelan HR defenders Raquel Sánchez and Oscar Ríos, who were attacked 6 June.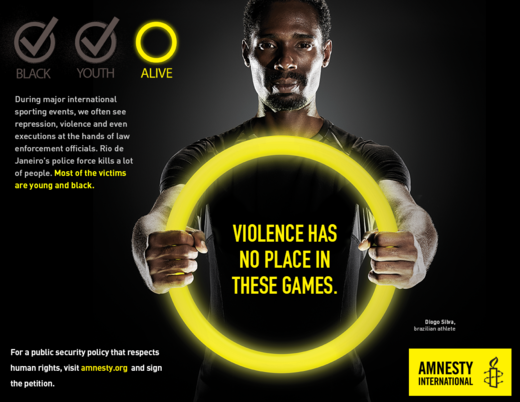 We bring you the latest report Violence Has No Place in These Games, with suggested actions you can take to the Brazilian authorities. There is good news from Colombia and we analyse the historic ceasefire and disarmament agreement between the FARC rebels and the government. We report on the OAS's resolutions on human rights for the Americas and other news from the region.
REGIONAL
On 13 June the Organization of American States (OAS) informedcivil society organizations (CSOs) that "due to space limitations at the venue of the General Assembly, they would not be able to access the premises of the OAS General Assembly" being held in Santo Domingo, Dominican Republic. Registered CSO participants were invited to follow the plenary sessions on television screens located in a hotel in the city. Amnesty said that this exclusion of civil society showed an unprecedented lack of respect that left over a hundred people who travelled to Santo Domingo to witness and participate in the plenary sessions to watch the proceedings in front of screens. Details here.
However, on 17 June the Assembly approved a resolution on human rights which includes agreements on the prevention and reduction of statelessness and the protection of stateless people in the Americas, as well as measures to prevent torture and other cruel, inhuman or degrading treatment or punishments with a gender perspective. Amnesty has commended this as an important step forward. Details here.
BRAZIL
As Rio de Janeiro sets up its final preparations for the Olympics, Amnesty has released a new Report highlighting the risk of increased human rights abuses in the context of the public security operations entitled, "Violence Has No Place in These Games."
With the experience of major sports events hosted in the country, alongside the human rights violations committed by the Brazilian security forces which disproportionately affect young, black, males living in favelas, Amnesty is increasingly worried about these games and therefore calls you to action. There is a petition asking the authorities to safeguard rights and life and to not commit atrocities in the name of these Games.
The petition goes live on July 5th (until August 21st) and can be signed from that date at www.amnesty.org.uk/brazil  (the B'th group will also circulate a paper copy at our meeting and at Bourne Free – please let us know is you want a paper copy)
We also encourage you to present the petition to the public. Please feel free to enact creative campaign ideas around it. If sharing the petition on social media, please attach the graphics and use the hash tag #Rio2016 so Amnesty UK can keep up with the conversation.
If you're interested in further reading, Amnesty has issued a Press Release relating to the economic emergency cuts to social services and security and the University of Dundee has commissioned a study looking into the increased tensions around the Olympics.
Nine families of the Guarani-Kaiowá Apika'y indigenous peoples of Mato Grosso do Sul state are facing a planned forced eviction from their ancestral lands. It is another example of the authorities riding rough-shod over human rights to make way for landowners profit Read the full Amnesty Statement here.
COLOMBIA
Good news! After over 50 years of fighting, the FARC (Revolutionary Armed Forces of Colombia) rebel group has agreed ceasefire and disarmament terms with the Colombian government. It foresees a swift process: a full turnover of guerrilla weapons within six months. This is a tremendous milestone. What remains between now and a final, conflict-ending peace accord are details. 'Some of these will be thorny, and may require weeks or even a few months to unravel. But the hardest parts of the FARC peace process are now in the past,' reports Advocacy for Human Rights in the Americas (AHRA). For a full analysis by AHRA click here.
Amnesty warns that 'A de facto ceasefire has been in effect since last year. However, all the parties to the conflict continue to commit serious human rights abuses and violations, especially against Indigenous peoples and Afrodescendent and peasant farmer communities. Most of these attacks, many of which are attributed to paramilitary groups, are not occurring in the context of combat and are often motivated by economic interests.' To download Amnesty's full response please click here.
This still leaves the smaller rebel group, the FLN (National Liberation Army) at the negotiating table with the Colombian government. There are fears in some quarters that the FLN could recruit FARC rebels who do not wish to join the ceasefire and lay down their arms.
Amnesty urges the security forces to stop using force against demonstrators in rural communities protesting the governments' failure in numerous areas. Three demonstrators have been killed and 179 injured, as well as a number of policemen. For the full press release please click here.
ARGENTINA
Belén, the woman who was sentenced to eight years in prison for aggravated murder after suffering a miscarriage in a public hospital, remains in preventive detention in prison as her judgment, which is subject to an appeal, has still not been signed. An application for her release on bail was denied on 3 May. You can call for her release here.
VENEZUELA
Amnesty's Americas Director, Erika Guevara-Rosas, visited Venezuela for meetings with public authorities, civil society organisations, human rights defenders, lawyers and survivors of human rights abuses. She said that the almost obsessive denial of the Venezuelan authorities that the economic emergency implied a humanitarian crisis in the country, and its determination not to request international help, was putting the lives and rights of millions of people at risk.
On 6 June, a group of hooded people hit the front and side windows of the vehicle in which human rights defenders Raquel Sánchez and Oscar Alfredo Ríos Santos from the Venezuelan Penal Forum were travelling. Raquel Sánchez was hit on the head, which caused a severe wound. There are concerns that the attack was an attempt to stop Raquel Sánchez and Oscar Ríos from carrying out their legitimate human rights work. You can call on the Venezuelan authorities to investigate the incident here.
Your South America Team. Richard Crosfield (Colombia), Ellie May (Brazil), Graham Minter (Rest of South America)