SUMMARY
This month, we highlight concern over the worsening situation in parts of Colombia where rival armed groups are fighting for control, leading to the displacement of thousands of civilians.  There is a new Urgent Action on Brazil, following the killing of 14 people at a party, and a report of a disturbing increase in deaths directly related to homophobia.  In Venezuela, the police have again used excessive lethal force in an operation to quell an uprising, leaving nine people dead and five injured.   We encourage you to support our social media campaign to ensure that pardoned ex-Peruvian President Fujimori is made accountable for a massacre committed during his presidency; and we remind you of an Urgent Action about a human rights defender under threat in Ecuador.
COLOMBIA
We would like to thank all of those who mobilized for our global twitter action for Bernardo Cuero.  However, it saddens us to announce that the hearing was postponed, because the judge left on vacations and the new judge assigned was not available.
Richard has just sent out an Urgent Action calling on the authorities to act in the face of the worsening situation in Chocó where the Gaitenista paramilitaries and the ELN rebels are fighting for its control. Amnesty has also issued a press release New tragedy looming in Bojayá and Bajo Atrato. "Currently, despite a Peace Agreement signing with the FARC, the armed conflict has intensified in this area. Statistics on murders and forced displacement, among other forms of violence that have arisen after the Peace Agreement was signed, are evidence of the re-victimization occurring in this area." Urgent Action here and press release attached.
In an earlier press release (also attached but only available in Spanish) Amnesty drew attention to displacement of more than 1,000 people in 4 days in Colombia due to armed confrontations between various armed groups in the departments of Cordoba, Nariño, Antioquia and Boyacá.
The last early warning for the region was issued by the Ombudsman on 24 January. Early warnings anticipate serious human rights violations and are meant to be acted upon by the Colombian authorities. For a number of reasons, the authorities have not been successfully reacting to early warnings in the region.
Meanwhile, the Government has suspended peace talks with the ELN (National Liberation Army) rebels due to consistent violations of the ceasefire by ELN units.
Amnesty reports that "two community leaders were assassinated in Colombia".  Eleazar Tequia Bitucay a member of the indigenous guard in Chocó was killed following an indigenous mobilization demanding increased education access to indigenous people in Chocó. The circumstances of his death are to be investigated. Temístocles Machado an afro-descendant human rights defender and leader of the civil strike that took place in Buenaventura last year was also assassinated. He had received several threats in the past and was never granted protection measures.
We encourage you to take action by promoting our petition to protect Afro-descendant and Indigenous people in Chocó.
BRAZIL
There is a new Urgent Action.  On 27 January, at least 14 people were shot dead and another nine were injured while enjoying a party in Cajazeiras, in the city of Fortaleza, Ceará state.  Most of the victims were young, between 15 and 24 years old.  Please call on the authorities to carry out a prompt independent investigation into the killings, including determining any involvement by State agents.  Details here.
Figures published by the LGBT watchdog Grupo Gay de Bahia revealed a 30% increase in deaths directly related to homophobia in Brazil. Amnesty Brazil's executive director commented that although Brazil has looked to produce policies that protect the LGBT community, they have largely failed because of lack of investment or change in vision of policy. The Guardian described the 445 deaths — 387 murders and 58 suicides — as an 'all time high', and its account can be read here.
Brazil's prison crisis was thrown into the spotlight again when nine inmates died and 14 were injured as rival gangs clashed in a prison in Goias state on 1 January. 33 more inmates died on 6 January in a riot in a Roraima state prison, and 26 were killed at a rebellion in a prison in Rio Grande do Norte. For the Guardian's account, click here
Human Rights Watch released its World Report 2018, addressing a range of human rights problems in the country, from police killings to deaths of juveniles in detention and prison overcrowding. HRW reported that the number of deaths of people involved in land conflicts increased in 2017, and in October surpassed the number recorded in 2016. The 2016 figure had itself been the highest since 2003. For a summary of the report's findings, click here.
A government official announced an end to an era of mega-dam building in the Amazon basin. These projects have long been met by criticism and resistance by environmentalists and indigenous groups alike. Although likely to be seen as a positive move by these groups, experts have warned that a larger policy shift is needed, as hydroelectric projects are just one of the many infrastructure threats to Amazon peoples. For an account by environmental news site Mongabay account, click here.
An appeals court has upheld the conviction of former President Luiz Inácio Lula da Silva for corruption and money laundering. Lula served two terms from 2003 to 2011 and is currently favourite to win re-election in October's presidential poll. He is the early frontrunner and still intends to stand despite the court's decision which increases his jail sentences from nine and a half years to 12 years and one month. For the BBC's account, click here.
VENEZUELA
On 15 January, in the community of El Junquito in Miranda state, a security operation resulted in at least nine people killed and another five injured.  During the operation, officials used a military-grade weapon which is not only designed to kill but is a weapon that is unlikely to give any chance of survival.  In addition, the use of this weapon endangered the lives of people in the vicinity.  Amnesty has stated that the operation by security forces to arrest the former CICPC (Scientific Investigation Police) official Óscar Pérez and others who had risen against the government appeared to be illegal and raised multiple concerns of grave human rights violations and even crimes under international law.  It added that this was just the latest example of the lethal use of force being used in policing operations, resulting already in thousands of victims throughout the country.  For further details, see here.
In the House of Lords, Lord Hylton has tabled a question asking Her Majesty's Government what assessment they have made of the human rights implications of the police action.
PERU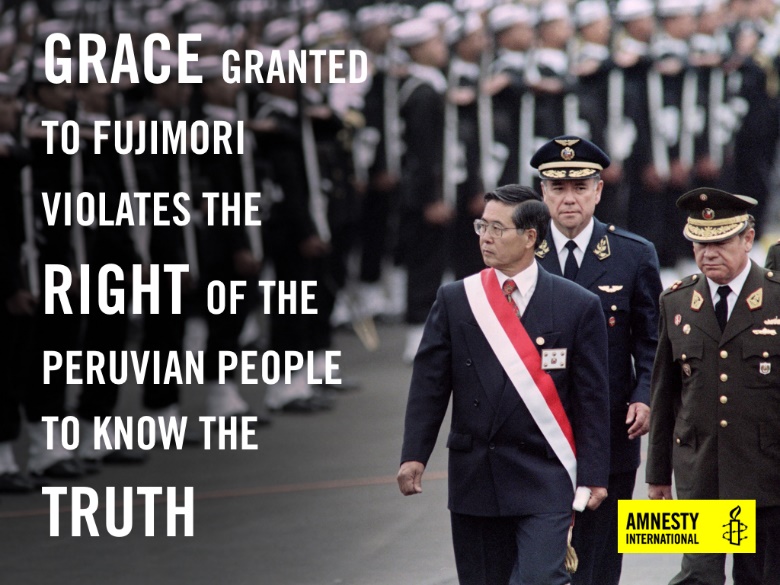 As reported separately, following the presidential pardon and grace granted to Alberto Fujimori, Amnesty has called on Peru to fulfil its obligations under international law by investigating Fujimori's role in the Pativilca massacre and, if there is sufficient admissible evidence against him, bringing him to justice for the crimes of which he is accused.  Amnesty has submitted an amicus curiae brief to the Inter-American Court of Human Rights expressing concern at the pardon granted, noting that the Peruvian state has yet to present evidence to show that the conditions necessary to justify Fujimori's early release have been fulfilled.  For further details, see here.  We encourage you to support the social media campaign outlined in our separate email. 
ECUADOR
There is still time to write to the Ecuadorean authorities about Patricia Gualinga, the Indigenous human rights defender who reported that an unknown man had attacked her home in Puyo, Pastaza province, throwing stones at the windows while yelling death threats against her.  You can take action here.
Follow the South America Team on Twitter  and Facebook for updates and actions!
Graham Minter (Rest of South America), Richard Crosfield (Colombia) and Joe Smith (Brazil)