This month, we update you on developments in Colombia, Brazil, Paraguay, Peru, Bolivia, Chile, and Venezuela.
Amnesty International has released its latest report on the excessive use of force by Colombian authorities during the national Strike, where over 100 people suffered from eye trauma or got seriously injured. During November, military police and criminal gangs threatened and attacked indigenous people in various communities in the Amazon region in Brazil, organizations such as Amazon Watch and The Indigenous Missionary Council are monitoring the situation closely. Amnesty International has launched a new Urgent Action calling on the Peruvian authorities to allow humanitarian immigration status to asylum seekers. In Bolivia, where abortion is banned by law, an 11-year-old raped by a family member was allowed to discontinue her pregnancy. Guarani families have been evicted by the police in Paraguay. Amnesty International has expressed its concern on human rights violations suffered by Venezuelans seeking refuge. Chile is heading to the second run-off of presidential elections next month.
COLOMBIA
Amnesty International has released its latest report on the excessive use of force by Colombian police during the National Strike. Shoots on sight: eye trauma in the context of the National Strike documents the use of less-than-lethal weapons by the Anti-Riot Police (ESMAD). Over 100 people suffered from eye trauma, many losing an eye, while others were seriously hurt by teargas canisters aimed at their face and body. An action for Local Groups will follow.
Amnesty notes that 'thousands of people in Colombia are risking everything for a better future. They go out to march in fear of losing their lives, being injured, detained, or even tortured, all to demand that the government guarantees their right to health and education.' Take action and demand that the Colombian Attorney General's Office investigates the human rights violations and crimes under international law committed in the midst of the National Strike.
In an update to the report on killings of human rights defenders (Why do they want to kill us?)
Amnesty asks why the state has not provided collective security for three communities under threat, a year after it was requested. "All three branches of the state have human rights obligations, so it is imperative that Congress makes the issue of defenders a permanent part of its agenda, including through the creation of a Commission for the Verification of Guarantees for Human Rights Defenders that can hold to account those officials in the Executive who do not fulfil their duty of protection".
An Amnesty International delegation led by its Americas director has arrived in Colombia to engage in dialogue with the authorities about the grave human rights situation in the country. In a press release Amnesty affirms, 'From impunity for police violence in the context of repression of protests, and the devastating consequences of the armed conflict on historically marginalized communities, to the grave situation faced by human rights defenders and community leaders these are issues that require a firm response from the government.'
On the fifth anniversary of the Peace Accord with the FARC, the Washington Office on Latin America has looked back to see what has and has not been achieved, according to the timing and content of the Accord. A Long Way to Go; Implementing Colombia's peace accord after five years is a 'must read' for anyone interested in the success and failures and the reasons why, in general, the state is not meeting its commitments according to the agreed timetable to date.
BRAZIL
Amnesty International has denounced the historic and systematic violation of human rights of indigenous communities as a consequence of the act and omissions of the Brazilian state. During November, the military police as well as criminal gangs have threatened, attacked, used arson and killed indigenous people in various communities in the Amazon region. Amnesty has reminded the government of its responsibility to protect indigenous communities.
Amazon Watch reports that the indigenous leader, Alessandra Korap Munduruks (pictured), had her house broken into again. The intruders stole documents, memory cards from security cameras, and money that Alessandra had been saving for an assembly of the Munduruku. This is a repetition of a similar break-in in 2019 and is a link to her outspoken denunciations of the destruction of the Amazon. Alessandra has been forced to leave her home.
 The Indigenous Missionary Council in Violence Against Indigenous Peoples in Brazil – 2020, notes the increased level of violence against indigenous communities, including an increase of 61% of murders of indigenous people in the year 2020. The causes, invasion of their lands to exploit their natural resources and racial discrimination, are well-known. The report also assesses the impact of Covid-19 on indigenous communities and the lack of social services.
VENEZUELA
Venezuelans who migrate to Latin American countries face the violation of their rights
It has been proven that there are systematic human rights violations in Venezuela. Entire families have had to flee the country and take refuge in neighbouring countries; however, they have not been welcomed. Amnesty International is concerned about the human rights violations suffered by Venezuelans seeking refuge. A nine-month-old baby dies at the border of Bolivia and Chile along with two adults. A child and a teenager are shot dead in Colombia. Women and children living on the streets are attacked and their belongings burned in northern Chile. They are all Venezuelan people in situations of extreme vulnerability, whom governments in the Americas have not wanted, or known how, to protect.
Harassment of human rights lawyer Theresly Malavé Wadskier
Theresly Malavé Wadskier, human rights lawyer and director and founding member of Justicia y Proceso Venezuela (JUYPROVEN) has documented, defended and denounced several cases of serious human rights violations against political prisoners and prisoners of conscience, including violations of due process, access to justice and cases of torture and ill-treatment. Since September 2021, she has been the victim of harassment and intimidation by officials of the Directorate of Military Counterintelligence (DGCIM).
PERU
In a new Urgent Action, Amnesty has drawn attention to the thousands of children and adolescent asylum seekers in Peru who face increased risks because authorities are denying them humanitarian immigration status, to which they are entitled under Peruvian law.  Without this, they cannot access basic rights, such as education and health.  Please call on the Peruvian authorities to address this.
 BOLIVIA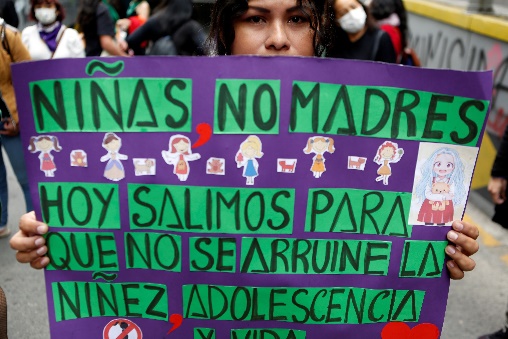 A pro-abortion demonstrator in La Paz, BoliviaThe 11-year-old girl who became pregnant after being raped by a family member (reported in our last newsletter) has been allowed to discontinue her pregnancy.  Following the procedure, she was released from hospital and her health is being monitored by the children's ombudsman in her local area.  Her step-grandfather, who is alleged to have raped her, is in jail.  Abortion is legal in Bolivia in the case of rape.  The Catholic Church had opposed the abortion and is reported to have intervened legally to interrupt the process.  It has issued a statement lamenting the outcome.
PARAGUAY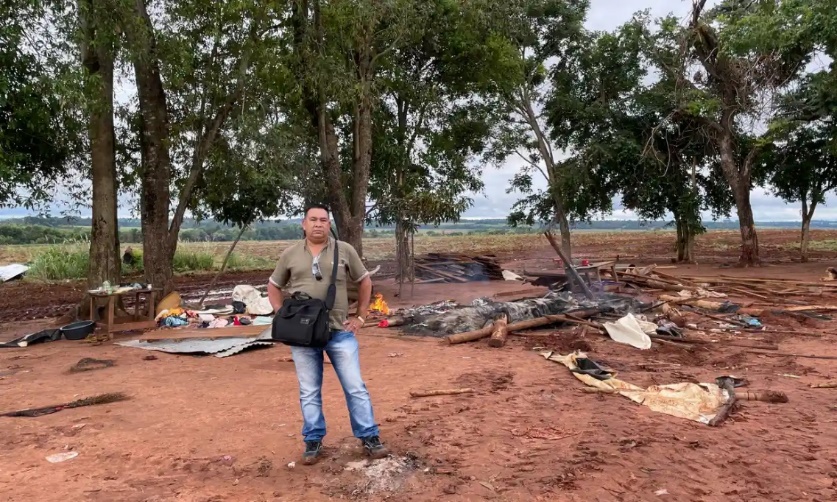 Scene following another police eviction of an indigenous community 70 Mbya Guarani families from the community of Hugua Po'i have been evicted by police in riot gear who tore down their homes and ripped up crops, the latest in a wave of rural evictions this year.  The land is claimed by a Mennonite soybean farmer.  Human rights campaigners gathered in Paraguay's capital, branding such evictions an "express violation" of Paraguay's constitution and international treaties.  Land in Paraguay is concentrated in fewer hands than anywhere else in the world, according to the World Bank, with just 2% of people owning over 80% of farmland.
CHILE
 Presidential elections have taken place in Chile on the 21st of November. Candidates are Gabriel Boric, of 35 years old and Jose Antonio Kast, of 55 years old. Gabriel Boric is a former student leader and has based its campaign on a pledge to overhaul the neoliberal economic model left behind by Agusto Pinochet dictatorship. Jose Antonio Kast Kast has centred his campaign on conservative social values, security and migration. Elections will have a second runoff next month. You can read more about it here.
South America Team – Richard Crosfield (Colombia and Brazil), Carla Torres (Chile and Argentina), Javier Martinez (Venezuela) and Graham Minter (rest of South America). And please don't forget that you can follow us on our Facebook page and Twitter.