This month, we update you on developments in Colombia, Brazil, Peru, Argentina, Chile and Bolivia and on the rising prevalence of police abuse in the region. We ask you to participate in Amnesty's social media campaign to support the legalisation of abortion in Argentina; to sign a petition to protect Colombian Human Rights Defenders; and to take action on the two South America cases featured in this year's Write for Rights Campaign – Gustavo Gatica (Chile) and Jani Silva (Colombia) – as well as the updated Urgent Action regarding protection of the family of killed Peruvian Human Rights Defender, Roberto Carlos Pacheco.  We record our meeting with the Chilean Ambassador to discuss Amnesty's report on the repression of the October 2019 protests.  Amnesty has called on the Peruvian authorities to place respect for human rights at the heart of their response to the political and social crisis there, while AI Brazil has called on Brazilian society to intensify its 'anti-racial struggle'.
REGIONAL – POLICE ABUSE  
Police abuse, resulting in hundreds of serious injuries and many unlawful killings, has been a feature of many of our recent newsletters.  In an article in the New York Times, Human Rights Watch offer comment on this, highlighting Peru, Ecuador, Colombia, Chile and Bolivia, and attributing the problem to pervasive impunity, lack of oversight and an institutional culture that permits and, at times, encourages abuse. It calls on governments urgently to enact reforms in three areas: protocols and equipment for crowd-control; authority to detain protesters and the treatment of detainees; and accountability for abuses.
COLOMBIA
We ask you to take action to protect Colombian human right rights defenders by signing a petition demanding that Congress establish a commission to verify and guarantee their protection. Although there are numerous laws and institutions that are supposed to protect HRDs and their communities, killings and threats continue to multiply. Congress should demand accountability via a commission of experts.
One of the cases in this year's Write for Rights campaign features Jani Silva, a Colombian  environmental defender who, despite threats to her life, continues to fight for the conservation of the Amazon ecosystem and for the rights of hundreds of campesinos.  You can sign an online petition here and take the actions set out in the Write for Rights booklet available here.
The killings of 95 human rights defenders (HRDs) in the first half of 2020 were 68% higher than for the same period of 2019, according to the NGO Programa Somos Defensores ('We Are Defenders Programme'; the report is in Spanish).  A further 13 HRDs were forcibly disappeared, compared to none in 2019.  Of the 95 HRDs killed between January and June 2020, ten were women and eighty-five were men.
| | |
| --- | --- |
| HRDs by category killed Jan to June 2020 | Number |
| Community leaders |      45 |
| Rural peasant community leaders |      19 |
| Indigenous community leaders |      17 |
| Afro-descendant community leaders |        3 |
| Environmental leaders |        3 |
| Youth leaders |        2 |
| LGBTI leader |        1 |
| Academic leader |        1 |
In 36 cases the perpetrators have been identified.  Of those that were identified:
| | |
| --- | --- |
| Presumed responsible for killing HRDs | Jan to June 2020 |
| Paramilitaries |          39% |
| Dissident FARC guerrillas |          33% |
| Armed Forces |          17% |
| ELN guerrillas |          11% |
The report highlights the increase in killings by dissident FARC guerrillas, who have increased their range in Colombia, and by the armed forces, whose efforts to make the countryside more secure for rural communities 'could have had the opposite effect and that it is not effective in preventing and protecting these communities'.
A new report from Human Rights Watch points to the intentional killing of detainees during a riot at Bogotá's Modelo prison in March.  24 prisoners died and 107 people were injured, including 76 detainees and 31 prison guards.  Autopsies by forensic scientists found that "most of the gunshot wounds described in the autopsy reports are consistent with having been produced with the objective of killing".
Good news! The Senate has passed a law that extends the right of victims of the civil war to reclaim their land for a further 10 years, to 2031. Originally, the law did not permit claims beyond 2021.
The Colombian authorities report that the number of people infected by Covid-19 has fallen to under half the rate prevailing in mid-August. The government has said that it will vaccinate everyone who wants to be vaccinated free of charge.  How this will be implemented, particularly in rural areas lacking healthcare facilities, is a problem.
BRAZIL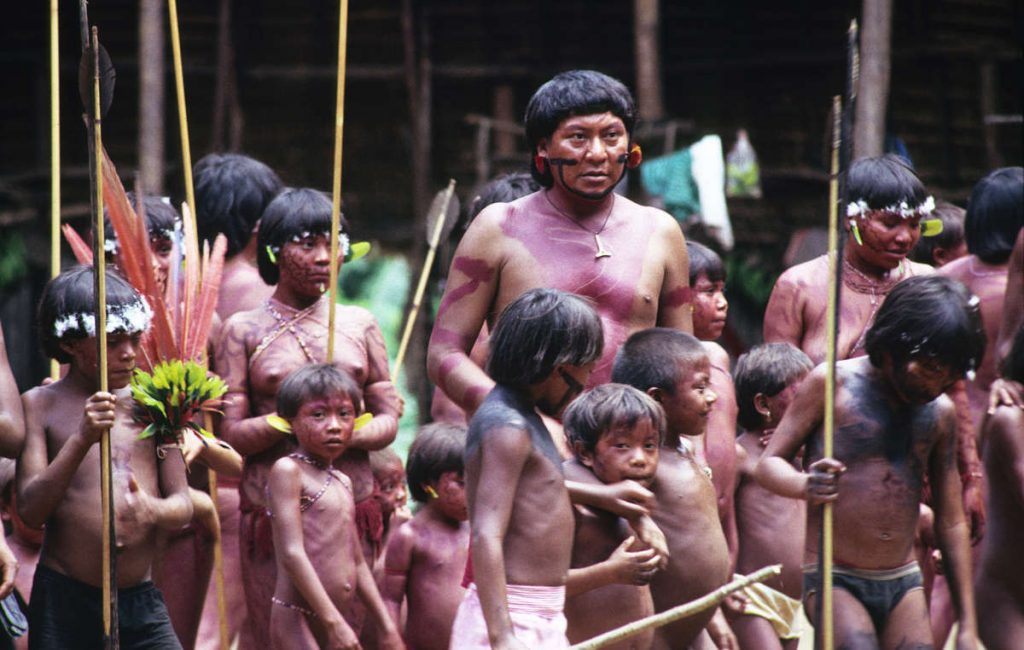 France 24 reports that the spread of COVID-19 is "completely out of control" on the Yanomami indigenous reservation in Brazil, where cases have nearly quadrupled in three months. Overall, 39,647 indigenous people have been infected by the new coronavirus in the country and 877 have died, according to the Association of Brazil's Indigenous Peoples.
Brazil's reported death rate is as high as the UK's, although it is thought to understate the actual number of deaths.
Following the killing of a 40 year-old black man, João Alberto Silveira Freitas, by a security guard and a military policeman outside a supermarket in Porto Alegre, Amnesty calls (in Portuguese) on Brazilian society to intensify its 'anti-racial struggle' and for the authorities to investigate the crime 'with speed'.
Human Rights Watch has issued a statement asking the Brazilian authorities not to segregate people with disabilities in special schools. In a 2018 report, HRW found extensive abuse of children in such schools.  On 1 October, the government adopted a decree that is a direct attack on inclusive education, establishing a national policy encouraging states and municipalities to build special segregated schools and programmes for people with disabilities.
Thompson Reuters reports, 'The rescue of 39 slaves from an illegal gold mine in Brazil run by a known offender highlights the difficulty in ending crimes where large profits are involved, labour authorities said.' Workers lived in open sheds and without drinking water.
PERU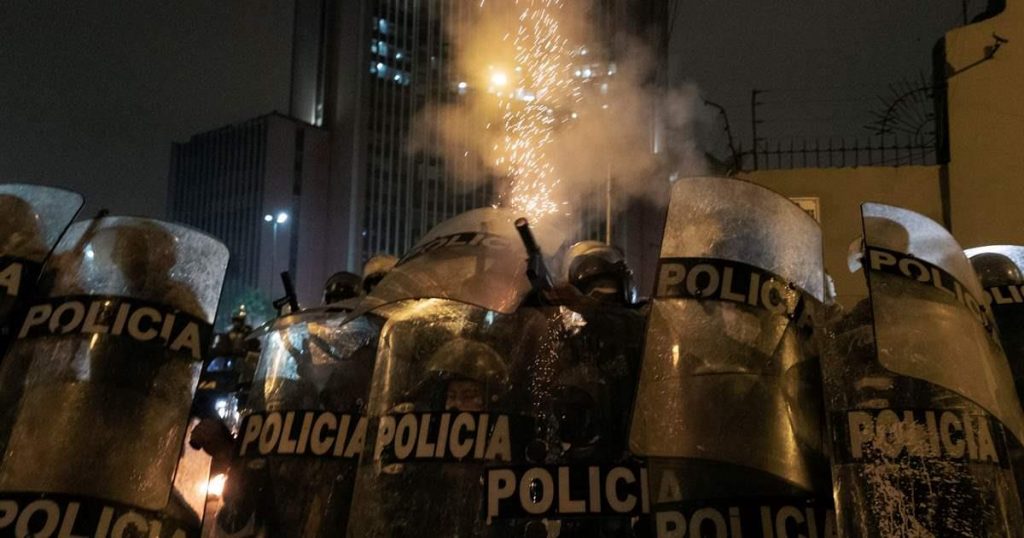 The vote by Congress to oust President Vizcarra due to allegations of corruption, and the response of the security forces to the ensuing protests, created a political and social crisis.  The subsequent  resignation of President Moreno and his replacement by Franciso Sagasti as interim President pending next April's elections has allayed the situation.
Through the verification of audio-visual evidence, Amnesty has confirmed the veracity of material showing the excessive and unnecessary use of force by the National Police in the demonstrations.   According to the information received, more than 15 people were injured, at least three of them seriously wounded by firearms.
Amnesty called on the authorities to place respect for human rights at the heart of their response.  It said that the authorities must send a clear message that the role of the security forces is to protect the population, respecting the right to peaceful protest and the right of the judiciary to investigate any act of violence and to establish the corresponding criminal responsibility.
Amnesty have updated and re-issued the Urgent Action request concerning the family of killed Human Rights Defender, Roberto Carlos Pacheco, who remain at risk after insufficient protection from authorities.  On 3 October, the Police detained three of the five persons allegedly responsible for the killing.  Shortly after, the judge ordered their release pending trial and postponed the hearing to determine their pre-trial detention.  The suspects did not appear at their 12 October hearing and have not been located since.
ARGENTINA
President Alberto Fernandez sent a bill to Congress to legalise abortion.  In March, Fernandez had committed to send the bill but this was delayed due to the lockdown and sanitary restrictions. The bill will be treated in extraordinary sessions and the dates have not been confirmed yet.
However, the majority in the Senate is not secure and this could obstruct the bill.  We invite you to take action and support Amnesty's social media campaign, where you can tweet your support to members of congress who have publicly supported the bill here (we are using the #AbortoLegal2020 too!).  We also share this amazing picture of the campaign that Amnesty International Argentina led in early November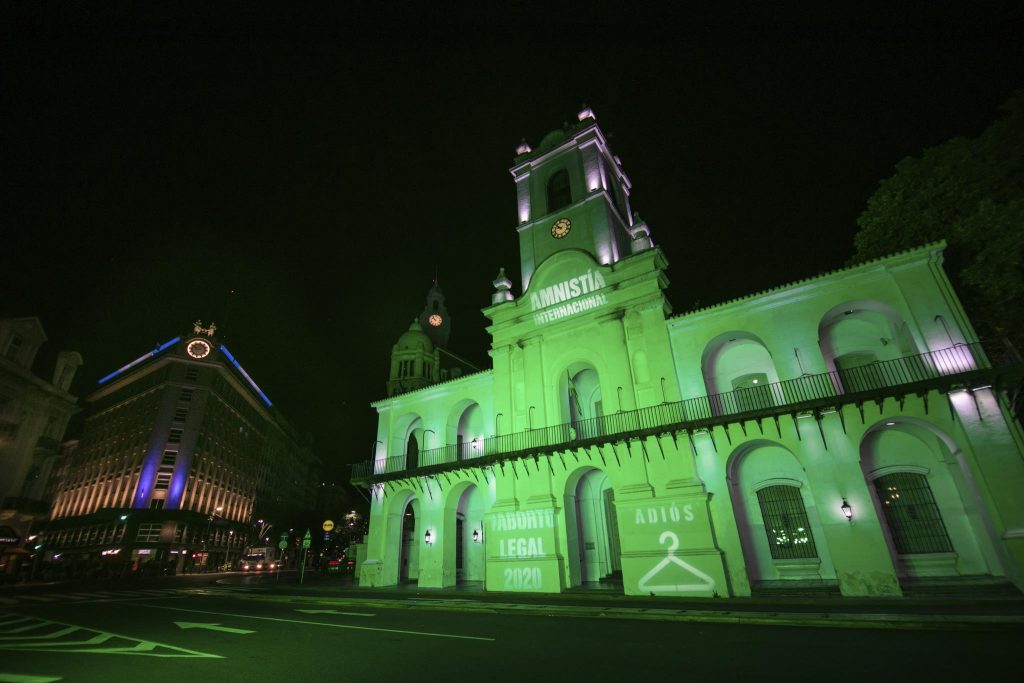 CHILE
A Chilean national plebiscite was held in Chile on 25 October with millions supporting a reform that will allow the scrapping of Pinochet's constitution.  The plebiscite is another episode of the new story that Chile's people are writing since the protest that took place in October 2019, where thousands marched against inequality and rising poverty.
In November, Carla and Graham had an online meeting with the Chilean Ambassador to discuss Amnesty's report on the abuses committed during last October's protests.  They highlighted Amnesty's call for a reform of the national police, the Carabineros, after security officers violated human rights and used force to spread terror among the protesters.  After a productive exchange of views,  the Ambassador undertook to convey the content of our discussion to the authorities in Santiago.
 Gustavo Gatica and Fabiola Campillai lost their sight and 36 people lost their lives during the repression of the protests.  Amnesty has provided evidence of the involvement of higher ranks of the Carabineros in the repression and is demanding that the chain of command be investigated as well.  You can support our Write for Rights Campaign for Gustavo Gatica and demand that the authorities conduct a proper investigation here and also show your support for Fabiola at this link.
BOLIVIA
Human Rights Watch have called on newly inaugurated President Arce to initiate much-needed reforms to the judiciary, stressing that a well-functioning, independent judicial system was essential for good governance, accountability, and, ultimately, political stability. The lack of such a system, it said, explained many of the serious problems the country has gone through in the last year but the peaceful October 18 election had opened a new opportunity for the country.
OUR TEAM AND YOU
We give a warm welcome to Carla Torres, who joined our team last month and has taken over responsibility for Chile and Argentina.
Despite COVID-19, members of our team remain available to give online presentations to Local Groups on our countries.  Please get in touch if you are interested.   
All the best,
South America Team – Richard Crosfield (Colombia and Brazil), Carla Torres (Chile and Argentina) and Graham Minter (rest of South America).