Dear friends
This month we bring you news from Colombia, Brazil, Peru, Venezuela, Argentina and Chile. Plus we have the regional highlights from Amnesty International's annual report on human rights worldwide.
In Colombia Amnesty International, together with many local NGOs, has published its detailed proposals for police reform. Whilst in Brazil, Amnesty and other civic society organisations have launched the campaign "The Ministry Has to Be Public". This is an attempt to tackle the severe problem of police violence. Amnesty has marked the 100th day since the start of social protests in Peru.
In Venezuela Amnesty has decided to extend the deadline for its Urgent Action on "Venezuelan NGOs at risk" for another eight weeks. They have also highlighted the ongoing arbitrary detention, and health deterioration, of Javier Tarazona, director of an NGO, who was imprisoned and charged with inciting hatred, treason, and "terrorism" in July 2021.
In Argentina the remaining aircraft used to carry out "death flights" during the military dictatorship is being returned to the country. Amnesty has published a new report, based on the testimonies of female Venezuelan refuges in Chile, outlining the difficulties they experience.
REGIONAL
Amnesty has issued its annual report on human rights worldwide. It found, among other things, that:
An additional 15 million people in Latin America and the Caribbean have begun to live in poverty since the Covid-19 pandemic began, raising the total to 201 million;
The Americas remained the region with most fatalities from Covid, with more than 2.9 million confirmed deaths, while Peru has the highest death rate from Covid in the world;
At least 67 people have died since widespread protests began across Peru in December, including at least 49 deaths from state repression;
The Americas accounted for 273 of 327 trans and gender-diverse people reported murdered worldwide, while Brazil recorded more killings (96) than any other country on earth
More than 7.17 million Venezuelans have left the country, mostly since 2015, over 6 million of whom are living in other countries in Latin America and the Caribbean.
Deforestation in the Brazilian Amazon reached the second highest annual figure since 2006.
COLOMBIA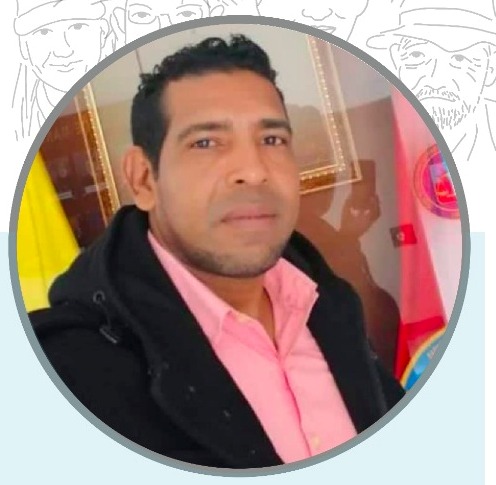 Following Amnesty International's reports on the excessive use of force by the National Police during the 2021 National Strike, Amnesty International, together with many local NGOs, has published its detailed proposals for police reform. These include removing the police from the Defence Ministry, re-orientating its objectives and changing its recruitment and training to enable it to serve the people and fully recognise their human rights, including the right to protest. (See attached proposal). Please sign the petition supporting these proposals.
Amnesty has submitted its findings to the UN's Special Rapporteur on the Rights to Freedom of Peaceful Assembly. Between 2018 and 2022 Amnesty International documented worrying trends of excessive use of force by Colombian security forces when intervening in protests and mobilizations. Among the most commonly used repertoires of violence were extrajudicial executions, injuries (including severe eye trauma) and gender-based violence (including sexual violence).
The UN Commissioner on Human Rights reports on his visit to Colombia. While noting the many advances on human rights and the 2016 Peace Accord's transitional justice under the new administration, he calls on 'the Attorney General's Office to advance accountability for violations reportedly committed by security forces during protests. The charges of serious offenses, such as terrorism, against protestors, needs to be reviewed.' The Attorney General is independent of the Government.
Indepaz lists 30 human rights defenders and social leaders killed in the first 12 weeks in Colombia. 5 are indigenous, 1 is afro-descendant and 2 are LGBTQ+. 25 are men and 5 are women. The latest victim was José Eduardo Cardenas Sanchez, community leader, killed 19 March 2023 in Quibdó, Chocó. The National Liberation Army (ELN), Gulf Clan (AGC) and local armed groups are active in this area.
President Petro has ordered the security forces to end the ceasefire with the Gulf Clan (AGC) ex-paramilitary group, which follows a similar order to end the ceasefire with the ELN in January. This only leaves the negotiations with the FARC (Revolutionary Armed Forces of Colombia) dissident groups intact. Colombia Reports asks if Petro can afford to ignore the AGC's connection to politicians. The AGC's strength is now estimated by independent observers to number 9,000.
A US court has ordered the banana company Chiquita Brands International to stand trial for illegally financing death squads in Colombia. The trial will begin in January 2024. General counsel for Earth Rights International said "Chiquita funded death squads that murdered thousands of people, and while they admitted to a federal crime, they have never provided any compensation to the families who were shattered by their illegal and abhorrent conduct."
BRAZIL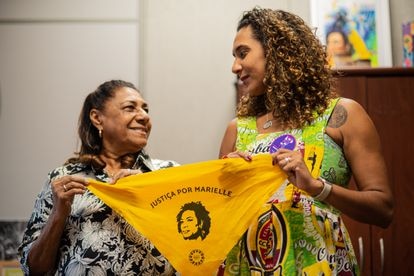 El País reports that President Lula da Silva has appointed Anielle Franco, sister of slain politician and human rights lawyer Marielle Franco, the Minister for Racial Equality. A study conducted by the Marielle Franco Institute found that over 98% of women candidates in the last municipal elections suffered some form of political violence. Black and mixed-race female politicians who were surveyed reported up to "seven or eight types of political violence" and "getting no support from their party."
To tackle the problem of police violence, Amnesty International Brazil has launched the campaign The Ministry Has to Be Public with 19 other civil society organizations. They call on Public Ministries to take control of police activity. Police violence is a structural problem and requires an independent and effective investigation and monitoring system. The police should be held accountable for their actions, respect human rights and follow established protocols. Brazilian police kill more than 6,000 civilians every year. Please sign the petition here (in Portuguese. UK is 'Reino Unido')
The Armed Conflict Location & Event Data Project (ACLED) analyses why police killings and homicide rates are so high and on the increase in Rio de Janeiro. 'The presence of multiple different criminal groups fighting for territory, coupled with abusive government measures to tackle criminal activity, has created a deadly, high-risk environment for civilians in the state.' They note, 'Clashes between police militias and drug trafficking gangs often revolve around territorial control disputes.'
Human Rights Watch's latest country report on Brazil is a litany of the failings of four years of government under President Bolsonaro. From overcrowded prisons and police killings to the environment, women and indigenous rights, all were severely setback in this period.
PERU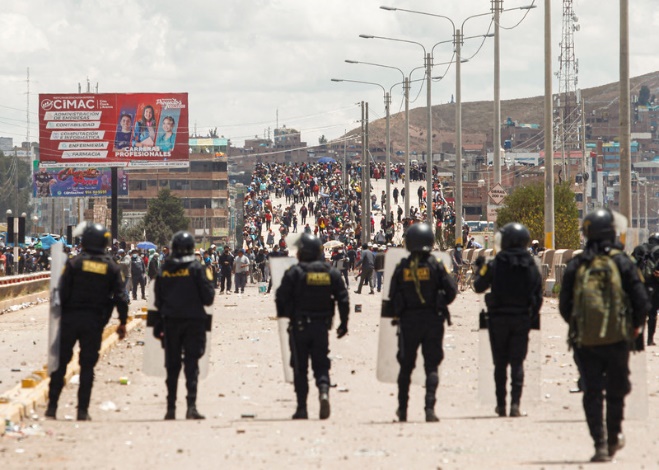 On 17 March, Amnesty marked 100 days from the start of social protests in Peru with a statement that repression was still the only strategy that the Peruvian authorities were adopting to deal with people's demands, adding that the authorities were responsible for the events that occurred under their command and had an obligation to ensure that protesters were not at risk of dying or being seriously injured just for expressing their discontent.
VENEZUELA
Amnesty Internatinal has issued an oral statement during the interactive dialogue with the Fact-Finding Mission on Venezuela in its latest update to the Council, expressing grave concerns over renewed assaults on civil society by the Venezuelan government. In its statements, Amnesty highlighted the arbitrary detention of Javier Tarazona, Director of local NGO FundaREDES, who was imprisoned and charged with inciting hatred, treason, and "terrorism" in July 2021. FundaREDES documents and reports human rights abuses committed by non-state actors in border areas of Venezuela. Tarazona's health has been deteriorating due to a lack of medical treatment.
As stated in those oral remarks, Amnesty has decided to extend the deadline for its Urgent Action 008/23 on "Venezuelan NGOs at risk" for another eight weeks. The Action calls for the Venezuelan authorities to halt the progress of a bill which would require non-governmental organisations to register and disclose their membership and funding. The vague and imprecise language used in the bill may give the Venezuelan authorities carte-blanche to persecute human rights defenders and opposition figures in the run-up to the 2024 elections. With thanks to those who have already done so, we would ask all members to sign the Urgent Action and send it to the Embassy of the Bolivarian Republic of Venezuela (rbkc.gov.uk)Venezuelan embassy here in the UK.
The United Nations High Commissioner for Human Rights, Volker Türk, has made remarks to the President of the United Nations in which he stated that, whilst he sees the readiness expressed by the Venezuelan authorities to engage in judicial and security reforms as a positive step, he is still deeply concerned by human rights violations in Venezuela, including instances of arbitrary detention, media restrictions, and the bill subject to the Urgent Action 088/23 stated above.
The United States Government has released its 2022 Country Report on Human Rights Practices in Venezuela, highlighting "credible reports" of "unlawful or arbitrary killings, including extrajudicial killings by regime forces", forced disappearances, and torture or cruel, inhuman, or degrading treatment. The report has also underlined the existence of harsh and life-threatening prison conditions, arbitrary arrest, an undermining of judicial independence, and the unlawful recruitment of child soldiers. Particular concerns were raised regarding restrictions on freedom of expression and the media, and restrictions on and the harassment of non-governmental organisations, in line with concerns raised by Amnesty International above. The lack of investigations and accountability for gender-based violence and crimes against indigenous peoples (including the Yanomami indigenous people) are also serious concerns. The Maduro regime has denied the allegations.
ARGENTINA
The United Nations Working Group on Business and Human Rights, an independent monitoring program of the Human Rights Council, has denounced the "structural discrimination" affecting the Indigenous population in Argentina. Their report stated:- "Poverty is concentrated in certain regions, especially in the northern provinces of the country, with indigenous peoples being especially affected by social inequality, economic marginalisation and structural racism."
Over the course of their 12 day visit, they revealed a "worrying number of complaints of evictions and violent interventions, repressions, raids, criminalisation, and prosecutions."
The report also criticised the management of a number of fast-growing industries – including so-called "mega-mining," shale gas and lithium – for their tendency to perpetuate human rights abuse. The delegation called for "the authorities to address these episodes and the companies to refrain from any action that could be seen as harassment or pressure on indigenous peoples."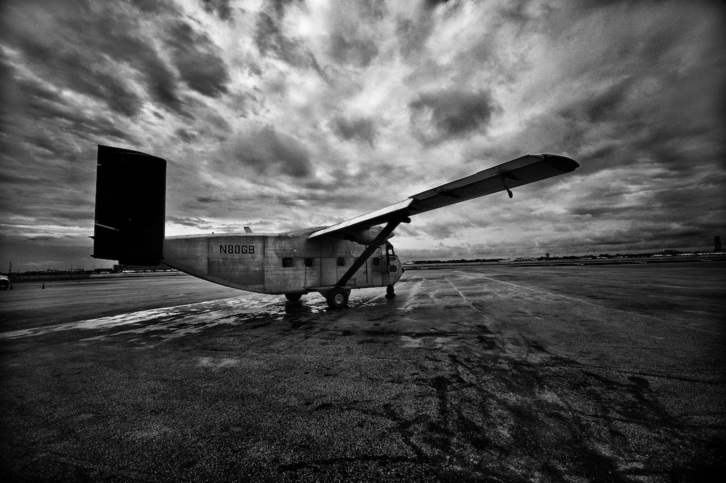 An aircraft used on "death flights", during which detainees were tossed from great heights alive into the sea, has been tracked down and is being returned to Argentina this month. It will be put on display in Buenos Aires at the Museum of Memory set up in the former ESMA Navy Mechanics School detention centre.

Sylvan PA-51 used to 'disappear' perceived enemies of Argentina's dictatorship in the 1970s and 80s. Photograph: Giancarlo Ceraudo
A Guardian article describes how on the night of 14 December 1977, the three pilots flew their turboprop aeroplane for more than an hour out over the Atlantic Ocean. The technical log they had completed on take-off registered no passengers, but on the cabin floor behind them lay eight women and four men, tortured, drugged and barely conscious. Two of the flight crew stripped the victims naked and opened the ramp door at the rear of the plane. Then they pushed their victims out, to fall thousands of feet into the South Atlantic.
In this case two of the surviving pilots were convicted in 2017. But whilst such "death flights" in which thousands perished are now known to have been routine during Argentina's 1976-83 military dictatorship, many of their details remain unknown.
Five Skyvans were believed to have been used in the death flights, of which only this one, PA-51, survives.
CHILE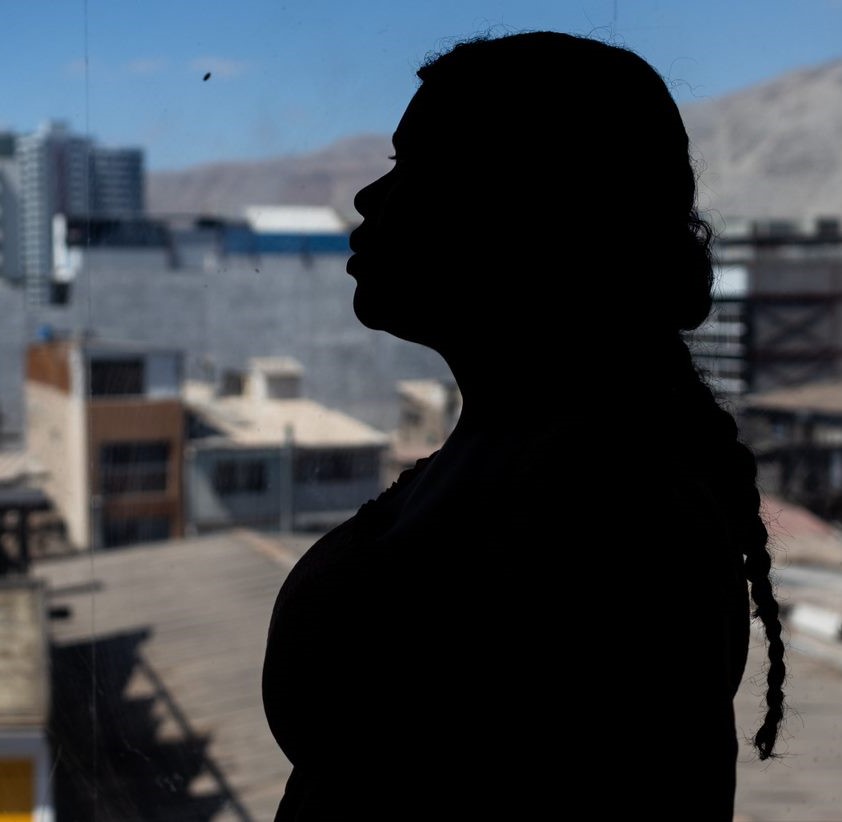 Amnesty International has published a new report Chile:"No one wants to live in hiding". Chile has failed to fulfil its obligations to protect people who have fled Venezuela to protect their lives. For people in need of international protection who manage to enter Chile, accessing refugee status or regularizing their migratory status is an obstacle course. Amnesty International has identified a series of measures that effectively prevent people in need of protection from accessing regular migration status in Chile. Without options to regularize their migration status, Venezuelans in Chile are condemned to a situation of a total lack of protection.
The report includes the testimonies of 12 Venezuelan women interviewed by Amnesty International.
"It's unfortunate that the main countries hosting Venezuelan refugees in the world are failing in their obligation to guarantee protection to those who flee Venezuela. We had already documented the enormous challenges in Colombia, Peru and Ecuador; and now we have shown that the Chilean government, far from breaking this trend and granting them international protection or migratory regularization, has for years been establishing an insurmountable obstacle course to prevent them settling in the country," said Erika Guevara-Rosas, Americas director at Amnesty International.
We reported last month on the progress of two investigations relating to human rights violations carried out by the Carabineros, the Chilean police. These happened over 3 years ago during widespread, peaceful, protests across Chile. It was generally agreed at the time, including by the government, on the urgency of a comprehensive reform of the police.
More than three years after the massive protests, progress in this area is minimal. And Amnesty International has just warned that the approval of the "Nain Retamal bill" will make things worse. They say the wording of the regulations is very ambiguous. The bill will validate a disproportionate use of force, if claiming self-defense.
"Under the imminent Nain Retamal law, human rights violations and crimes under international law could reoccur more frequently and with less possibility of being adequately punished. It also inverts the burden of proof making it the victim who must prove that this exemption does not apply. We urge the authorities to reconsider and make efforts to ensure that the Nain Retamal Law is not a source of abuse and impunity, and that progress is made towards a comprehensive reform of the Carabineros institution", concluded Rodrigo Bustos, executive director of Amnesty International Chile.
OUR TEAM AND YOU
All the best,
South America Team – Richard Crosfield (Colombia and Brazil), David Rogers (Argentina and Chile), James Baird (Venezuela) and Graham Minter (rest of South America). And please don't forget that you can follow us on our Facebook page and Twitter.