This month we cover the impact of Covid-19 on human rights in the region as well as more general human rights news. Amnesty has issued the human rights responsibilities for state response to Covid-19 for the Americas. This includes a paper which sets out four things governments should do and four things they should not. States should:
Not discriminate
Not leave behind high-risk groups
Not use repression or excessive force in enforcing public health measures.
Not censor or limit access to evidence-based information or prevention
States should:
Guarantee workers' rights and social security
Guarantee access to adequate water, sanitation and health for all
Ensure a gender-focused response to the pandemic
Protect people's rights to privacy
We also have 2 Urgent Actions for Venezuela, a petition for Peru and Amnesty statements on recent events in Peru, Colombia, Ecuador and Brazil.
VENEZUELA
Venezuelan National Assembly opposition members and those near them continue to suffer attacks. Representative Ismael Léon was detained from 21 – 23 January 2020 then conditionally released. In this Urgent Action, you can call on President Maduro to put an immediate stop to this repression. Any letters should be addressed to the Venezuelan Ambassador in London as there is still no postal service in or with Venezuela.
On 21 March 2020, journalist Darvinson Rojas was arrested by the Special Action Forces (FAES) of the National Police in an apparent attempt to silence his reporting on the spread of COVID-19 in Venezuela. Darvinson is in the custody of FAES custody, who have an appalling record of committing grave human rights violations. In this Urgent Action, you can demand his immediate and unconditional release.
This article from Human Rights Watch questions how the country's collapsing health system will cope with the COVID-19 outbreak and the consequences for Venezuelans' right to health and for the rest of Latin America.
In another article, Human Rights Watch draws attention to the Venezuelan security forces' practice of arbitrarily detaining and forcible disappearing people.  According to one report, there were 200 cases of short-term disappearances in 2018 and 524 in 2019.  The report cites the case of Tomeu Vadell Recalde, an oil executive arbitrarily detained in November 2017 and currently held in an unknown location.
PERU
On 12 March, Graham called on the Peruvian Ambassador and the FCO's South and Central America Department to highlight the recommendations made to the Peruvian Government and the international community in Amnesty's report" In search of safety: Peru turns its back on people fleeing Venezuela".  Both the Ambassador and the FCO explained what the two governments were already doing to support Venezuelan refugees and emphasised their continuing commitment to enabling Venezuelans to find safety.  You can still sign the Welcome Venezuela online petition here.
Amnesty has called on the Peruvian State to abolish a Police Protection Law passed by Congress on 28 March on the grounds that it violates international human rights law and leaves the door open for impunity and excessive use of force by the police and armed forces. The law establishes a presumption that the use of force by the police is deemed to be reasonable unless it is proven to the contrary.
An Amazonian leader, Aurelio Chino, has travelled to Europe to lodge a complaint with the Organisation for Economic Cooperation and Development (OECD) about Pluspetrol, an Amsterdam-based oil firm.  He demanded that the company clean up decades of pollution that has caused devastating health impacts through oil exploration and drilling in remote parts of Peru's rainforest.
ECUADOR
Amnesty's International Secretariat (IS) staff visited Ecuador on 7 to 13 March. With three of the Mujeres Amazónicas who featured in Amnesty's recent campaign, they visited the Attorney General's office to hand over more than 252,000 petition signatures, collected in at least 168 countries, expressing concern about the lack of concrete measures by the state to guarantee the effective protection of Human Rights Defenders (HRDs), and the authorities' persistent inability to carry out appropriate and effective investigations into attacks and threats against the Mujeres Amazónicas collective.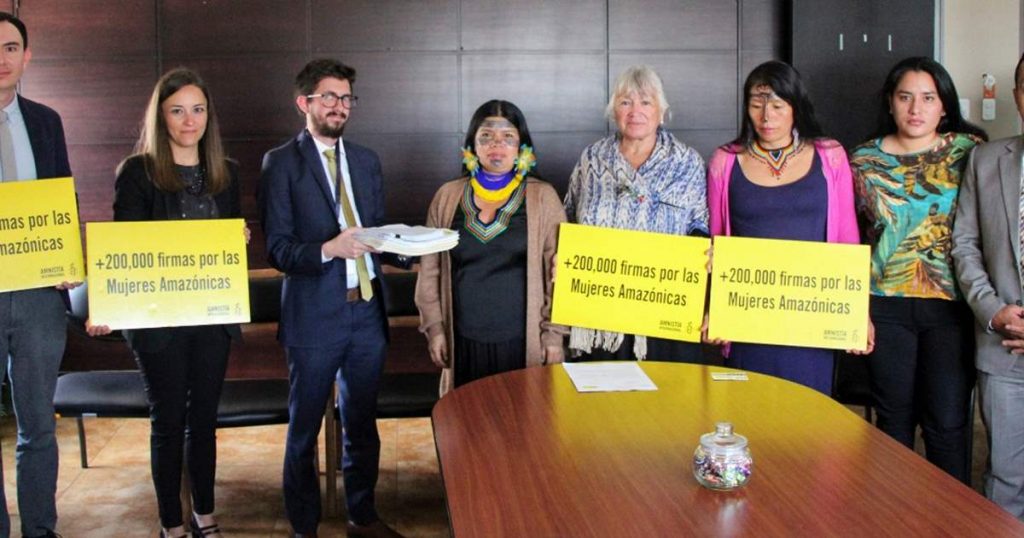 The Attorney General's Office committed to visit the area by the end of March to verify the failures of the provincial Attorney's Office to investigate the attacks and death threats against the Mujeres Amazónicas.  It also vowed to produce a set of "guidelines" for the adequate investigation of crimes against HRDs in the future.  In response to AI's campaign, the government has also formed an "inter-institutional table" to design a Protection Policy for HRDs, which is being led by the Ombudsman's Office.  Amnesty International will continue to monitor progress.
Amnesty has called on the Ecuadorian authorities to guarantee a fair trial and monitor whether due process is respected in the case of digital defender Ola Bini, who was detained by police after the now minister of government, María Paula Romo, publicly accused him of "cooperating with attempts to destabilise the government."
COLOMBIA
Colombia declared a national lockdown for 3 weeks to combat Covid-19, starting 25 March. This followed partial measures by some departments and the capital and the closing of the country's frontiers to all but Colombian nationals, residents and diplomats.
Amnesty International has said that measures taken against Covid-19 by the Colombian authorities must not be an excuse for 'neglecting the protection of human rights defenders.' At least two defenders have seen their protection reduced in recent days. At least six social leaders and human rights defenders were killed in the week of 19 March. An article in The Guardian gives more background to this new risk to defenders.
The Internal Displacement Monitoring Centre reports that 2,025 people were displaced in Chocó in the first three weeks of March. Another 3,038 people from 12 indigenous and Afro-Colombian communities in Chocó remain in confinement due to armed clashes.
A high level delegation to Colombia organised by the British NGO Justice for Colombia came away with a series of concerns on progress of the 2016 Peace Accord signed with the FARC rebels. Violence continues in rural areas, particularly where the government's development areas are concerned, the coca substitution programme is causing hardships to farmers, and funding and land reform are not nearly approaching required levels. However, on a positive note the delegation praised the transitional justice system established by the Accord.
CHILE
New charges of police brutality continue to emerge in Chile as anti-government protests have resumed.   Onlookers captured video footage of two heavily armed riot policemen beating with batons, throttling and dragging a 69-year-old man during the International Women´s Day march in Santiago. Chile's police chief has told lawmakers that police have documented more than 4,000 protests since October last year. He said that among 1,144 internal abuse investigations, 83 officers had received internal sanctions.
BRAZIL 
Amnesty Brazil  met with the Governor of the State of Rio de Janeiro, Wilson Witzel, and  the Attorney General of the State, Eduardo Gussem on 13 March, the day before the second anniversary of the murder of Marielle Franco and her driver Anderson Gomes. There was a commitment by the authorities to resolve the case and to maintain a dialogue with Amnesty. Amnesty states: "We want to amplify even more the voices of the 983 thousand people who, in these two years, have  joined Amnesty to pressure the authorities for justice."
An Amnesty UK press release dated 11 March, in response  to the news that the two men accused of killing human rights defender Marielle Franco and her driver, will be tried by a popular jury, states that: "…the case will only be completely solved when all those involved are identified and brought to justice, and when their motivations are made clear."
An Amnesty UK press release dated 14 March 2020 to coincide with two years since the murder of Marielle Franco and her driver reminds us that AI's  Brave campaign was launched in response to the unprecedented surge and global scale of attacks on human rights defenders and calls on the UK Government to prioritise its work to support human rights defenders.
The Guardian reports that there has been a rise in forced disappearances in Brazil, cases of poor young black men who are stopped by police and then show up dead or disappear completely are common in Brazil – and  are on the increase, according to human rights advocates. Police impunity for the killings of poor, black or mixed-race victims is a notoriously longstanding problem in Brazil.
Survival International report that, a Yanomami leader and shaman has made an urgent statement warning that a group of uncontacted Yanomami "could soon be exterminated" if the Brazilian authorities do not act now to remove goldminers working illegally on the tribe's land. He says the group, known as the Moxihatatea, are in grave danger: "They have fled many times. But now, they can no longer run away and are surrounded by violent miners who wanted to take revenge by shooting at them with shotguns." The Yanomami territory, the largest indigenous reserve in Brazil, was recognised by the Brazilian government in 1992. The miners continue to spread fatal diseases and destroy the forest, streams and river beds.
Mongabay  report that it is widely suspected that Brazil's indigenous people will be very vulnerable to COVID-19, as they have shown little resistance to Western respiratory illnesses in the past. Isolated indigenous groups, lacking all healthcare support, would be particularly defenceless.
REGIONAL
With elections due shortly to the General Secretariat of the Organization of American States (OAS) Amnesty has reminded member states in an open letter that they must honour the organisation's principles of competence, independence and impartiality. Amnesty has noted and regretted the OAS's silence in the face of reports of grave human rights violations in recent protests in Bolivia, Chile, Haiti and Honduras.
Two years after the adoption of the Escazú Agreement, a further three countries (Antigua and Barbuda, Nicaragua, Panama) ratified it in March bringing the total to eight countries. The agreement, which establishes protections for the rights of access to information, public participation and access to justice in environmental matters, is an important opportunity to establish accountability for human rights violations relating to the environment. The agreement will come into force when at least eleven countries have ratified it.
All the best,
South America Team – Richard Crosfield (Colombia, Argentina), David Palmer (Brazil) and Graham Minter (rest of South America).