Hello
Welcome to the latest news from your local Amnesty Group
Our next meeting is Thursday, 9th October 2014 at 7.30pm at Moordown Community Centre, Bournemouth. On the agenda is a discussion on Phase 2 of AIUK's Strategic Goals consultation. If anyone is intending to come to the meeting and would like to see in advance the documents produced by AIUK please reply to this newsletter.
Since our last newsletter Andy Turner has been voted in as Chairman.  Again, many thanks to Ted Stevens for keeping us in order over recent years – no-one is sure how long he has had to endure our distracted ramblings.  For a picture of new chair Andy in action – see our blog. http://amnestyat50.co.uk/free-khalil-matouq
Actions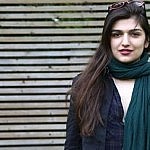 At our last meeting we wrote a variety of letters to the governments of Japan, Saudi Arabia and Uzbekistan. The letters to Saudi Arabia were posted on our blog. Unfortunately we have to report that Hajras bin Saleh bin Muhammad al-Qurey has now been executed in Saudi Arabia. Thanks to everyone who wrote to try and prevent this happening. The work continues…
We post many actions on our Facebook page – most of which link to quick actions such as sending emails, adding your names to a petition. You don't have to belong to facebook to visit the page and follow the links. One such is Ghoncheh Ghavam (above), a twenty five year old British-Iranian women who has been imprisoned in Iran for nearly three months, after attending a men's volleyball match. It has been in the news over the past few days that Ghoncheh has stopped eating to mark 100 days since she was arrested in Tehran.
Please go the AIUK page to send an email. But our Facebook page has this and other links, such as Juan Pablo Gutiérrez in Columbia, the fate of women in El Salvador who suffer a miscarriage, the boom in China's torture industry, Reyhaneh Jabbari facing execution in Iran and 8 reasons why the Human Rights Act makes the UK a better place. Plus, of course, details of local events. Have a peep….

Street Collections and other Events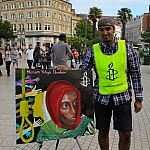 We had three street collections over the summer, which between them brought in over £350. Ted & May continue to fly the flag at a variety of Carnivals, "Fundays" and Fresher's Fairs, which don't bring in much revenue but – like the street collections – help to raise our profile.
Two Amnesty supporters staged very different events recently. Last month Alexander Dakers (above) spent the day painting a portrait of Meriam Ibrahim in Bournemouth Square.  Meriam had been the subject of much Amnesty action after receiving a death sentence in Sudan for allegedly committing "apostasy from Islam" when she married a Christian man. Fortunately she is now in the USA with her husband. Alex received alot of attention and got £64.66 in donations.
Hot off the press, Sam Manning raised £231 in 4 hours for Amnesty and Oxfam by "climbing for Amnesty" at the Climbing Centre in Poole. Hopefully we can share more details of how he did so when we get them!
But thanks to Sam, Alex, Ted & May and everyone who has taken part in events, collections – or put money in a collection box.
Late Autumn Quiz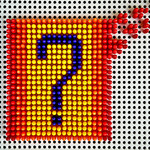 We've had a succession of quiz venues closing down or being refurbished in some way after our events – hopefully this is pure coincidence! But we now have a new venue willing to test this out. We have booked the Queen Mary Inn, West Street, Poole for our next quiz on Friday 28th November 2014. More details nearer the time, but its likely to follow the usual format with teams of up to 6 (can be formed on the night) and £5 a head. Sally Hawksworth has agreed to keep everyone in order and politely ask you things you don't know.  David Rogers has promised to make questions slightly less obscure than last year!
Bric-a-Brac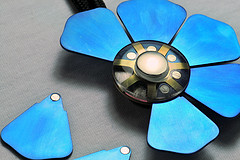 In the past we held many stalls at Trade Union Conferences when they visited Bournemouth, plus we had our own Garden Party.  Times have changed, but as reported above, Ted and May still turn out at a variety of Fairs and Carnivals – such as in Winton, Boscombe and now Muscliff Funday!
So if you have any second-hand books, jewellery (even broken), scarves, handbags (particularly evening), bric-a-brac or other knick-knacks in any condition that you wish to donate, please let May Stevens know (01202) 510886. They can collect.
New Forest Group
On Saturday 11th October the New Forest Group are having a talk on Afganistan by Zainab Homam. This takes place at Fuller Hall in Lymington Community Centre at 2.30pm. For more details open up this poster.  http://www.amnesty-volunteer.org/uk/new-forest/October2014Poster.pdf