Welcome to the latest newsletter from your local Amnesty International group.
We meet a week today, Thursday  February 3rd, at Moordown Community Centre, 7.30 – 9.30pm.
Urge Your MP to Speak Up Against the Policing Bill
The Policing Bill threatens to crack down on peaceful protest, harm minoritised groups and jeopardise our freedoms. Act now to oppose the Bill and protect your rights and freedoms.Last week, because of huge collective action across the country, the House of Lords removed some of the worst parts of the Policing Bill. But, the fight is not over.
While the Bill has suffered a setback, MPs could vote to put some parts back in. Will your MP be on the right side of history? Take Action
https://www.amnesty.org.uk/actions/policing-bill-demand-action
Europe Newsletter January 2022
This has just been published and is now on our website. It largely has updates relating to Turkey and Poland, including feedback relating to the   #StopRefugeeFamiliesFreezing vigils around the country and protest outside the Polish Embassy in London (which some of our group went and supported – see photos above). There is the address of the Polish Ambassador if you want to write a letter yourself.
At the end of the newsletter is a link to a petition from Amnesty Italy in support of health and care workers facing reprisals for speaking out during Covid.
https://amnestyat50.co.uk/europe-newsletter-january-2022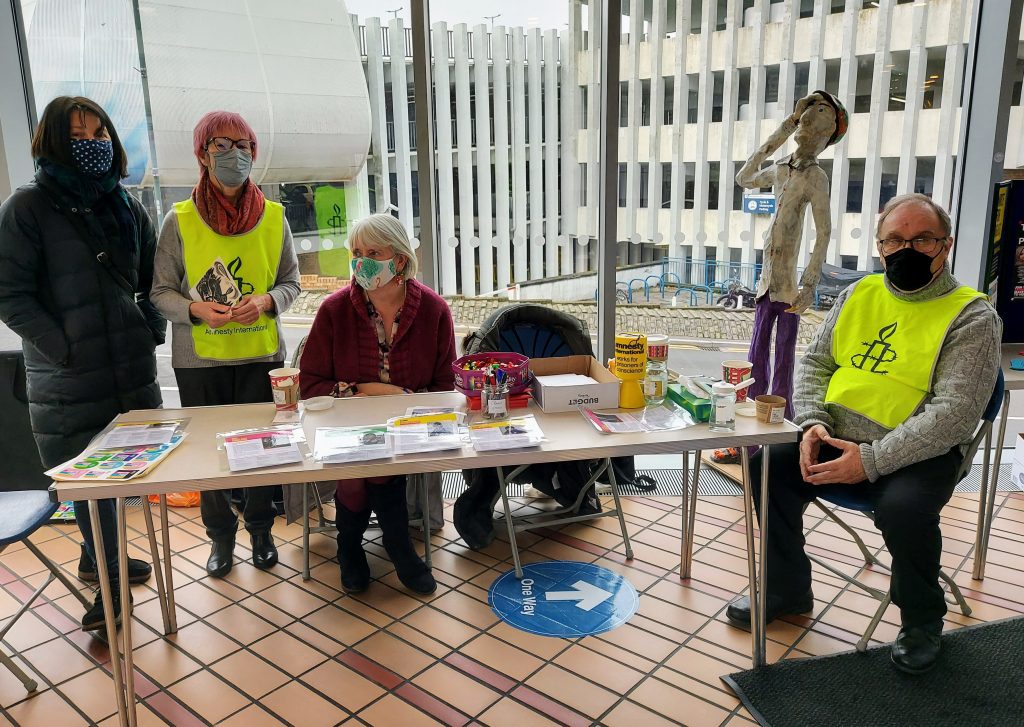 Write 4 Rights at Bournemouth Library
Write for Rights 2021
Thanks to everyone who supported our event at Bournemouth library and also participated with us at Moordown and from home.
W4R is Amnesty International's annual campaign, sending greetings cards to prisoners of conscience and other human rights defenders around the world.  In 2019, more than 6.5 million messages of support and appeal letters were sent during the W4R campaign. They made a big difference to the people and communities confronting injustice and facing human rights violations.
The library was, understandably, quieter than when we last went there for W4R in 2019. But  the library staff were extremely welcoming and we had good engagement with the public. Read more here.
https://amnestyat50.co.uk/wright-4-rights-2021
South American Newsletter January 2022
There is the latest newsletter from the team on the website. This month there are updates on developments in Paraguay, Colombia, Venezuela, Brazil and Chile.
There is a new Urgent Action to free a prisoner of conscience in Venezuela (see below as well),a petition to sign on sexual violence against children and adolescents in Paraguay and good news from Brazil.
https://amnestyat50.co.uk/south-america-newsletter-january-2022
Prisoner of Conscience Javier Tarazona
Javier Tarazona
Amnesty International has issued an Urgent Action, demanding the release of Javier Tarazona, Director of local NGO FundaREDES. Javier was arbitrarily detained on 2 July 2021 after attempting to report harassment from security officers at the Attorney General's Office in the city of Coro, and charged with inciting hatred, treason and "terrorism".
His pre-trial hearing took place on December 16. Javier Tarazona is a prisoner of conscience. Please write to Rocío Del Valle Maneiro González
Venezuelan Ambassador to the UK, 1 Cromwell Road, London SW7 2HW
We wrote letters to the Ambassador at our meeting earlier this month. Since then he has been hospitalised due to his deteriorating health, but then returned to detention. Please download and personalise this Sample letter