We have 2 very urgent Actions on Poland : one about the suffering of refugees trapped at the border of Poland and Belarus. Please sign and circulate the online petition
https://www.amnesty.org.uk/urgent-actions/protect-afghans-stranded-polish-border?fbclid=IwAR0K6hedXLdi1EKceHBYFBrW32yCpuiDQjD_f1EQheny-5Q-ZGjjC-EDTVs
and write personal emails and letters as well. The Urgent Action can be downloaded here. (includes model letter)
The other Urgent Action is about Ela, Anna and Joanna , the three brave LGBTI Rights defenders who are on trial again on 10th November . Please take Action :
https://www.amnesty.org/en/get-involved/take-action/poland-activist-elzbieta-podlesna/
We also have a very important trial coming up in Turkey ,
https://www.amnesty.org.uk/actions/demand-justice-turkish-students-defending-lgbtq-rights
And of course our preparations for the demonstration and Days of Action to support and defend refugees in Europe and the UK are shaping up. 
20th & 23rd October Demonstrations  and  Days of Action
The preparations for the demonstration and day of Action on 23rd October are shaping up. There will be 2 demonstrations in London : One organised by different organisations on Wednesday  20th October outside Parliament protesting against the Nationality and Borders bill (see picture), and on Saturday the 23rd October our Amnesty Europe demonstration starting at 12noon outside the Embassy of Italy (see poster below). We are campaigning against the criminalisation of refugees and Human Rights defenders who are involved in Search & Rescue and against the cooperation of Frontex and Italy with the Libyan coastguard returning refugees to torture, rape and extortion in Libyan DCIM camps.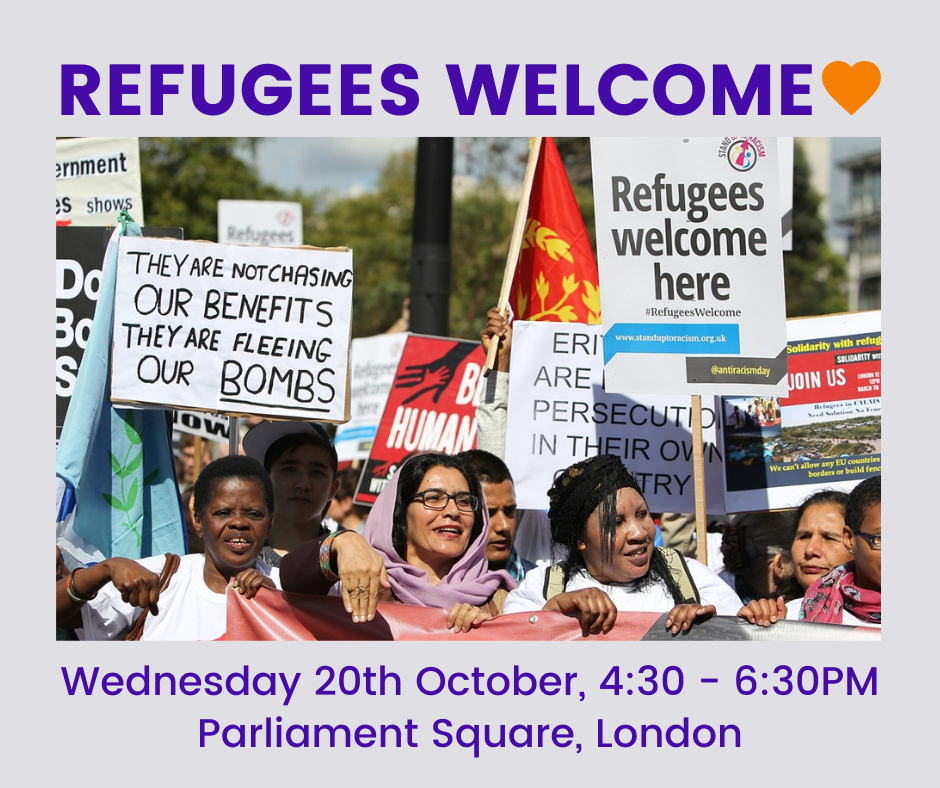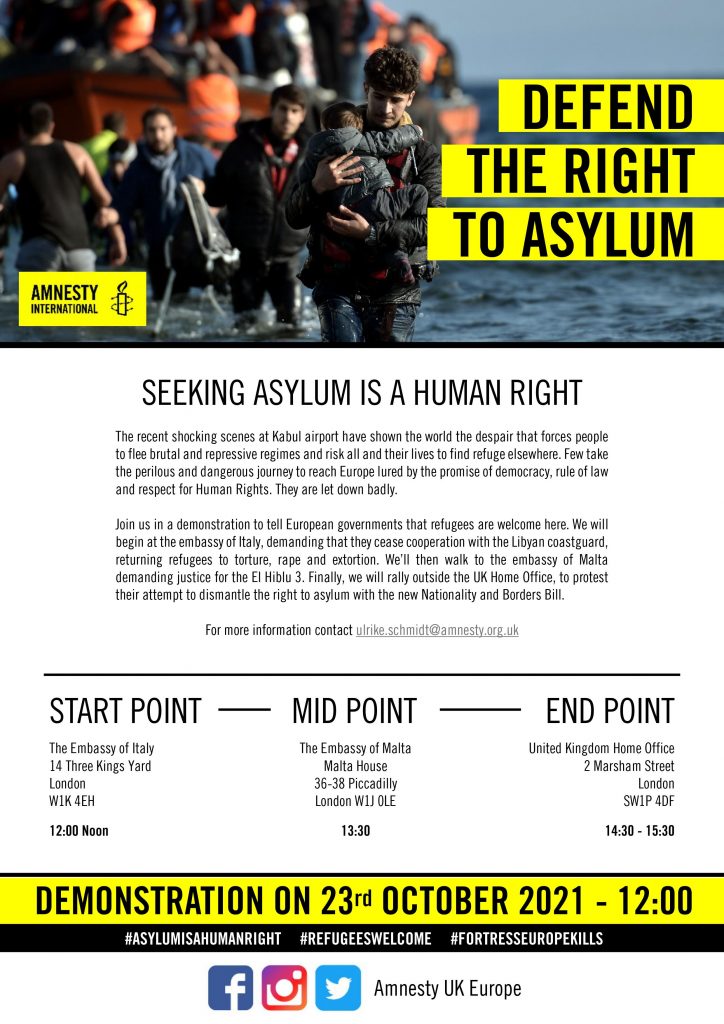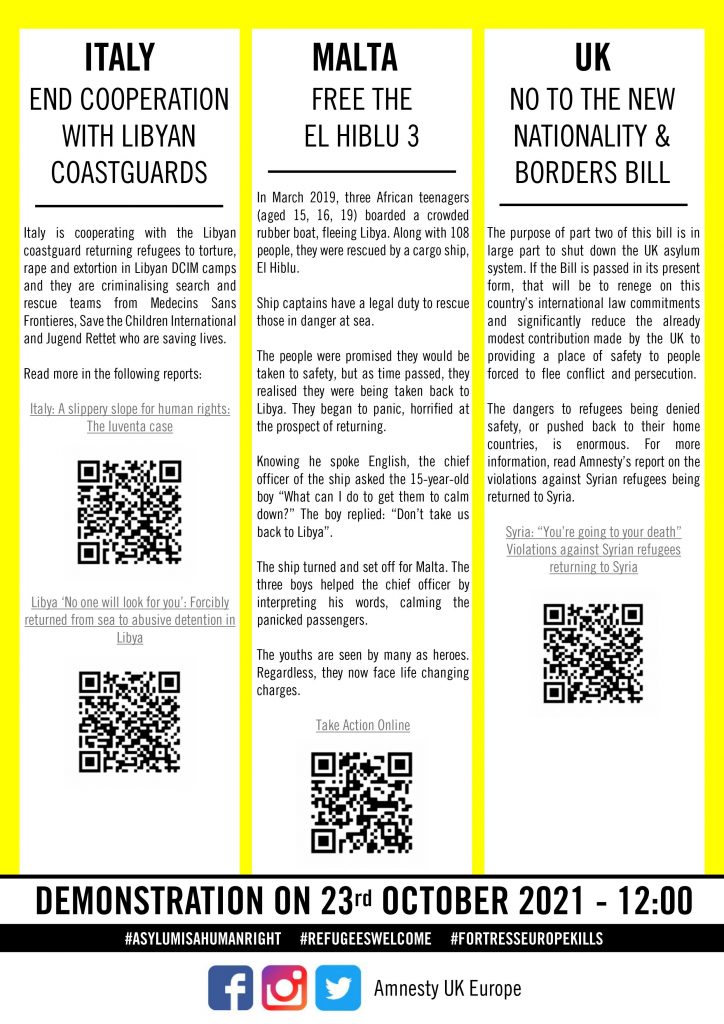 Read more in the following reports:
Italy Report A slippery slope for human rights: The Iuventa case
Libya 'No one will look for you': Forcibly returned from sea to abusive detention in Libya
We are also protesting against abuse in Swiss asylum centres, and against the attempts of Denmark to forcibly return refugees to Syria.
From there we are walking to the Embassy of Malta, where we are calling for all charges against the El Hiblu 3 to be dropped.
Please take Action: DEMAND JUSTICE FOR THE EL HIBLU 3
From there we will be walking to the Home Office where we are calling on Priti Patel to withdraw her plans for pushbacks across the British channel, which would endanger lives, for protection for all people from Afghanistan who are seeking asylum to receive protection and for the Nationality & Borders Bill to be withdrawn.
Amnesty International UK statement on the Nationalities and Borders bill :
The Nationality and Borders Bill is a cruel piece of legislation which, if enforced, would:
Largely Shut down the UK's asylum system
Criminalise people for trying to reach a place of safety.
Create the prospect of people in the UK being prosecuted for saving someone's life – if that enabled someone to enter the UK.
While it corrects a number of injustices, anomalies and historical inequalities that have deprived some people of British nationality, if this Bill passes, in its current form, it will allow for refugees to be discriminated against and disadvantaged. Neither the 1951 Refugee Convention, nor other international human rights standards permit arbitrary discrimination between people entitled to asylum because of their shared status as refugees.
Seeking asylum is a human right and instead of shutting it down, the Home Office should ensure the UK's asylum system is accessible and effective for all who need it, without discrimination or penalty.
Our demonstration is supported by a large number of organisations.
At a time when governments and politicians think that creating a hostile environment for refugees is a vote winner, we have to combine all our voices (regardless of any other differences) in support of refugees and the human right to seek asylum.
Outside London there are are several days of Action in support of refugees organised :
In Exeter the Exeter amnesty group is organising a protest outside the Cathedral at 1.30pm.  Stirling and Edinburgh amnesty groups are organising in Scotland.
Syria: refugees face detention, torture and death on return!
New report : Refugees face detention, torture and death
Denmark and Sweden have recently reassessed the residency permits of asylum-seekers who come from regions in Syria they consider safe for return, including Damascus and the surrounding countryside. However, a third of the cases documented in Amnesty's report involve human rights violations in Damascus and the Damascus area. Amnesty believes that no part of Syria is safe for returnees. Anyone who has left Syria since the beginning of the conflict is at real risk of suffering persecution upon return given perceptions about their political opinions or simply as punishment for having fled the country.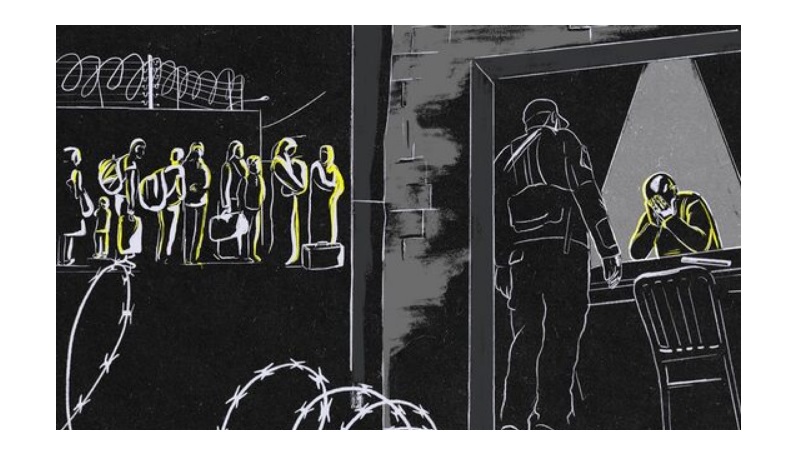 Based on the findings in its report, Amnesty International concludes that no part of Syria is safe for returnees to go back to. In addition, people who have left Syria since the beginning of the conflict are at real risk of suffering persecution upon return, on account of perceptions about their political opinions or simply as punishment for having fled the country.
WE ASK DENMARK TO:
Guarantee meaningful financial support to countries hosting large numbers of Syrian refugees and translate commitments into concrete actions to take on a fair share of responsibility for supporting Syrian refugees through:
EU and member state contributions to UN inter-agency humanitarian appeals. The amounts committed and disbursed should be published annually.
Bilateral assistance – both financial and technical support, depending on the host country's needs – to enable the host state to provide support to refugees and asylum-seekers, including ensuring access to adequate shelter, food, health care and education. The extent of such bilateral assistance should also be published annually.
Increase resettlement commitments for Syrian refugees and provide complementary pathways to protection, including community sponsorship.
Poland: Briefing on the Rule of Law and independence of the judiciary in Poland in 2020-2021
In this briefing Amnesty International documents the deterioration of the rule of law and lack of respect for human rights in Poland in 2020 and 2021. It provides details about Poland's ongoing failure to comply with the interim measures of the Court of Justice of the EU requiring an immediate suspension of the new system of disciplinary proceedings against judges. This failure has serious implications on the situation of individual judges and independence of the judiciary in Poland in general.
Read the full report :  https://www.amnesty.org/en/documents/eur37/4304/2021/en/ 
POLAND: first hearing in new trial 
We have just received confirmation of the start of the new trial against the three WHRD accused of offending religious beliefs in Poland. Ela, Anna and Joanna are scheduled to appear in court on 10 November 2021. In the meantime, we are reiterating the call on sections to continue promoting the action targeting the Prosecutor General available at https://www.amnesty.org/en/get-involved/take-action/poland-activist-elzbieta-podlesna/
Refugees are still trapped without shelter, food, medical care between the border of Belarus and Poland, victims of  a cruel power game between Belarussian and Polish Governments. At least 5 people have died as a result.
Please sign and distribute the on-line petition :
 https://www.amnesty.org.uk/urgent-actions/protect-afghans-stranded-polish-border?fbclid=IwAR0K6hedXLdi1EKceHBYFBrW32yCpuiDQjD_f1EQheny-5Q-ZGjjC-EDTVs
Here is a short documentary by the BBC about the suffering inflicted on refugees trapped at the border :
https://www.bbc.co.uk/news/av/world-europe-58671941?fbclid=IwAR2wj50TWvfRV46sd3X5qx9LVIRr34CY-6lFXI1emaTAMSa-7RMlU1WSkU8
PRESS RELEASE
POLAND: DIGITAL INVESTIGATION PROVES POLAND VIOLATED REFUGEES' RIGHTS
A digital investigation by Amnesty International has revealed previously unknown details about the situation facing 32 Afghan asylum-seekers, including four women, 27 men and one 15-year-old girl, who are trapped on the border between Poland and Belarus without food, clean water, shelter and medicine since at least 18 August. Using satellite imagery and photographs to measure the area and 3D reconstruction, Amnesty International has established the group's position on the border and found that in late August they had shifted overnight from Poland to Belarus, in what appears an unlawful forced return.
Amnesty International's reconstruction shows that on 18 August, many of the 32 people, who had entered Poland from Belarus, were on the Polish side of the border, surrounded by Polish border forces. However, one day later they were back on the Belarusian side of the border. Amnesty International believes that this movement could constitute evidence of an unlawful pushback because it appears that the movement occurred as armed Polish border guards surrounded the refugees' makeshift camp.
On 20 August, all 32 Afghans stuck on the border made applications for international protection in Poland, with the help of lawyers, showing that they wished to remain in Poland. The interim measures granted by the European Court of Human Rights (ECtHR) on 25 August, and subsequently extended on 27 September, instruct Poland to provide the group with assistance, including "adequate food, water, clothing, medical care and, if possible, temporary shelter". The ECtHR also indicate that the group of Afghans claimed they had previously entered Polish territory on 8 August and been pushed back. Poland has so far failed to comply with the interim measures.
"Poland has been cruelly holding this group of people on their border in horrendous conditions for weeks. Our analysis shows irrefutably on 18 August, their position shifted from Poland to Belarus overnight, which strongly suggests that they were victims of an unlawful pushback," said Eve Geddie, Director of Amnesty International's European Institutions Office.
"State of emergency"
Since the event, the group has remained trapped between Polish and Belarusian borders guards.
Poland has restricted movement in the area and introduced rules, on 20 August, allowing for people intercepted at the border to be returned to Belarus. On 3 September, Poland declared a "state of emergency" at its borders with Belarus, limiting journalists and NGOs from accessing the area. The "state of emergency" has prevented the oversight of potential human rights violations, raising concerns about the treatment of refugees and migrants in the area, including the unlawful return of other people back across the border to Belarus. Since 19 September, five people have died in the border area, including as a result of hypothermia.
"The dire situation facing the Afghans on the border is one that the Polish government has created.  The declaration of 'the state of emergency' is illegitimate and must be lifted. The situation at the country's borders does not constitute a public emergency by European and international definitions," said Eve Geddie.
"Forcing back people who are trying to claim asylum without an individual assessment of their protection needs is contrary to international and EU law. The introduction of new laws and measures that attempt to legalize pushbacks do nothing to change that."
Digital verification
To evaluate the situation on the Poland-Belarus border, Amnesty International's Evidence Lab collected and analysed cross-border satellite imagery and more than 50 videos and photographs of incidents on the border since 12 August. The images confirm the group's movements and the increased securitization of the border in recent weeks. The images came from numerous sources, such as local people and press, and included helicopter footage and satellite imagery – all of which was then analysed and verified.
Using photogrammetry and photo-matching to reconstruct 3D models, Amnesty International was able to verify the group's position on the border, confirm the suspected pushback between 18 and 19 August and the location of the group between 12 August and 13 September. It also exposed the inhumane conditions in the makeshift camp that the group is being forced to live in.
Amnesty International is calling on Poland's government to ensure that those seeking protection have access to its territory. The authorities must end pushbacks, and urgently provide adequate shelter, food, water, sanitary facilities, access to lawyers and medical care to the group of Afghans stranded at the Poland-Belarus border. Poland should also repeal the state of emergency and laws limiting movement in the border area, and grant unhindered access to journalists, activists, NGOs and lawyers.
"People have requested asylum in an EU country, an EU member state is blatantly violating their rights and the EU must act swiftly and firmly to call out these flagrant abuses of EU and international law," said Eve Geddie.
Background
On 20 August 2021, prior to the introduction of the state of emergency on 3 September, a ministerial decree limited movements at the border and established that, except for people falling under certain categories, those intercepted in the border area must leave Poland and be "returned to the state border line". The decree conflicts with Poland's obligations under refugee law, as it limits asylum-seekers' access to Polish territory, which is instrumental to their ability to claim international protection there. The decree is also at odds with the prohibition of non-penalization of asylum-seekers, whereby people seeking protection should not face penalties on account of their irregular entry or presence in a country. By allowing Polish authorities to return people without an assessment of their circumstances and without an effective opportunity for them to challenge the return decision, the decree is inconsistent with the principle of non–refoulement and could lead to collective expulsions prohibited under international law.
Lithuania and Latvia, which also neighbour Belarus, have seen comparable arrivals at their borders, and have introduced measures similar to Poland's. On 17 August, the Polish government  proposed a series of worrying amendments to the legislation on returns and international protection. The amendments propose to facilitate returns, which could lead to collective expulsions; allow asylum authorities to discard asylum applications made by people intercepted at an irregular crossing, unless specific circumstances apply; and make irregular border crossings a criminal offence. The UNHCR strongly criticized the proposal. At the time of writing, the proposal is not yet in force and is pending before the Polish Senate. On 25 August, the European Court of Human Rights ordered Poland to provide humanitarian assistance to migrants and refugees at their borders, this was renewed on 27 September. Poland has so far failed to comply with the Court's order. UNHCR and IOM have made public calls to be granted immediate access to people in need at the border.
A state of emergency is defined under international law as something that threatens 'the life of the nation.' Migration to Poland plainly fails to meet this test and poses no emergency. In addition, international human rights law has strict conditions that a state needs to follow when it imposes a state of emergency that limits human rights, such as notifying relevant international bodies. Poland has failed to act in compliance with these requirements.
Turkey
The 8th of October is shaping up to be an important date for cases that we have a direct interest in in Turkey.
METU case
On that date we expect the verdict in the case of the 18 students and one academic facing trial as a result of the break up by police of the planned Pride sit-in at the Middle East Technical University (METU) in 2019. As said in previous newsletters the group includes Melike Balkan and Özgür Gür who were included in the Write for Rights campaign in 2020.
In the run up to 8 October Amnesty will be launching new actions so that the Turkish authorities know that people all around the world will be watching for the outcome and supporting the METU students. I will be giving you details of these shortly but please, in the meantime, if you have not already done so
e-mail the Minister of Justice calling for the acquittal of all the defendants in the METU trial through the following website link:
https://www.amnesty.org.uk/actions/demand-justice-turkish-students-defending-lgbtq-rights
Osman Kavala
Entrepreneur and philanthropist Osman  Kavala was arrested in 2017 and is charged with involvement in the Gezi Park protests and plotting to overthrow the state. He has now been in detention for 4 years despite a judgment of the European Court of Human Rights in December 2019 which found that the authorities had targeted him in pursuit of the ulterior purpose of reducing him to silence, and that the proceedings against him  were likely to have a dissuasive effect on the work of human rights defenders.
He remains detained despite six decisions and one interim resolution by the Council of Europe (CoE) Committee of Ministers (CoM) defining his detention as arbitrary and strongly urging the authorities to ensure the applicant's immediate release. He is a victim of a justice system that has been used to silence  human rights defenders, lawyers and journalists and displayed unprecedented levels of disregard for the most basic principles of law, such as the presumption of innocence, no punishment without crime and non-retroactivity of offences, or not being judged for the same facts again.
Osman Kavala should have not been in detention in the first place. His prolonged, illegal detention displays contempt for human rights and the rule of law. The verdict on the case is also expected on 8 October and the view of the CoE is clear: He must be acquitted and released now.
Two weeks ago  the CoE made a further ruling on this case.
The Committee of Ministers of the Council of Europe has been very clear in its latest statement to Turkey #OsmanKavala : free him immediately or face infringement proceedings.
Unless Turkey implements the CoE decision, it will commence what are called "Infringement proceedings" against Turkey as result of which  the remaining CoE member states refer the offending country back to the European Court of Human Rights (ECHR) for refusal to implement binding ruling. It is a big deal and Turkey would become only the second country to which this has happened since the creation of the ECHR
Here is a suggested tweet to show support for Osman Kavala
The gov of Turkey is on formal notice for persistent political persecution: #freeOsmanKavala or face the infamy of being sent back to the ECtHR for refusing to abide by its ruling.
 The ball firmly on Turkey's court: it is high time to do the right thing & release him immediately