Here is our latest Newsletter with updates and actions.  Chris Ramsey, Türkiye;  Jovana Bosnjak Western & Northern Europe;  Ulrike Schmidt, Central & Eastern Europe and Balkans
Türkiye
Post Election overview
As reported in the June, the second round of the presidential elections took place on 28 May. Recep Tayyip Erdoğan won a relatively narrow victory and will therefore be in power for the next 5 years. In addition, in the parliament the Justice and Development Party (AKP) lost ground but remains the largest party with 268 seats. Their coalition partner the ultra- right wing National Movement Party (MHP) won 50 seats and so together this "Peoples Alliance" has maintained control of the parliament. Whilst formally there has been no immediate impact on the Human Rights situation in the country our researcher reports that the police and security services appear to feel empowered to deal even more harshly with any form of dissent or attempts by individuals or groups to exercise their rights to freedom of assembly or freedom of expression.
For an interesting discussion of why, despite inflation in Türkiye soaring above 40% and widespread publicity of the government's culpability in the scandalous collapse of so many relatively new apartment buildings in the recent earthquakes the Erdoğan government managed to retain power go to the London Review of Books podcast "Why did Erdoğan win":-
https://www.lrb.co.uk/podcasts-and-videos/podcasts/the-lrb-podcast/why-did-erdogan-win
Following the triumph of the AKP it was no surprise that the annual Pride marches in Türkiye were yet again banned.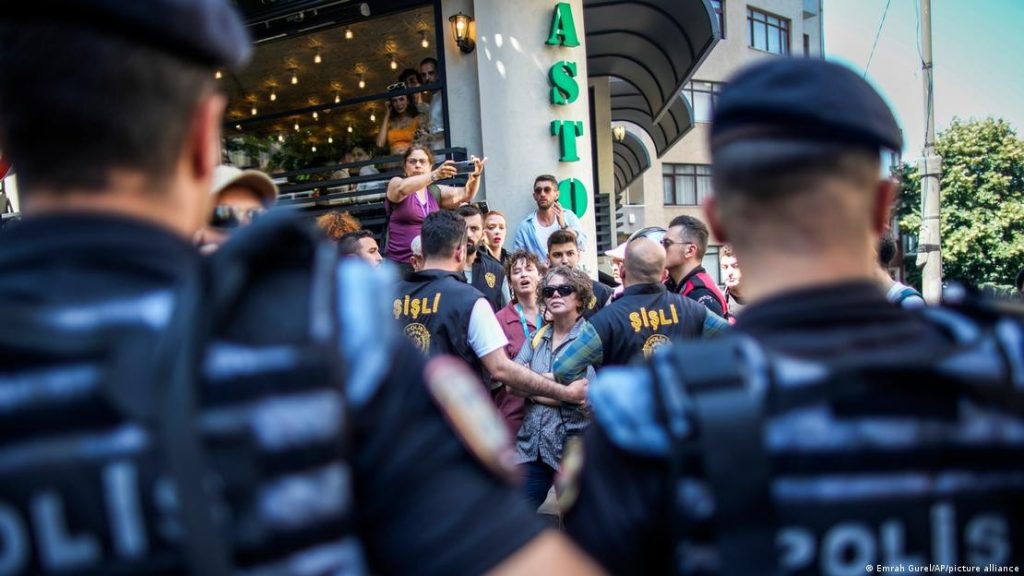 Nevertheless on 26 June hundreds of LGBTQ+ activists sought to evade the ban in Istanbul by gathering in the Nisantasi neighbourhood outside the city centre. As in previous years the police sought to disperse them and 93 were arrested with one person receiving head injuries while being arrested.
Police in the western Turkish city of Izmir also cracked down on those attending Pride, detaining at least 48 people, according to the organisers.
Büyükada: Justice prevails as four human rights defenders finally acquitted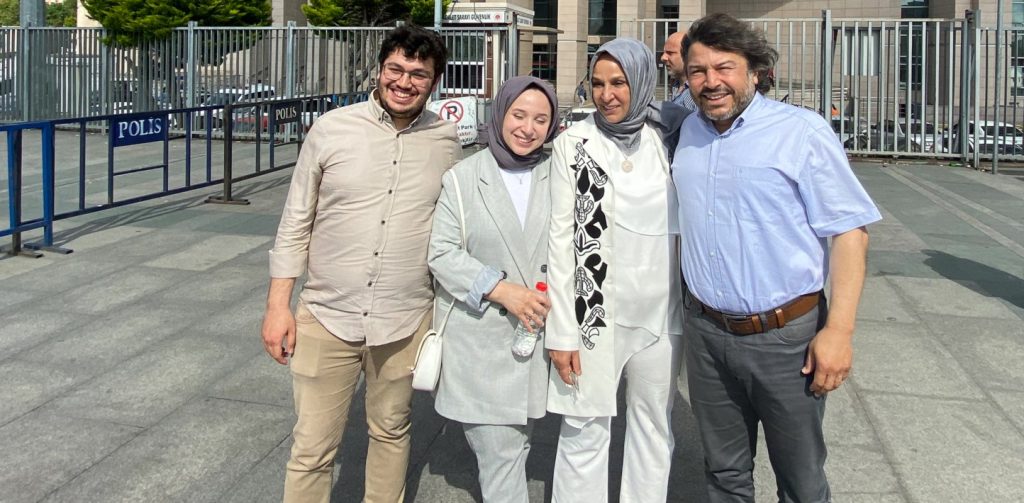 On 6 June the convictions of four human rights defenders collectively known as the Büyükada 4, including Taner Kılıç, Amnesty Türkiye's Honorary Chair, and Idil Eser, Amnesty Türkiye's ex-director, were quashed .
The decision by a Turkish court to overturn baseless convictions of Amnesty International Türkiye's Honorary Chair and three other human rights defenders was a huge relief, yet also highlighted the politically motivated nature of the prosecutions.
The ruling on the convictions of Taner Kılıç, İdil Eser, Özlem Dalkıran and Günal Kurşun — four of 11 human rights defenders in the Büyükada case, who were convicted in July 2020 — comes exactly six years after Taner's initial arrest which was followed the by the arrests of the others just weeks later.
"Today's ruling brings to an end a travesty of justice of spectacular proportions. While we are hugely relieved that the convictions have finally been quashed, the fact that they were brought in the first place remains unconscionable,"
said Agnès Callamard, Amnesty International's Secretary General.
"For six years, we have watched the wheels of injustice grind as the baseless claims levelled against these four brave human rights defenders have been accepted as fact by successive courts. Today's ruling revealed the true purpose of such politically motivated prosecutions: using the courts as a weapon to silence critical voices."
Taner Kılıç, a refugee rights lawyer and Honorary Chair of Amnesty's Türkiye section, was arrested in June 2017 and detained in prison for more than 14 months. Despite a complete lack of evidence, in July 2020, he was convicted of "membership of a terrorist organization" and sentenced to six years and three months in prison. İdil, Özlem and  Günal were all sentenced to 25 months for "assisting a terrorist organization" and spent more than three months in behind bars in 2017. Over the course of 12 court hearings, every allegation levelled against the four human rights activists was repeatedly and comprehensively proven baseless, including in the state's own police report.
Today's ruling follows the 2022 decision by the European Court of Human Rights' to reject Türkiye's referral for review by the Court's Grand Chamber of their decision that Taner Kılıç's detention in 2017-18 violated his human rights.
In May 2022, the European Court reaffirmed that the authorities in Türkiye did not have  "any reasonable suspicion that Taner Kılıç had committed an offence". It also found that his incarceration on the second set of terrorism-related charges was "directly linked to his activity as a human rights defender".
"For Taner, Idil, Özlem and Günal, their ordeal may be over, but across Türkiye many human rights defenders are languishing in jail, living in fear of arrest or facing similar unfounded prosecutions,"
said Agnès Callamard.
"We will take strength from today's victory. We will also continue to fight against the relentless curtailing of human rights in Türkiye, and on behalf of those who refuse to be silenced by the government's threats."
Gezi 7
Thank you to all of you who have taken part in the solidarity actions for the Gezi 7 in the last few months. Responses to groups from the defendants show that our messages are getting through and how much they are valued. Please keep up the good work.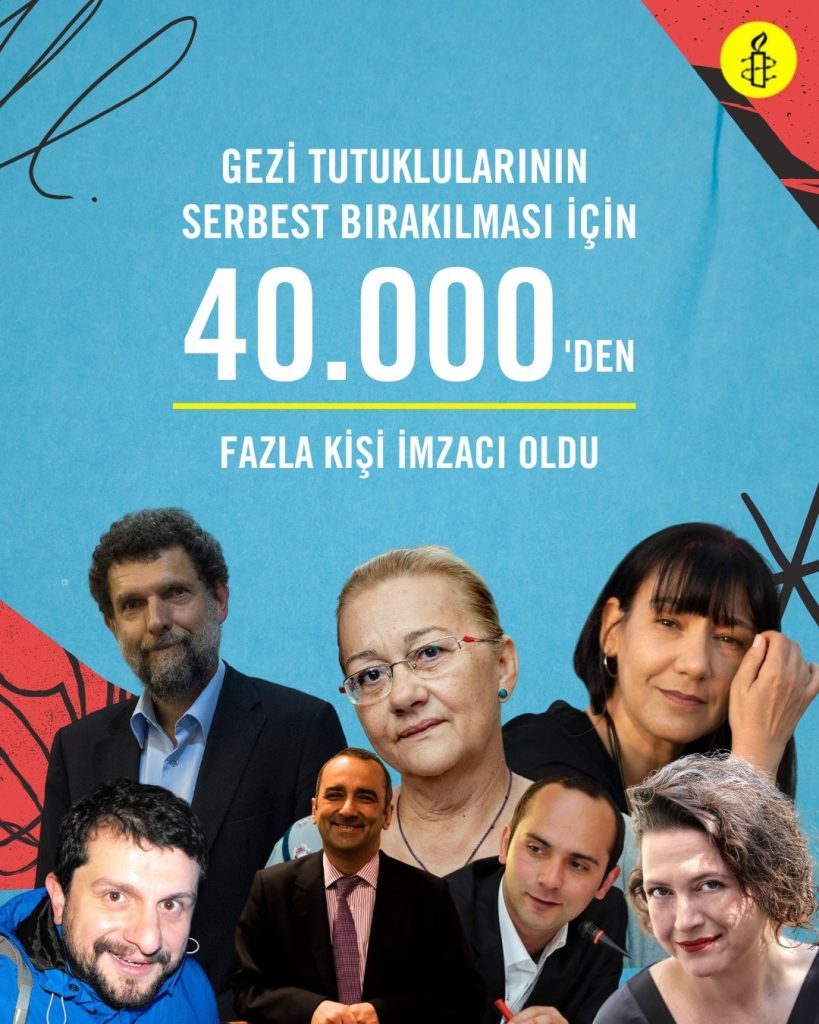 There is no direct campaigning call on this case at the moment as the International Secretariat is currently reviewing its strategy. We will contact everyone as soon as new actions are produced by the IS.
Below is a link to a powerful and moving documentary about Gezi 7 defendant Osman Kavala produced by the German company Deutsche Welle.  As you will see this link has an English translation. This film would be useful for telling people about this case and the incredible injustice that has resulted in Osman facing a life sentence without parole.

Saturday Mothers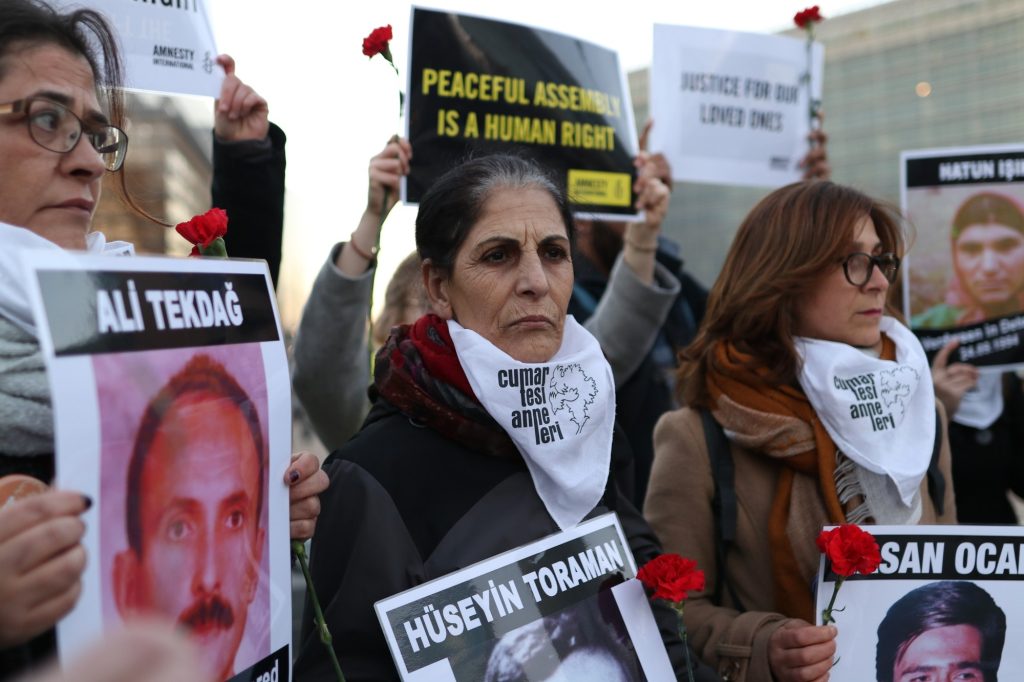 As most friends will know, for many years we have been supporting the group known as Saturday Mothers who have been holding vigils in Istanbuls demanding that the government investigate what happened to their loved ones who disappeared during periods of political violence as long ago as 40 years. They are still regularly trying to hold these vigils but as this short video shows these vigils are always almost instantaneously stopped, kettled and result in the detention (thankfully usually temporary) of participants/supporters
However, as you will know, on 25 August 2018, police in Istanbul used tear gas and water cannons to disperse this peaceful gathering of mainly women, some of whom are now in their 80s. The women have been holding a peaceful vigil protesting the enforced disappearance of their relatives since the mid-1990s. The authorities banned their vigil demanding justice for their loved ones and 46 people including relatives of the disappeared are on trial for their participation in what was the 700th vigil. The trials have dragged on for years and there is still no resolution for the defendants. Accordingly we will continue to call for their acquittal.
This case has become even more pertinent now that Türkiye is one of the key focus countries for Amnesty International in the global "Protect the Protest" campaign that seeks to highlight where freedom of assembly and freedom of expression are most under threat.
Action:
Please write to Minister of Interior, Süleyman Soylu, urging him to allow the relatives of people forcibly disappeared, and their supporters, to gather and exercise their rights to freedom of expression and peaceful assembly, guaranteed under both domestic and international human rights law.
Minister of Interior
Minister Süleyman Soylu  Minister of Interior
Devlet Mahallesi, İçişleri Bakanlığı
Çankaya, Ankara 06580
Türkiye    Fax: +90 312 418 1795
Email: basin@icisleri.gov.tr
Poland
Conviction of activist prosecuted for aiding an abortion offers "chilling snapshot" of future
On 14th of March Justyna Wydrzynska was convicted and sentenced for helping a desperate women who turned to her for help, access abortion pills.  Justyna Wydrzyńska is a doula — a trained companion who supports another person through pregnancy — and one of the four founders of Abortion Dream Team, an activist collective that campaigns against abortion stigma in Poland and offers unbiased advice on how to get a safe abortion following World Health Organisation (WHO) guidelines.
Following the conviction and sentencing of activist Justyna Wydrzyńska to 8 months' community service for helping a pregnant woman to access abortion pills in Poland, Agnès Callamard, Amnesty International's Secretary General, said:
"Today's conviction marks a depressing low in the repression of reproductive rights in Poland: a roll back for which women and girls – and those who defend their rights – are paying a high price.  The case sets a dangerous precedent in Poland, where abortion is nearly completely banned, and offers a chilling snapshot of the consequences of such restrictive laws. Justyna should have never been put on trial in the first place because what she did should never be a crime. By supporting a woman who asked for help, Justyna showed compassion. By defending the right to safe abortion in Poland, Justyna showed courage."
Campaign Background
In 2020, Justyna supported a pregnant woman, who said she had been suffering from domestic violence, to access abortion pills. The case marks the first in Europe in which an activist is being prosecuted for aiding an abortion by providing abortion pills.
Poland has one of the most restrictive abortion laws in Europe. Abortion in Poland is only allowed when the health or the life of the pregnant person is at risk or when the pregnancy is the result of rape or incest.
Persons who provide or help with an abortion are criminalized. These regulations put pregnant people's health and lives at risk and violate Poland's obligations under international human rights law and standards.
Please write letters to the Prosecutor General. Here is a sample letter :
Prosecutor General
Ul.Postepu 3
02-676 Warzawa Poland
I call on you to take all necessary measures to ensure that Justyna Wydrznska's unjust conviction is overturned and to refrain from bringing any other charges against her for carrying out her legitimate defence of human rights.
Justyna and other activists provide essential support and trustworthy information to women seeking the healthcare they are entitled to. She was convicted for helping a woman in an abusive relationship access to safe abortion. Her conviction sets a dangerous precedent.
Yours sincerely
Fortress Europe kills
During refugee week we celebrated the contributions refugees make to our society, many are scientists, engineers, doctors, nurses, care workers, footballers, scientists, artists, musicians and much more. But Europe has closed the borders to refugees. The UK with passing the Immigration Bill has effectively abolished the human right to asylum
The Universal Declaration of Human Rights states in Article 14 that "everyone has the right to seek and enjoy in other countries asylum from persecution. While the vast majority of people fleeing wars and persecution are hosted by mostly poor developing countries, refugees and migrants trying to reach Europe are met with violent push-backs, arbitrary detention, inhuman and degrading treatment, in some cases torture. Last year on 24th June 2022 at the border of the Spanish enclave at least 37 refugees and migrants were killed and 77 are still missing when border guards used violent force including batons, tear gas and rubber bullets.
Hundreds, including many women and children are missing and presumed dead after the latest tragedy close to the Greek coast when the small fishing boat they were fleeing on sank, before the eyes of the Greek coastguard and a Frontex (European border force) aircraft. In February another small boat sank, carrying at least 200 refugees. Thousands of women, men and children drown yearly in the Mediterranean Sea, but Italy stopped search and rescue missions in 2016. Activists and rescue NGO's who are trying to save lives are criminalised, many are being tried in Greece and Italy, facing long prison sentences if convicted. Instead of rescuing people at sea, Italy and the EU are working together with Libya, intercepting refugees at sea and forcibly returning them to Libya. Over 100000 people have been returned to detention and torture in Libya with EU's support.
But Europe's response to people seeking protection from the war in Ukraine has shown that EU member states have the capacity to give dignified protection to millions if there is the political will to do so. All EU member states have implemented the Temporary Protection Directive, offering residence and access to work for Ukrainian citizens.
Poland offered refuge to more than a million of Ukrainian refugees, but those fleeing other wars, violence and repression in Eritrea, Afghanistan, Iran, Syria, Yemen, Sudan, Congo and others are facing violence, forced returns (often through fast flowing rivers) and detention in overcrowded prison camps. Lithuania and Latvia are accused of using torture and humiliation against refugees who have crossed the border from Belarus.
Several countries including the UK are trying to push through legislation that effectively gets rid of the Right to Asylum as outlined in the Universal Declaration of Human Rights. With the UK's Migration Bill becoming law no-one who arrives in the UK by "illegal" means can claim asylum, and the brother, sister or uncle they try to reach to find safety can get deported too, even if they have secure status.
We have to continue fighting all attempts to undermine the universal right to seek asylum from persecution. Further we have to expose the Human Rights violations at Europe's borders and demand that everybody gets treated with dignity and humanity at the borders with access to fair asylum systems.
We have to demand safe and legal routes for all asylum-seekers and refugees to enter Europe, and for facilitation of family reunion for all. Positive measures like the Temporary Protection directive should apply to all people fleeing wars and persecution.
Refugees Welcome?
Greece: Prosecution appeal prolongs ordeal of rescue workers Seán Binder and Sarah Mardini
AMNESTY INTERNATIONAL Press release:16 MAY 2023
Today, the Supreme Court of Greece will hear an appeal by a prosecutor that could result in the misdemeanours case against refugee rescue volunteers Sarah Mardini and Seán Binder back to court for a new trial. Ahead of the hearing, Adriana Tidona, Migration Researcher at Amnesty International, said:-
"Sarah Mardini and Seán Binder should never have been put on trial for their human rights work. They were simply volunteering on the Greek shoreline, helping refugees and migrants at risk of drowning at sea, when they were arrested in 2018. Several human rights defenders similarly face criminalization for their work with refugees and migrants while this case has already had a chilling effect that may deter others from doing the same.

This appeal is only further prolonging Sarah and Sean's ordeal. The misdemeanour offences they face include charges of espionage and forgery which can carry sentences of up to eight years in prison. In addition, the two humanitarians have also been subjected to an ongoing investigation since 2018 for unfounded felony charges carrying up to 20 years in prison.

Amnesty International is once again urging the Greek authorities to drop all charges against Sarah and Seán. Not only are they based on an abusive interpretation of anti-smuggling legislation, but they are also not backed up by any evidence whatsoever."
Seán Binder said:-
"In January the three judges of the appeals court and the prosecutor agreed that the indictment against us should be dismissed. They rightly concluded that we have a right to be communicated with in a language we understand. This is necessary for a fair trial and the rule of law. Now, another prosecutor has appealed this decision. We now find ourselves in front of the Supreme Court. We are confident that we will get a fair trial and the court will uphold the decision to dismiss the indictment against us. But if the Supreme Court sides with the prosecutor, then we fear our right to a fair trial is being denied."
Background
The appeal hearing will take place on 16 May 2023 although the Court is not expected to issue a decision on that date. Sarah Mardini and Seán Binder will not be present at the hearing.
In January 2023, the Court of Appeal of Mytilene found procedural flaws in the relevant summons, including a lack of translation. The Court of Appeal's ruling resulted in the summons being annulled and in the relevant case against Sarah and Seán being rejected. In February 2023, a Supreme Court Deputy Prosecutor appealed the decision.
Should the Prosecutor's appeal be successful, the misdemeanour trial will start anew and the statute of limitations for these charges will be extended by three years.
EU – TUNISIA MIGRATION COOPERATION
Agreement on migration 'makes EU complicit' in abuses against asylum seekers, migrant and refugees
 The EU recently concluded a Memorandum of Understanding (MOU) with Tunisia, as part of a strategic partnership on a range of issues including migration. Among others, the agreement envisions the provision of €105 million in EU funds for migration management measures in Tunisia (including border management, anti- smuggling efforts, and returns).
Amnesty have raised significant concerns over this agreement.
The agreement was negotiated without input from civil society and lacks crucial safeguards on human rights and would make the EU complicit in abuses against migrants and refugees in Tunisia. EU financial support and equipment does not come with monitoring attached to ensure human rights compliance, and no human rights impact assessment was conducted prior to this agreement.
This agreement further worsens Europe's dependency on governments at its borders to manage migration – including those that fail to respect human rights and who have already shown to be unscrupulous in using migrants instrumentally for their own gains. It shows that no lessons have been learnt from similar past agreements.
#SafeAndLegalRoutesNow #AmnestyUKEurope
Europe Team update
Since our last newsletter Rovena Tanazi, Country Coordinator for the Balkans and Southern Europe has unfortunately had to stand down because of the pressure of other commitments. We are very grateful to Rovena for all the work she did as part of the team and particularly for her imaginative campaigning on the El Hiblu case in Malta.
We expect to be seeking to recruit someone to take over in the early Autumn although if you know someone who is interested in this interesting role please do get in touch with Ulrike. In the meantime if you have any questions about the areas that Rovena was working on please contact any of us on the team and we will seek to assist you.