Here is our latest Newsletter with updates and actions.
Türkiye
The United Nations acknowledged the state's registration of its name as the Republic of Türkiye as of 26 May 2022. Accordingly, Amnesty International will adopt the new spelling of the country's name in all its communications from now on.
The Saturday Mothers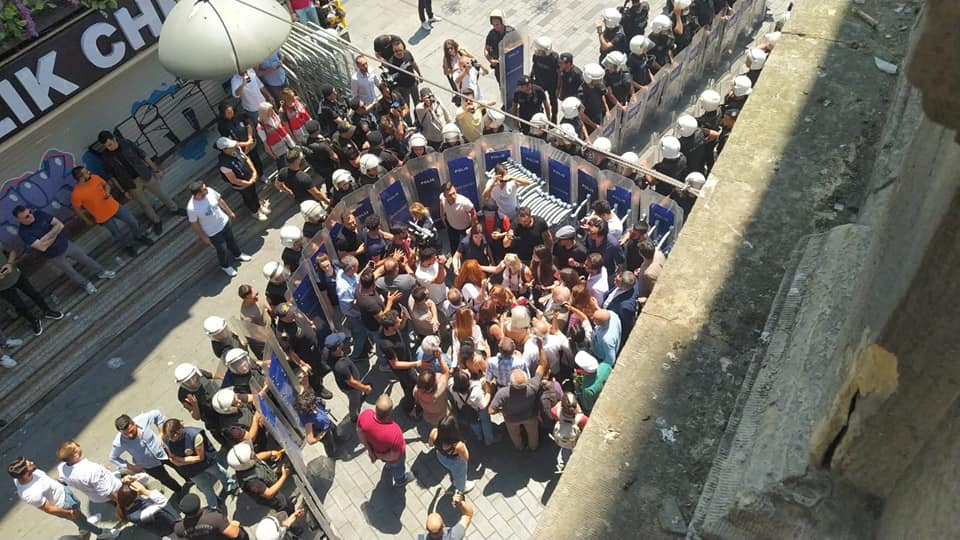 On 24 June the group known as the Saturday Mothers who have been demonstrating for 27 years on behalf of people who "disappeared" during the 1980s and 90s attempted to hold their 900th vigil in Galatasary Square, Istanbul.
Riot police immediately moved in to prevent the  vigil by the human rights defenders, handcuffed and detained the head of the Human Rights Association, Öztürk Türkdoğan, prominent human rights lawyer, Eren Keskin, and several relatives of victims of enforced disappearances.
Amnesty International's Deputy Director for Europe, Julia Hall said:
"For the past 27 years, the Saturday Mothers have tirelessly sought truth and justice for their loved ones who were forcibly disappeared in the 1980s and 1990s. Riot police arbitrarily detained people who were peacefully participating today's landmark Saturday Mothers/People vigil. This is only the latest shameful example of the state authorities' intolerance of lawful, peaceful dissent.
"Time and again, the Saturday Mothers/People have been met with brutal crackdowns and even prosecutions for taking part in peaceful vigils. Turkish authorities have never provided a valid justification for their spiteful, arbitrary and unlawful denial of the right to exercise freedom of expression and assembly.
"Turkish authorities must immediately and unconditionally release all those arbitrarily detained solely for exercising their right to peaceful expression and assembly. The four year-long unlawful, arbitrary ban on assemblies in Galatasaray Square must be lifted, Saturday Mothers/People and others who wish to exercise their right to peaceful protest in this iconic square must be allowed to do so.
Thankfully those detained as they attempted to commence the vigil were later released. The photograph above shows them celebrating their release at the Human Rights Association offices in Istanbul.
The Gezi 7 (including Osman Kavala)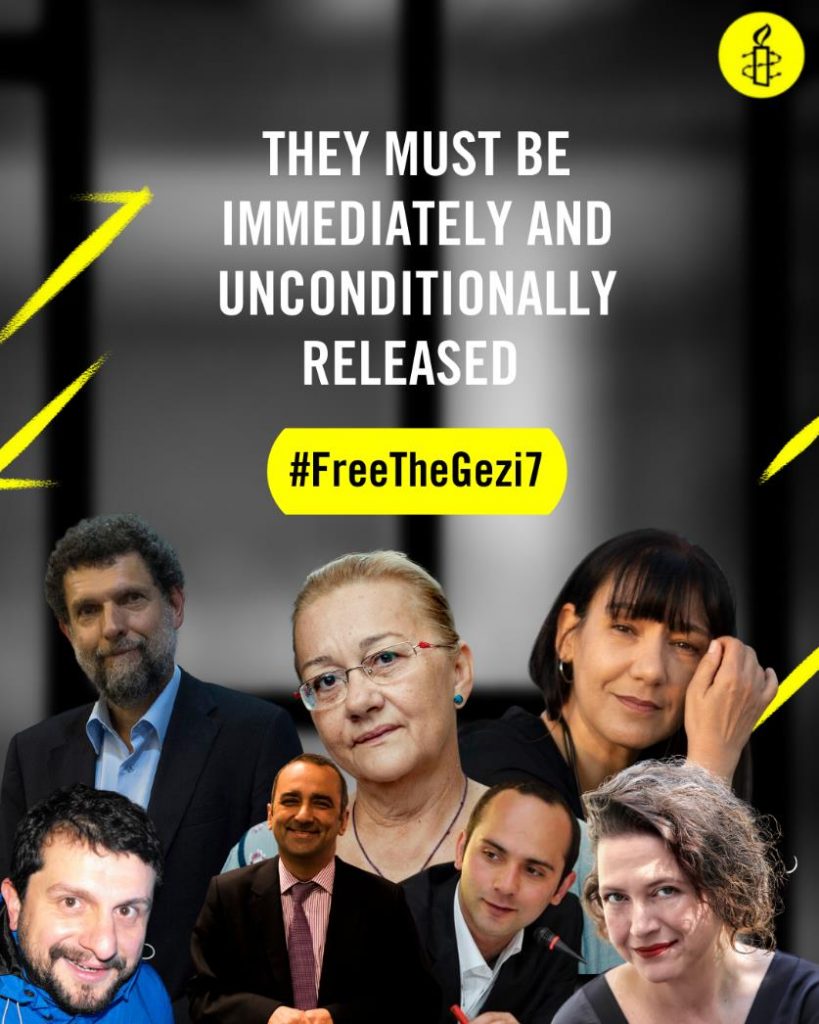 As I reported in the May Newsletter, at the conclusion of the long running Gezi Park trial on 25 April Osman Kavala , was convicted for "attempting to overthrow the government" and sentenced to aggravated life in prison. His seven co-defendants each received a sentence of 18 years, allegedly for aiding him.
Human rights defender and philanthropist Osman Kavala has been held in Silivri high security prison No. 9 since 1 November 2017 and received an aggravated life sentence with no possibility of parole for 'attempting to overthrow the government' under article 312 of the Turkish Penal Code for his alleged role in financing and organising the mass 2013 Gezi Park protests. Architect Mücella Yapıcı; film producer Çiğdem Mater; documentary filmmaker Mine Özerden; lawyer Can Atalay; city planner Tayfun Kahraman; Director of Boğaziçi European School of Politics Hakan Altınay; and a founder of Istanbul Bilgi University Yiğit Ali Ekmekçi were each sentenced to 18 years in prison  for allegedly aiding Osman Kavala. The Istanbul Heavy Penal Court No. 13 also ruled that these six defendants who were previously on bail be immediately remanded in prison.
Mücella Yapıcı, Çiğdem Mater and Mine Özerden were taken to Bakırköy women's prison.  Can Atalay, Tayfun Kahraman and Hakan Altınay were taken to Silivri high security prison where Osman Kaval has been held.
(A warrant has been issued for the arrest of an eight defendant Yiğit Ali Ekmekçi, who wasn't in the courtroom the time of the verdict and is NOT part of  current campaigning by AI.)
Amnesty International has closely monitored both the first and second Gezi prosecutions. The prosecuting authorities have not provided evidence to support the charges levelled against the defendants, a fact that led to their acquittals in the first trial in February 2020. As demonstrated by the dissenting opinion of one of the judges in the second trial, there is no evidential basis for the conviction of the  defendants who AI considers to have been convicted in a politically motivated, unfair trial.
Having reviewed all the circumstances surrounding their charges, arrest, trials, conviction and sentencing AI has conclude that  all seven fulfil the criteria for being designated Prisoners of Conscience (PoCs) and it was announced that they had been accorded this status in Istanbul on 17 June.
In the light of this, AI is calling for them to be freed immediately. To date AI's campaigning has focussed almost exclusively on Osman Kavala. However all seven defendants  have been subjected to the same injustice and rights violations, so the campaigning will now take place under a single slogan   #FreeTheGezi7 and AI will not be singling out Osman Kavala. This is very important particularly as all their unjust convictions are emblematic of the deteriorating human rights situation and its impact on civil society in Türkiye.
ACTIONs
Please encourage supporters and activists who have not yet done so to participate in the Urgent Action that was first published on 29 April.    We will let you know if/when this UA is amended or withdrawn.
Solidarity actions/letter writing
In order to try to ensure that the Turkish authorities  know the scale of international concern about these cases and  so that the defendants can see this we are asking people to begin to take solidarity actions. Please write unique, non-standardized messages in a well-presented format expressing solidarity with the seven imprisoned defendants.
Their addresses are shown below: 
Ayşe Mücella Yapıcı
Çiğdem Mater Utku
Mine Özerden
Address:
Bakırköy Kadın Kapalı Ceza İnfaz Kurumu
Zuhuratbaba Mahallesi Dr Tevfik Sağlam Caddesi No:28 34147 Bakırköy / İstanbul
Şerafettin Can Atalay
Tayfun Kahraman
Ali Hakan Altınay(Has to be registered mail)Address:
Silivri Ceza İnfaz Kurumları KampüsüSilivri 9 No'lu Kapalı Cezaevi Koğuş A47 Semizkumlar Mahallesi Çanta Caddesi No:162 34570 Silivri/İstanbul
Osman Kavala
(Has to be registered mail)
Address (NB please note this is not the same as the address for the other male defendants):
Silivri Ceza İnfaz Kurumları Kampüsü
Silivri 9 No'lu Kapalı Cezaevi Koğuş A-7/C59 Semizkumlar Mahallesi Çanta Caddesi No:162 34570 Silivri/İstanbul
Istanbul Pride March banned again
On 26 June hundreds of LGBT activists attempted to hold their annual Pride March in Istanbul that, yet again, had been banned by the Turkish authorities for the seventh year running. Local officials had cited security concerns and the need to uphold public order in making this decision.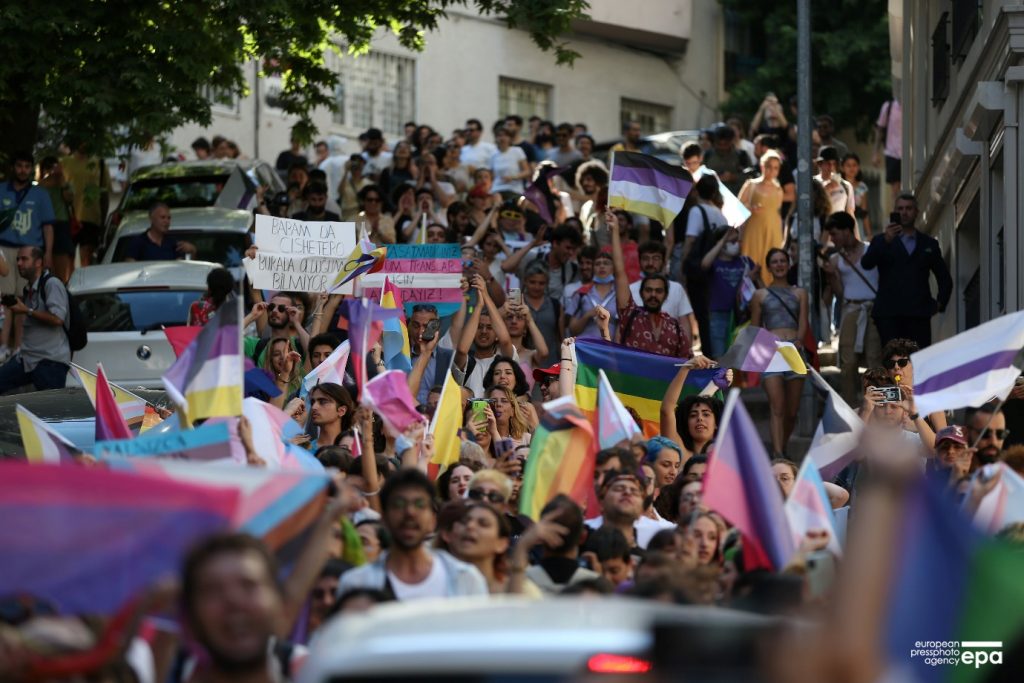 Turkish police attacked and arrested hundreds of people in what Human Rights Watch described as a "sweeping display of violence and discrimination against lesbian, gay, bisexual and transgender people". The authorities also attempted to prevent journalists from photographing or recording the events and arrested a number of journalists.
Over 300 arrests were reported and although many were detained in vehicles without air-conditioning for hours and denied access to food and water it is understood that they were all later released.
For a more detailed report please follow the link below:
https://www.hrw.org/news/2022/06/30/turkey-mass-arrests-anti-lgbt-violence-pride
Spain
Melilla: Never again
The death toll continues to rise. At least 23 people died last Friday trying to reach the Spanish enclave of Melilla from Morocco. Some organisations working on the ground have put the death toll at 37.
amnesty.2022/06/melilla-never-again/
The images and the footage is shocking. Bundles of people – dead and alive – piled up on the ground while Moroccan police walk among them, shaking and beating them with truncheons and batons. Daniel Canales, Amnesty Spain's researcher, has seen unpublished footage of Spanish police handing over potential refugees – most of whom come from Sudan – to Moroccan police officers, without any kind of enquiry or procedure to determine whether they are in need of protection. Once handed over, they are beaten again by these policemen.
Amnesty International has called for an independent and thorough investigation into what happened on this border: a border that has seen dramatic events stretching back decades.
In 2005 at least 13 people died at the hands of Moroccan and Spanish police, and in February 2014 another 15 people drowned on Tarajal Beach when Spanish police used anti-riot equipment against them. These latest human rights violations come just weeks after an agreement between the Spanish and Moroccan governments to re-establish friendly relations, following the Spain's change of policy on Western Sahara. Spanish Prime Minister Pedro Sanchez meanwhile condemned the attempted mass crossing as a "violent assault" and an "attack on the territorial integrity" of Spain.
It is also essential to find out what happened on the border in order to understand our double standards and ensure that all refugees have the opportunity to escape war and repression by seeking asylum through legal and safe channels.
aljazeera.rights-groups-urge-probe-into-deaths-o
This is the full Amnesty report on the ongoing issues at the Spanish border:
www.amnesty.org/en/wp-content/uploads/2021/08/eur
United Kingdom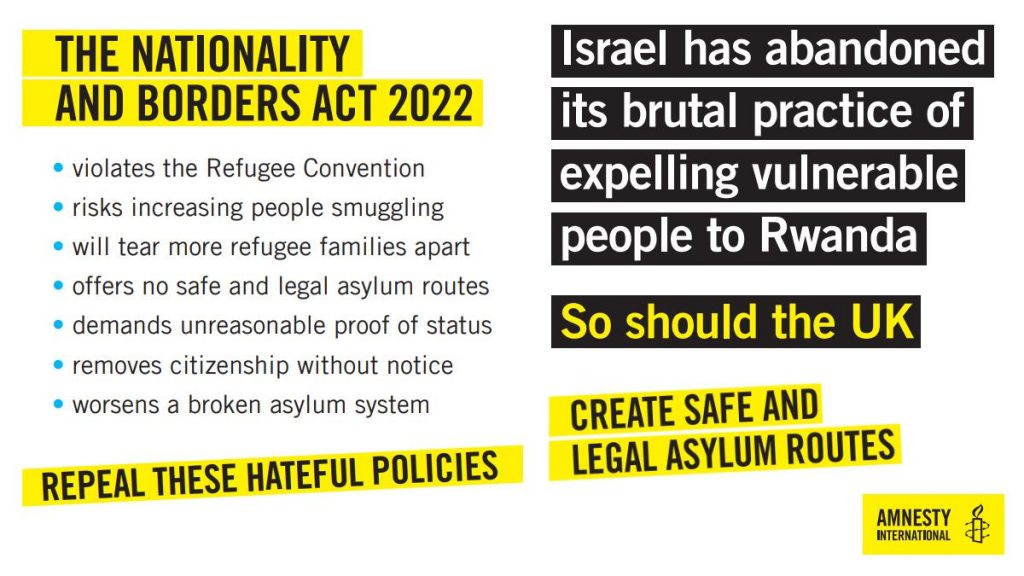 On 28th June the cruel nationality and Borders Bill came into force, effectively destroying the human right of refugees to a fair asylum hearing in the UK.  Breaking international human rights law refugees who enter the UK "illegally" can now be deported without a proper asylum hearing. Even those whose claim for asylum is accepted only get a limited stay of 30 months, after which they have to apply again. Refugees undertake dangerous journeys across the sea in unseaworthy little boats because they have no other option. The UNHCR has stated that the vast majority of people arriving across the channel have a valid claim for asylum.  Many have family in the UK. But instead of increasing safe and legal routes to arrive in the UK, the government is closing family reunification schemes.    Boris Johnson cynically defended the cruel policy of sending asylum-seekers to Rwanda with the claim it would disrupt the business model of people smugglers.  It won't. Desperate people with no choices will continue to risk their lives to reach safety and their families.
We are calling for Safe and legal routes for refugees ! No deportations to Rwanda !
On 28th June we protested outside the Home Office.
Care for Calais, Detention Action and PCS Union are challenging the policy of deporting refugees who arrived in the UK via the British channel, in court.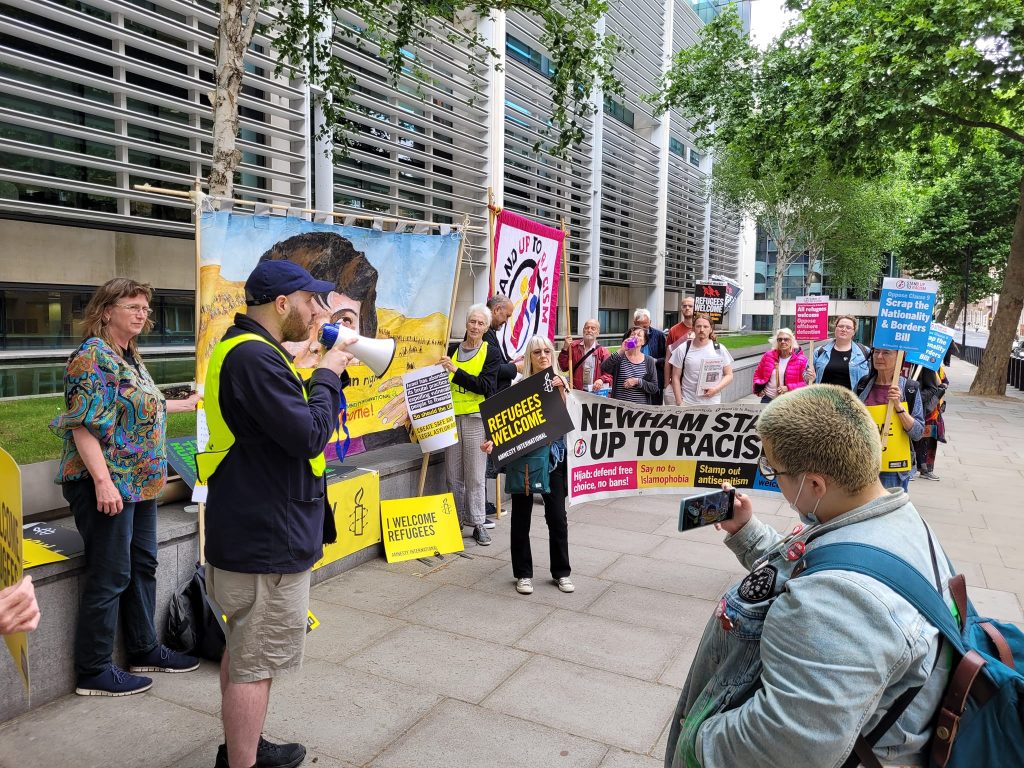 Update : The court hearing is postponed to September Please see message from Care4Calais
We have good news!  We are pleased to report that the Divisional Court has granted our application for an adjournment of the Rwanda case until September.  This gives us more time to campaign against this cruel plan.
However the Government has refused to rule out flights in the interim, before the lawfulness of the policy is determined by the courts.
We are currently working with more than 20 people who have been detained and issued with Rwanda notices since the last court case, and many of those from before remain detained, exhausted and alone, and terrified for what the future might bring. They have suffered some of the very worst things that can happen on this planet. They have appalling physical and mental scars, and now face the threat of further extreme trauma. Some have now been in detention more than six weeks and urgently need to be released.
The Rwanda plan is brutal. Given the more humane and effective options available is this really what we as a compassionate country want to do?
We have been overwhelmed by the public support we have received so far but it's essential that we keep the pressure up. We still have only seven weeks until we will be in court to fight against this cruel plan. Help us build a movement to show this is not want the British public wants:
Download the icon and save it as your profile picture on social media => bit.ly/RWDicon
Download or make a #StopRwanda card and take picture of yourself and/or your friends holding it. Post the pic on your social channels and tag us @care4calais => bit.ly/RWDbanner
Buy your t shirt, take a photo, post it on socials, wear it out and about, talk about it and wear it to the demo! => https://bit.ly/RWDtee
Thank you so much.  Together we can show that Britain wants a more compassionate way to treat refugees
Lithuania
New Amnesty report on inhumane conditions, torture and ill-treatment of refugees in Lithuania
In stark contrast to the welcome refugees from war torn Ukraine received in European countries including Lithuania, refugees from war torn Yemen, Syria, Afghanistan, Congo, Iraq, Sudan who arrived via Belarus are locked up in squalid prison-like centres. Amnesty reported that the Lithuanian authorities have arbitrarily detained thousands of people in militarized centres, where they have subjected them to inhumane conditions, torture and other ill treatment. Methods of torture included: beating with hands, tasers and batons. Assault with pepper spray. Sexual humiliation of Black women. Sexual abuse.
Refugees in Lithuania are denied fair asylum procedures and there have been more than 10000 instances of violent pushbacks by border forces. Like elsewhere violent pushbacks are becoming the norm. Reception centres in Lithuania are designed to deter people and force them to return to their country of origin.
Please read the full report :
https://www.amnesty.org/en/documents/eur53/5735/2022/en/
EU/Lithuania: In milestone judgement, EU Court slams automatic detention and denial of asylum
https://www.amnesty.org/en/latest/news/2022/06/lithuania-court-of-justice-of-the-eu-rejects-national-law-restricting-the-right-to-asylum-and-imposing-automatic-detention-on-asylum-seekers-and-migrants/
In recent months we have seen that the EU & European governments are able to process and welcome large arrivals of refugees, following the terrible events in Ukraine. The EU can provide protection for all persons fleeing danger or conflict and seeking refuge in Europe – when there is political will. As elsewhere in Europe, Lithuania's treatment of people crossing the Belarus border stands in stark contrast to the benevolence with which people fleeing the war in Ukraine were received in the EU in 2022 and showed that it's possible to be done- for all refugees. Everyone has the right to be treated with dignity, safety and to claim asylum. Whoever they are and wherever they are from.
Please write letters and e-mails to Lithuania's minister of Interior asking for asylum-seekers and refugees arriving in Lithuania to treated with compassion and given access to fair asylum hearings. Refugees should not be placed in detention nor abused and mistreated.
Lithuania's minister of Interior Agnė Bilotaitė
Minister Agnė Bilotaitė is responsible for the overall policy with regards to asylum seekers and migrants. She can propose legislative changes and launch internal investigations on reports of wrongful actions by officers working for the law enforcement agencies under her ministry, including State Border Guard Service and Public Security Service. The Migration Department, as well as the contracting of legal aid services for asylum-seekers and migrants, fall under her ministry. Email: agne.bilotaite@vrm.lt
Twitter: @ABilotaite
Address: Šventaragio g. 2, LT-01510 Vilnius, Lithuania