A lot has happened since our last newsletter in June. Two new reports : One on Greece and one on Switzerland have been released. Please see further details below. Turkey has pulled out of the Istanbul Convention. A Roma man has died at the hands of the police in Czech Republic.
3 Demonstrations in four weeks : The vigil commemorating the forced expulsion of Roma from Kosovo on 13th June,  the demonstration outside the Danish Embassy on 20th June (International Refugee Day) protesting at Denmark's policy of forced return of asylum seekers to Syria, for tomorrow ( Sunday 4th July) I have called a vigil outside the Embassy of Czech Republic to protest about the  death of Stanislav Tomas who died while handcuffed with a policeman pushing his knee onto his neck until he stopped breathing. Please find further details in the Newsletter.
Turkey
Compiled by Chris Ramsey
Büyükada case
At the time of writing we are still waiting anxiously for the decision of the Court of Cassation decision regarding the convictions of the four human rights defenders in the Büyükada case.  As we have reported in past newsletters, the prosecutor at the Court of Cassation has issued his opinion asking for the conviction of former Chair of Amnesty Turkey, Taner Kılıç's, to be upheld while requesting that the convictions of Günal Kurşun, İdil Eser and Özlem Dalkıran be overturned.
We expect a decision very soon, potentially within the coming weeks or months. Unfortunately, it is impossible to be more precise; however, we know that during the judicial holiday between 20 July and 31 August (dates to be confirmed), it is highly unlikely that the Court of Cassation decision would be issued.
This case is emblematic of the deteriorating human rights situation in Turkey and in particular the efforts of the state to neuter civil society NGOs in order to minimize their ability to criticize the government. In order to ensure that the government of Turkey is reminded of the importance of the case the International Secretariat and AIUK are currently working on new campaigning and advocacy materials which we will be sending you in the next few weeks so that you can help to maintain the profile of the case.
Istanbul Convention: Show solidarity with our colleagues in Amnesty Turkey at the government's decision to pull out of the convention on 1 July
The Istanbul Convention is the most comprehensive international convention against violence against women and domestic violence. Now Turkey has exited the convention  Amnesty Turkey is determined to show that people all around the world deplore this decision and want to stand in solidarity with women in Turkey.
Using the hashtag  #arkasındayım , which means I stand in Turkish, please join their social media campaign.
Post on Facebook, Twitter or Instagram  messages of support along the following lines:
Turkey should reverse its decision to leave the Istanbul Convention on July 1! To put an end to violations of rights and discrimination based on gender, we must all stand together in support of the Istanbul Convention #arkasındayım
#IstanbulConventionSavesLives  @aforgutu
NB: You will need to copy and paste #arkasındayım because of the use of some Turkish letters in the word.
You could use the image below created by Amnesty Turkey to support your messages.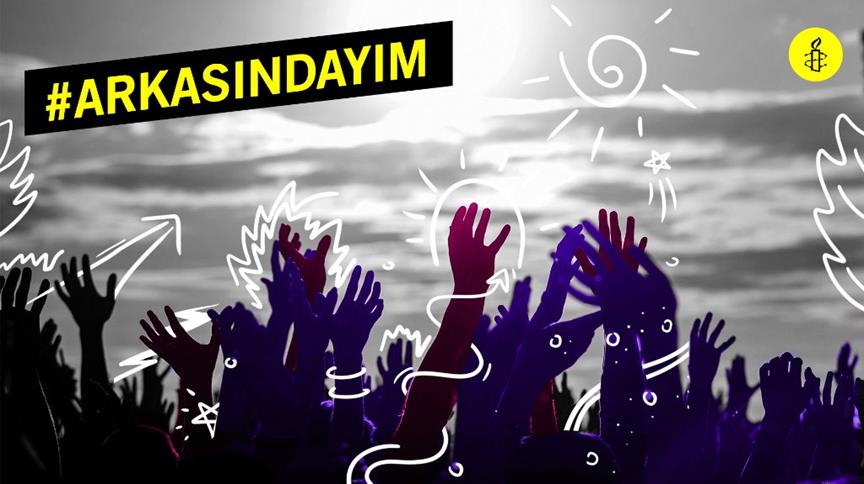 Please see  a statement from new  Amnesty International Secretary, General Agnes Callamard on the deteriorating situation for women in Turkey:-
Turkey takes centre stage in the fight for women's rights,  Agnes Callamard (Secretary General Amnesty International)
"In March, a man was filmed brutally beating his ex-wife on a street in Samsun, Turkey, while their 5-year-old daughter stood sobbing beside them. Viral footage of the man punching and slapping the woman, 24 year-old Emriye Metegül in the face, and slamming her head repeatedly against the pavement, shocked Turkey. Weeks later, President Recep Tayyip Erdoğan issued a decree announcing that Turkey would withdraw from the Istanbul Convention, a landmark international treaty designed to fight violence against women and domestic violence. It was a deeply disturbing move which sparked global condemnation, and months of protests by women and LGBTQ+ rights activists.

Today, Turkey's withdrawal became official—making it the first Council of Europe (COE) member ever to quit an international human rights treaty. Ironically, Turkey was the first state to sign and ratify the convention. Drafted by COE member states and opened to signatures in Istanbul in 2011, the treaty offers a legal framework to protect women from violence and promote gender equality, through legislation, education and awareness raising. It has been ratified by 34 out of 47 COE member states. The list of European countries that have yet to ratify includes: Armenia, Azerbaijan, Hungary, Slovakia, Bulgaria, Czech Republic, Latvia, Lithuania, Moldova, Russia, Ukraine and the U.K.

The treaty is a crucial tool which has already transformed the lives of millions of women and girls in participating countries. It is thanks to ratification and implementation of the Istanbul Convention that Finland established 24-hour hotline for survivors of domestic violence; and that Iceland, Sweden, Greece, Croatia, Malta, Denmark and Slovenia introduced vital consent-based legal definitions of rape since 2018.

The Istanbul Convention is a widely accepted international instrument, which has become the gold standard for preventing and combating violence against women and domestic violence. Its impact goes beyond the COE. The U.K. and Ukraine have recently made strong commitments toward ratification, and Mexico, a COE observer state, recently announced its intention to be part of the treaty.

Unfortunately, Turkey is not the only country to reject this lifesaving instrument. Last year Poland announced its intention to withdraw, claiming that the treaty threatens "family values," while Hungary refuses to ratify it on the basis that it "prescribes dangerous gender ideologies." This dangerous rhetoric echoes the Turkish government's claims that the Istanbul Convention "normalizes homosexuality", and comes amid concerted efforts by Poland and Hungary to roll back on LGBTQ+ rights and legitimize discrimination.

Turkey's move has drawn condemnation from governments and world figures including President Joe Biden and European Commission President Ursula von der Leyen.

Erdoğan's decision will put millions of women and girls at greater risk. The Samsun video was the tip of the iceberg; according to women's rights groups, at least 300 women were murdered in Turkey last year, and more than 100 have been killed so far this year. Failures to address violence against women in Turkey are compounded by a culture of impunity for violence, masked by so called family values.

The COVID-19 pandemic and ensuing lockdowns made the situation still more dangerous, with a dramatic spike in reports of violence against women and girls in Turkey. Instead of withdrawing from the convention, Turkey should work toward implementing it through national legislation, policies and other measures to protect women and girls from violence without discrimination. The measures Turkey has taken since becoming a party to the convention have been manifestly insufficient, as shown by judgments of the European Court of Human Rights concerning violence against women.

But there is hope. Turkey's move has had the unintended effect of shining a spotlight on violence against women in the country, and has galvanized repeated protests for months. Tens of thousands have taken to Turkey's streets to defend their rights, and millions around the world are learning about, and fighting for, the Istanbul Convention for the first time.

Today, Turkey turned its back on the gold standard for the safety of women and girls, sending a reckless and dangerous message to perpetrators that they can commit violence with impunity. But this could also be the moment when the tide begins to turn. Turkey may have set the clock back 10 years on women's rights, but President Erdoğan has also thrown down the gauntlet to all those believe in human rights. And it has been picked up.

As the Time's Up and #MeToo movements made plain, gender-based violence is a global problem, faced by women, girls and LGBTQ+ people on a daily basis. We need to come together to fight it, to stand up for our rights in the face of a disturbing backlash. We need the protection of international treaties, and we must continue to stand in solidarity with women in Turkey as they face difficult days ahead."      
Greece
Compiled by Rovena Tanazi
New reports of Greece systematically using pushbacks and committing other human rights abuses against refugees  and migrants
A new amnesty report, 'Greece: Violence, Lies and Pushbacks', covers 21 new pushback incidents occurring between June and December 2020 in the Evros region. It details the experiences of 16 individuals who both witnessed and were subject to illegal pushbacks, violence, arbitrary detention and ill-treatment in detention.
The issues in this report do not come as a surprise as Amnesty has previously reported on issues such as pushbacks and violence in Greece in 2013, alongside civil society actors, journalists, human rights and UN bodies. This should be alarming for Greece and the international community as migrants' and refugees' rights are being continuously trampled on and undermined. These actions committed in Greece are unlawful under Greek, EU and international law and further inaction by the Greece authorities can continue to endanger migrants lives.
The report also asserts that Turkey is also responsible for exposing refugees and migrants to risks, as they also forcefully push migrants back to Greece, expose them to ill-treatment in detention centres and subject them to violence and acts that could be classified as torture.
The EU is also at fault for putting migrants and refugees at risk, as it has failed to use it's influential role in ensuring EU member states have repaired and strengthened their human rights commitments. Labelling Greece as 'Europe's shield' when people are being pushed back, repressed, subject to violence and ill-treatment is cruel and callous. The EU must unequivocally condemn pushbacks and other violent practices that abuse human rights at the border and hold themselves, Greece and Turkey accountable for failing to maintain human rights standards in line with international law and in line with the EU's own values.
Additionally, Frontex, who is the EU border and coastguard agency and who maintains a large presence in Greece since March 2020, are being called on by Amnesty to withdraw from operations in Greece. Amnesty found that the alleged incidents they reported allegedly took place in areas where Frontex was operating. Frontex has failed to address amnesty's concerns and request for more information on this and instead has rejected responsibility in the incidents alleged. Failing to discontinue operations whilst there is evidence of serious human rights abuses can create an inference that Frontex is complicit with the pushbacks and other human rights abuses occurring in Greece. Again this is alarming for the international community as the rights of refugees and migrants can continue to be neglected.
Amnesty calls on us to challenge Greece's belief that these incidents and allegations provided by migrants and refugees who have either suffered or witnessed the pushbacks, violence, arbitrary and ill-treatment in detention, are false and fake news. We must hold Greece to account an ensure they maintain their alliance to human rights by calling on them to:
Immediately halt all unlawful summary returns from land and sea and refrain from them in the future.
Acknowledge the severity and pervasiveness of pushback practices in the country and investigate allegations of unlawful returns, arbitrary detention and violence during the operations.
Conduct prompt, independent, impartial, and effective investigations into all allegations of unlawful forced returns, excessive use of force, beatings, and other abuses. Ensure that victims and other actors reporting the violations can do so safely and that their allegations are duly followed up.
Protect people who enter Greece from land and sea borders, including by:
Ensuring that border control operations at land and sea are conducted in compliance with human rights law and the principle of non-refoulement. • Ensure that all those subjected to border control operations at sea and land have access to individualized procedures to raise protection needs and have access to effective remedies against deportation and detention decisions.
Halt the arbitrary detention of refugees and migrants and improve its migration detention system.
Release refugees and migrants in arbitrary detention in Greece. Urgently implement the recommendations of human rights bodies, including the CoE CPT, regarding the country's migration detention policy, including in terms of maintenance of adequate detainees' records and detention conditions in facilities across the country.
Halt the criminalization of individuals and groups working with refugees and migrants. Create an enabling environment for civil society, journalists, and activists, ensuring that they can carry out their work free and unhindered and report violations encountered.
Amnesty's calls on Turkey, EU institutions and member states, to Frontex and to the Human Rights Council can be found in the report here:
Greece: Violence, lies, and pushbacks – Refugees and migrants still denied safety and asylum at Europe's borders | Amnesty International.
As pushbacks and other acts violating human rights has been ongoing and widely reported for a long time, we need your help in communicating the issues found in amnesty's report so that Greece makes urgent changes in their treatment of refugees and migrants.
You can help aid amnesty by calling on the Greek ambassador to the UK to meet amnesty's calls in their report. Highlight to them the individual experiences of the refugees and migrants who have provided amnesty their testimonies and urge them to take the right action under Greek, EU and international law. You can find their contact details on their website here: Embassy of Greece in London – Hellenic Republic – Greece in the UK (mfa.gr).
 Switzerland
Complied by Jovana Bosnjak
Switzerland: Violence and racism in asylum centres run by private security companies
Please read and share our new report:
www.amnesty.org.uk/press-releases/switzerland-violence-and-racism-asylum-centres-run-private-security-companies-new
Since 2016, the Swiss authorities have devised and implemented a reform of the Swiss asylum system. The changes made were aimed at accelerating the asylum process and were endorsed by two-thirds of voters in a nationwide ballot on the issue.
There are currently 21 federal asylum centres across 6 regions in Switzerland. In February 2020, Amnesty International expressed some specific concerns about the then new federal asylum centres, notably the security focused management of the centres, the difficulties for civil society organisations to access them and some of the centres' isolated and remote locations. People held in federal asylum centres operated by private security companies in Switzerland have been subjected to a range of abuse at the hands of security guards, including violence and coercive measures, the use of pepper gel and being locked in a metal container resulting in hypothermia, said Amnesty International.
Drawing on testimony from more than 30 people – including 14 victims of abuse, 18 current and former security guards, lawyers, social workers and social educators who witnessed mistreatment – Amnesty's report shows that a culture of abusive behaviour towards people housed in federal asylum centres had developed because of an assumption that people seeking asylum are potentially violent and dangerous.
Amnesty International therefore urges the Swiss authorities to comply with its international human rights obligations, including to protect the right of all people to be free from ill-treatment, as well as ensuring accountability by investigating those suspected and punishing those convicted of committing abuses.
We are urging the Swiss authorities to address negative stereotypes and racist views about those seeking asylum in the country, especially people from North Africa, and to stop placing unaccompanied minors in asylum centres.
France
#EyesOnFrance
We are continuing to campaign for the right to protest in France.
Our report Arrested for protest was launched in September 2020, and is available for reading at: https://www.amnesty.org/en/documents/eur21/1791/2020/en/.
The launch of the report also marked the launch of the international campaign #EyesOnFrance that targets President Macron on the criminalisation of the right to freedom of peaceful assembly and silencing of dissent (action is available at: https://www.amnesty.org/en/get-involved/take-action/france-right-to-protest-freedom-of-expression/).
The report and the campaign have received a lot of visibility. We need to help them out and we need to mobilise and galvanise international attention to increase the number of signatures collected internationally. We have extended the timeline for the campaign – now until September 2021 – and we hope you will all join and help us raise attention towards France and the treatment of peaceful protesters. We are aiming for 200,000 signatures world-wide. Please, help us to achieve this goal.
Sign your name www.amnesty.org/en:
https://www.amnesty.org/en/get-involved/take-action/france-right-to-protest-freedom-of-expression/
Czech Republic
Compiled by Ulrike Schmidt
Stanislav Tomaš (46) died during or after police intervention against him on 19/6/2021 about 3pm in Czech town of Teplice. The intervention took place in front of "Roma house"  (house inhabited by poor Roma community) in Uhřiště Street. Stanislav was not living in this house, but some of people living there knew him.
Stanislav Tomas  died after a policeman knelt on his neck for more than 5 minutes.  Amnesty International is calling for a full investigation into his death.
Amnesty International consider the police action, as captured on the video, abusive and unlawful. Restraint of a neck restricts breathing and presents a significant danger for human life, this is all the more serious if applied for a prolonged period of time.
Under international human rights law and standards, including the European Convention on Human Rights, the use of force by the police must be lawful, necessary and proportionate. These principles are binding for the Czech Republic.
According to a police statement released on 21 June 2021, preliminary autopsy identified as a possible cause of death of the man in Teplice drugs. The police statement refers to a finding from the autopsy, according to which the man's cardiovascular system had pathological alterations.[1] In this regard, Amnesty International advises that when investigating the causes of death, it is not necessary to establish that the weapon or a technique was the sole cause. It is sufficient if it was a contributory factor without which death would not have occurred.[2]
In the present case, given the long period of time the breath restricting technique was applied and the serious pain and stress that must have been involved for the victim, there seems to be a high probability that the excessive use of force has contributed to the deterioration of any possibly pre-existing problem due to illness or drug use and the death could be therefore attributable to the police officers' action.
Amnesty International is also concerned about the statement of the Minister of Interior, who on 21 June 2021 declared on the social media that the police officers who intervened against the man in Teplice have his "full support".[3] He further stated that those "who break the law under the influence of addictive substances must know that the police will intervene against them."[4] This can only be understood as giving carte blanche for law enforcement officials to resort to unnecessary or excessive use of force when handling with any person under the influence of drugs, providing a dangerous sense of impunity and being above the law.
Amnesty International calls on the Czech authorities to carry out an immediate, impartial and thorough investigation of the police action. Amnesty International considers that the neck restraint technique used by the police during the arrest was reckless, unnecessary and disproportionate, and therefore unlawful. Amnesty International further calls on the Czech authorities to prohibit the use of such technique as a means of control, as it severely restricts breathing.
http://www.romea.cz/en/news/czech/romani-man-dies-after-czech-police-kneel-on-his-neck-they-say-drugs-caused-his-death.romani-activists-see-parallels-to
I am,  together with Roma activists, organising a vigil outside the Embassy of Czech republic for Sunday 4th July at 11 am. If you are in London please attend. Bring flowers and face masks (for social distancing)
Action : Please write letters to the Ambassador of Czech Republic calling for an urgent and impartial investigation. The full Amnesty press release is attached.
His Excellency Libor Secka Ambassador of Czech Republic
26-30 Kensington Palace  Gardens   London W84QY
Hungary
On 21 May 2021 Hungary took the Presidency of the Council of Europe's Committee of Ministers amidst a serious national human rights, democracy and rule of law crisis which has no end in sight. Amnesty International would like to draw attention to the human rights situation in Hungary and raise concerns about recent developments and a series of laws adopted in the last few years which curtail the enjoyment of human rights enshrined in the European Convention on Human Rights and Fundamental Freedoms.
Please see the open letter to the Members of the Parliamentary Assembly from 17th June 2021
https://www.amnesty.eu/news/human-rights-violations-in-hungary-discredit-presidency-of-the-council-of-europe-committee-of-ministers/
After targeting Roma, Refugees and NGO's the Hungarian Government has for the last year turned on LGBT communities. In May 2020 Hungary's right wing Fidez Party pushed through a bill that ended trans people's rights in Hungary : gender identity is now restricted to the sex assigned at birth. Trans people can no longer officially change their gender. The Omnibus bill adopted end of 2020 stipulates that only married couples should be allowed to adopt children. A constitutional amendment states that family ties must be based on marriage where the mother is a woman and the man is a man.
The new law adopted on 15th June 2021 is a new frontal attack against LGBTI people further stigmatising and exposing them to greater discrimination in what is already a very hostile environment. The new law is stating that any education or depiction of  consensual same sex relationships or the affirmation of one's gender must not be accessible to under-18.
https://www.amnesty.org/en/latest/news/2021/06/hungary-proposed-law-a-new-full-frontal-attack-against-lgbti-people/
Action
Please write letters to the Ambassador of Hungary calling for these laws to be repealed:
Your Excellency Ferenc Kumin  Ambassador of Hungary to the United Kingdom
Embassy of Hungary
35 Eaton Place  London SW1X 8BY
Denmark
https://www.amnesty.org/en/get-involved/take-action/denmark-syria-refugees-return/
Thank you to all of you who took action against Denmark's attempt of deporting or forcibly returning refugees to countries where their lives are in danger. Of particular concern is the coerced removal of Syrian refugees into removal centres where they are under pressure to "voluntarily" return while Denmark waits for the diplomatic situation to enable them to deport directly.
We know that Syria is not a safe place. Returning refugees have been arrested and taken to questioning straight after arrival. Some have "disappeared". We know of the torture chambers of Assad's regime and returning those who have been seeking sanctuary is a direct violation of the Right to Asylum.
We held a vigil outside the Embassy of Denmark on 20th of June International Refugee Day.  Ghias Aljundig who experienced the brutality of the Syrian Regime first hand spoke very movingly. John Elo, Amnesty UK country coordinator for Syria gave us the latest updates on the human Rights situation in Syria. Weyman Bennett from Stand up to Racism spoke in support of our action. Dan Jones made a very beautiful and moving banner.
The Urgent Action has been extended to September. Please continue to distribute and share the on-line petition
https://www.amnesty.org/en/get-involved/take-action/denmark-syria-refugees-return/
and write personal letters to the Ambassador of Denmark :
Your Excellency Lars Thuesen
Embassy of Denmark  55 Sloane Square London SW1X9SR
Kosovo
On 13th June 2021 I took part in a vigil outside the Embassy of Kosovo commemorating the forced displacement of thousands of Roma families in June 1999 after the end of the Balkan war and under the eyes of KFOR and
NATO.  According to the European Roma Rights Centre approximately four fifth of the Roma population were violently expelled and whole Romani settlements were burnt to the ground. A number of Romani Individuals who "disappeared" during the summer months of 1999 remain to date missing and are presumed dead. In Mitrovica where 8000 Roma were forcibly driven from their homes, 600 Roma were "resettled" in a displaced persons camp near a disused lead mine. The families had to live exposed to lethal lead poisoning for more than 10 years. Particularly the children suffered nerve damage resulting in long lasting brain damage and other serious health problems. To date the families have not been compensated and many are destitute, unable to afford medicines and medical treatment. Roma from Kosovo and in Exile are calling for recognition of the crimes committed against Roma communities in 1999 and a memorial to be erected in Pristina, the capital of Kosovo.