Turkey
Osman Cavala
As reported in the last Europe Team Newsletter, entrepreneur and philanthropist Osman Kavala who was arrested in 2017 and charged with involvement in the Gezi Park protests and plotting to overthrow the state was due back in court on 26 November. Regrettably, at that hearing the court refused to release him from pre-trial detention and has scheduled the next hearing for 17 January 2022.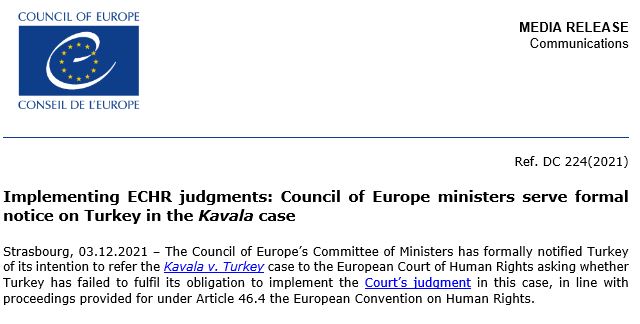 In the meantime at their meeting between on 2 December the Council of Europe's Committee of Ministers (COM) have voted to commence infringement proceedings against Turkey because of its failure to implement what is, theoretically, a binding judgement of the European Court of Human Rights that Osman Kavala should be freed. This is good news because such a decision is incredibly rare (only taken once in the history of the Council). If Turkey does not comply it will again be referred back to the European Court of Human Rights on 20 February 2022 and this process could leads to Turkey having its voting rights removed or even expulsion from the Council.
We wait to see the response of the Turkish Government to this ruling.
Poland
Human Rights Defenders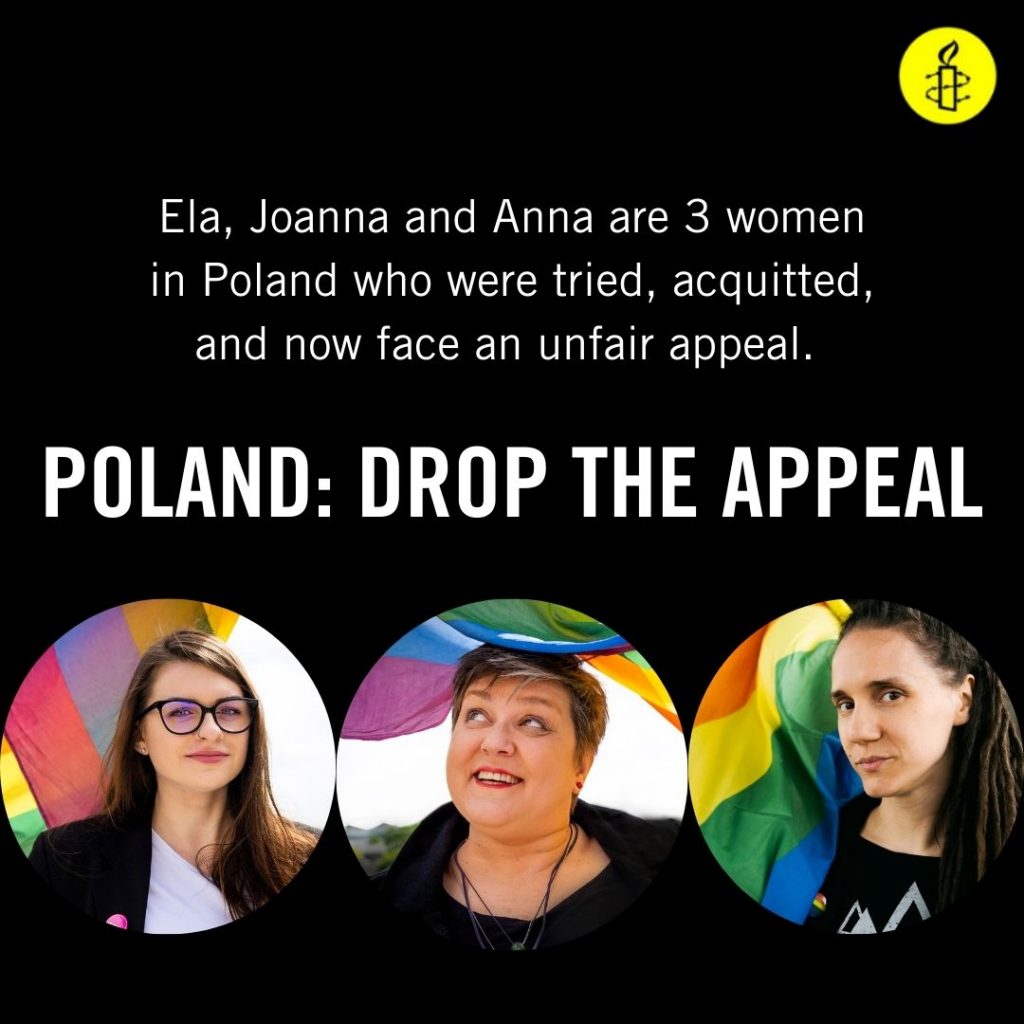 The trial against brave Human Rights Defenders: Ela, Anna and Joanna starts 8th December.
Amnesty Poland will be following the trial , reporting on Twitter, we will keep the Facebook/AmnestyUKEurope page updated with the outcome.
Elżbieta, Anna and Joanna are outspoken activists and human rights defenders from Poland. They have stood against hate and discrimination for many years and are fighting for a just and equal Poland. They have been targeted by the Polish authorities just because of their peaceful activism. Their demand for justice continues. Now, they need you to fight for them, once again.
In March 2021, Elżbieta, Anna and Joanna were acquitted after spending months on trial accused of 'offending religious beliefs', simply for distributing posters of the Virgin Mary with a rainbow halo, the colours of the LGBTI pride flag. The 'not guilty 'verdict brought a moment of huge celebrations, but their relief was short-lived. The Polish authorities are now appealing against their acquittal, so the three women's fight for justice continues.  Once again, they now face up to two years in prison, just for standing up for LGBTI rights in a climate of hate and discrimination in Poland. Sadly, their case is another example of the constant harassment activists and human rights defenders face in Poland for carrying out peaceful activism. The appeal against their acquittal shows the irrational determination of Polish authorities to use the criminal justice system to that end. Having, creating, or distributing posters such as these is not a crime; it is freedom of expression, a basic human right.
Refugees
Refugees are still trapped freezing in the swampy forests along the border between Belarus and Poland
The humanitarian crisis along the border between Belarus and Poland continues.  Amnesty is calling on the Polish Government to allow refugees into Poland to make asylum applications which have to be considered individually and to refrain from authorizing pushbacks into Belarus. Many of the refugees are from Northern Iraq , see more details in the article from the NZZ. Refugees and Human Rights defenders must be protected from violence and Human Rights violations.
Please continue writing  letters to the Prime Minister of Poland and The Ambassador of Poland to the UK
Prime Minister
Prezes Rady Ministrów
Mateusz Morawiecki
Kancelaria Prezesa Rady Ministrów, Al. Ujazdowskie 1/3, 00-583 Warszawa;
E-mail: sekretariat.rzecznik@kprm.gov.pl
Embassy of Poland
His Excellency Arkady Rzegocki
47 Portland Place London W1B1JH
Within Poland there have been large demonstrations in the capital Warsaw but also border villages calling for help and solidarity with the refugees trapped at the border. Polish volunteers are dodging army and border guards to deliver food, water and foil blankets to help families stay alive.
Demonstration  outside the Embassy of Poland  in London . The International Council of Polish Women and Polish Migrants organising for Change (POMOC) have been organising and taking part in demonstrations outside the Embassy of Poland in London calling for solidarity with refugees trapped at the border.
AMNESTY INTERNATIONA:- LINES OF RESPONSE UPDATED 29 November 2021
Belarus/EU: Refugees and migrants at border
What is happening at the Belarus/Poland/Latvia/Lithuania border?
In the last weeks and months a significant number of refugees and migrants has become trapped in the border areas between Belarus and Poland, and many remain there. There are also reports of people on the borders with Lithuania and Latvia, as well as people who remain stuck in Belarus without the ability to access shelter or protection, and nowhere to return to due to fears of persecution.
According to reports, Belarus is, in some cases, facilitating the transit of people to the EU, primarily to the Polish border. People who wished to travel through Belarus to access the EU typically have arrived on tourist visas to Belarus, and then onto the border regions where they attempt to access the border fences and cross. We have received reports of Belarusian authorities violently beating people, including at times with rifles or truncheons, who were in the process of attempting to access the border from the Belarusian side to cross into Poland. We have also received reports of Belarusian authorities extorting money or stealing money from individuals attempting to cross, disallowing them to cross, and forcing them to pay bribes to be allowed to return back to the interior of the country.
On the occasions where individuals have made it across the border into Polish territory, Polish border guards are summarily expelling individuals, sometimes violently, and ignoring requests by individuals who wish to seek asylum. Belarusian border guards have also been reportedly preventing people who attempt to leave the border area from moving back inside Belarus, sometimes moving them several times to other locations within the border area, before directing them to attempt another crossing into the EU. This 'ping-pong' situation has left many people stuck in horrendous conditions for weeks in the forest in between the two countries. Many find themselves stranded under an open sky, without shelter, food, water, money, etc., no access to electricity (to recharge their mobile phones etc.), and after a period of time with no valid visa for Belarus. Several people have died as a result of this situation, and rapidly plummeting temperatures raise concerns that more deaths may occur.
Some people have now been returned to Iraq, purportedly on a voluntary basis. While Amnesty International is aware that return may be a viable and legitimate solution for some, it is also a concern that, in the absence of opportunities to access international protection and adequate treatment, the returns may not have been 'voluntary'. Amnesty International calls for everybody who asks for it to be given access to asylum procedures.
It is extremely difficult to get accurate information about what is currently happening at the borders as Poland, Latvia and Lithuania have all declared states of emergency and have limited access to the border areas for NGOs and journalists to varying degrees. This has been further complicated by reported Covid-19 outbreaks.  Belarus likewise restricts activities of the media and volunteers and any unauthorized persons in the border areas; scores of domestic NGOs and independent media have recently been disbanded by the Belarusian authorities, and their members prosecuted and imprisoned.
The 'states of emergency' adopted by EU countries neighbouring Belarus are disproportionate and must be lifted. The situation at the countries' borders do not constitute a public emergency as commonly understood in international human rights law.
 What should Poland do?
Poland must immediately stop summarily expelling people back to Belarus, particularly in light of reports of violence at the hands of Belarusian authorities. Pushbacks are illegal under international human rights law, and individuals should not be returned to countries where they might face ill-treatment. Cases of potential asylum seekers need to be considered individually and people need to be allowed to submit a claim for asylum.
All countries in the European Union are obliged to uphold the right to seek asylum in full respect of the Refugee Convention, that is binding for Belarus as well since it is also a party to it.
The Polish government has attempted to legitimize illegal pushbacks of people seeking asylum at their border by changing their laws. However, international law is crystal clear on this. It is unlawful to summarily return people who cross a border irregularly without an individual assessment of their circumstances. Poland must therefore amend its legislation to bring it in line with international law.
People, medics and activists assisting people at the border must be free to do so without fear of reprisals. Poland must protect them from attacks. The same applies for journalists and human rights observers.
Does Amnesty support the European Commission's call for Poland to allow Frontex into the border area?
Amnesty International calls for Frontex Fundamental Rights Monitors to be given authorization to observe the situation at Poland's border with Belarus, and granted access to all relevant locations and information. However, this is not a silver bullet, and will not necessarily prevent the pushbacks currently taking place. Frontex is deployed in Latvia and Lithuania and this does not seem to prevent pushbacks from taking place. In Lithuania, the Frontex Executive Director Fabrice Leggeri himself admitted that Frontex officers had submitted numerous serious incidents reports, after witnessing human rights violations take place.
More importantly, we call on all states involved to allow full access to outside observers, including journalists, civil society and humanitarian aid organizations to the area.
What should Belarus do?
Amnesty International is aware of Belarus's role in facilitating the arrival of migrants and asylum seekers at the country's border with the EU. The instrumentalization of migrants appears to be a response to the EU's sanctions against the repressive Belarusian regime. These sanctions were largely a response to Belarus' abysmal human rights record and ongoing egregious violations. In any case, the political context does not justify derogations from human rights obligations and the adoption of wholly disproportionate emergency measures by EU countries neighbouring Belarus.
The Belarus government has been cracking down on the media and NGOs in its country, resulting in there being no independent oversight of their actions, and independent information being severely suppressed. Oversight is even more problematic in the border area where civilians are denied access to the restricted zone immediately adjacent to the borderline with Poland, Lithuania and Latvia without special official permissions. Amnesty International is extremely concerned about what is happening there out of sight of journalists and independent monitors. This is further compounded because Belarus is also not party to the European Convention on Human Rights. Independent monitors, including media and human rights experts, need to be immediately allowed unrestricted access to those people stranded at borders.
Belarus is not allowing individuals to seek asylum in the country who may have a desire or need to. Instead, individuals who have escaped human rights violations and are in need of international protection are left with little choice but to make multiple attempts to cross borders into the EU, leading them to face further violations of their rights on both sides of the border. As a party to the Refugee Convention, Belarus has an obligation to uphold the right to seek asylum. It should provide people, including asylum seekers, with a fair assessment for the international protection they require and should not in any way attempt to limit their ability to seek such protection within Belarus.
What should the European Commission do?
The European Commission needs to challenge the emergency declarations and legislative amendments enacted by the three countries which attempt to legalise pushbacks or limit access to asylum, through all legal means in its disposal. The laws must ensure that the right to seek asylum is respected at all times. The European Commission must put pressure on the EU countries concerned to allow for effective and transparent monitoring that access to asylum and adequate reception is granted at their borders, in accordance with EU law.
The European Commission should moreover facilitate a range of solidarity measures, including relocation of people affected to other EU countries.
What is happening at the German/Polish border?
There have been more than 6,000-7,000 arrivals from Poland to Germany since the end of August. Germany has stepped up a border police presence there, doing joint patrols with Polish police, however we are not aware of what the exact result of this is.
Amnesty International does not have evidence of German police pushing anybody back to Poland. It appears that no border controls at the German-Polish border have been introduced.
There is talk of building a wall at Europe's border including fromGerman Minister of the Interior Seehofer. What does Amnesty think about that?
The European institutions should stand firm in refusing to fund the building of walls at the EU's external border.
Proposals for an EU border wall are politically self-serving, financially frivolous and ineffective. Dehumanizing human beings and criminalizing the act of seeking safety cannot be accepted, normalized, and certainly not championed by Europe. This is a legal and a moral issue which will have long-lasting consequences for Europe and the world.
Wherever they are built, fences and walls cause human suffering and loss of human lives. The EU must ensure that its funding does not encourage or contribute to human rights violations, and that the potential human rights risks are fully assessed prior to the provision of such funding.
All people have the right to seek safety. Any barrier/wall would have to envisage border crossing points which would be effectively accessible so those seeking protection could claim asylum.
What has happened to the 32 people on the border whose plight Amnesty was following?
On 30 September Amnesty International released a digital investigation about the 32 Afghan asylum-seekers, including four women, 27 men and one 15-year-old girl, who were trapped on the border between Poland and Belarus without food, clean water, shelter and medicine since at least 18 August.
Using satellite imagery and photographs to measure the area and 3D reconstruction, Amnesty International established the group's position on the border and found that in late August their position had shifted overnight from Poland to Belarus, in what appeared an unlawful forced return.
The group later split when 17 of the men were detained and then pushed back into Belarus after attempting to again enter the country.
AMNESTY INTERNATIONAL QUOTE
EU: 'Exceptional measures' normalize dehumanization of asylum seekers
In response to today's proposals from the European Commission which would allow Latvia, Lithuania and Poland to derogate from EU rules, including by holding asylum-seekers and migrants at the border for 16 weeks with minimal safeguards, Eve Geddie, Director of Amnesty International's European Office said:
"The arrival of people at the EU's borders with Belarus is entirely manageable with the rules as they stand. Today's proposals will further punish people for political gain, weaken asylum protections, and undermine the EU's standing at home and abroad. If the EU can allow a minority of member states to throw out the rule book due to the presence of a few thousand people at its border, it throws out any authority it has on human rights and the rule of law.

"The current situation at the EU's borders with Belarus is being used by some countries as an excuse to weaken protections of asylum-seekers and push their anti-migrant agenda. Holding asylum seekers in detention for four months, without the protection standards required by international law, is normalising de facto unlawful detention at the EU's external borders.

"Asylum rules should be upheld, not allowed to be side-stepped by countries via so-called exceptional measures. Amnesty International is alarmed that the proposal will violate people's rights, and exacerbate the humanitarian crisis at borders while continuing to expose the EU to further internal and external manipulation and blackmailing.

"While Lukashenka's mistreatment and instrumentalization of migrants and asylum seekers is deplorable, he is exploiting the EU's own tendency to treat people at their borders as a threat.

"At least 10 people, including a one-year-old child, have died at the EU's Eastern borders in recent weeks. Today the European Commission is bringing in measures which undermine rights and normalize the dehumanization and suffering of people at the EU's borders."
Western & Northern Europe
Denmark, don't send refugees back to Syria
On the 10th of December, Amnesty Denmark will be organizing a hand over of signatures collected via online actions targeting the Danish government over its decision to remove protection for people from Syria.
In September a judgement by the European Court of Human Rights concluded that expulsion to Syria isn't possible now or in the near future due to the security situation. In October, the UN Human Rights Council adopted a resolution which recognized 'that the Syrian Arab Republic does not yet offer a safe and stable environment for the sustainable and dignified return of refugees'.
Despite these developments, Denmark have so far refused to alter their position that parts of Syria are safe and people should be sent back!
Syrians in Denmark fled conflict and persecution before. They must not be returned to the same dangers they escaped from.
We will keep you informed and updated on this Action.
You can read Amnesty Report on Returned Syrian refugees being tortured, raped and disappeared in the custody of security forces: Report Denmark
Italy
Italy: Health and care workers face reprisals for speaking out during Covid-19 pandemic
Health and care workers in Italy who raised concerns about poor and unsafe working conditions in care homes during the Covid-19 pandemic were subjected to unfair disciplinary proceedings and feared retribution from their employers, new research from Amnesty International has found (Link for the report).
Instead of addressing their health and safety concerns over issues such as the use of personal protective equipment and the true number of Covid cases in care homes, employers silenced these workers, often through unfair dismissal, and targeted them with anti-union measures.
One third of the people interviewed by Amnesty International during this research reported a climate of fear and retaliation in the workplace. The lawyers reported over ten cases of disciplinary proceedings and dismissals, also involving trade union representatives who had denounced the lack of adequate health and safety measures in various residential structures, both public and private.
The urgency of an independent investigation
The Italian authorities must ensure that the voices of these workers are heard. Amnesty International therefore calls on the parliament to set up an independent commission of inquiry which focuses in particular on the situation of residential facilities (please sign the petition here).
Currently, various proposals for investigation are under consideration to investigate different aspects of the health emergency, including the congruity of the epidemic management measures, the ways in which it spread and the effectiveness of the system of residential structures. However, to date, no commission has yet been established. This commission should also consider the serious concerns raised by staff and trade unions regarding safety, health and precarious working conditions during the Covid-19 pandemic and in the preceding period.
This report is part of a series of research conducted by Amnesty International in various European countries on the impact of Covid-19 on the rights of essential workers.